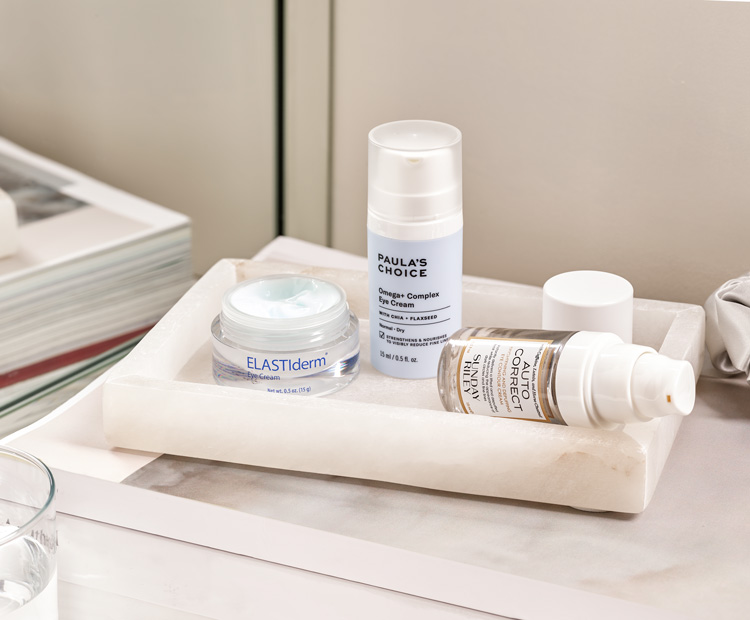 Whether they're revealing your deepest emotions or letting the world know you've been on a week-long Netflix binge, trust the eyes to say it all. The skin around your eyes is the thinnest and most sensitive on your body, and the first to show signs of aging and the consequences of inadequate sleep, squinting and sun damage. Needless to say, this area needs an extra dose of TLC. And that's where eye creams come in.
"The skin under and around the eyes is thin and can dry out easily," says Tsippora Shainhouse, MD, FAAD, a board-certified dermatologist in Beverly Hills, Calif.   "While there are oil glands on the eyelids, the skin can get dry, flaky and irritated, especially when exacerbated by cold, dry winter air or by windy, summer environments," she says. "Eye creams can be used for various reasons, including moisturizing, reducing inflammation, anti-aging, improving skin texture and reducing the appearance of dark circles."
Best Eye Cream for Your Under-Eye Concerns
Whether it's eye wrinkles or morning puffiness giving you grief, there's an eye cream that's right for you. Below, we've listed down our top eye cream picks for every under-eye concern.
FOR DARK CIRCLES
While the gloom under your eyes can often be blamed on lack of sleep, Dr. Shainhouse says dark circles can also be caused by several factors, including genetics, swelling, engorged blood vessels and even shadows cast by raised facial features. "Look for ingredients like arnica, vitamin K and caffeine to help temporarily shrink blood vessels," says Dr. Shainhouse. These antioxidant ingredients are known to improve circulation and calm swelling, helping to minimize puffiness and preventing blood from pooling beneath your eyes and causing it to appear darker.
Buy now

with Dermstore

With omega fatty acids, ceramides, amino acids and niacinamide, this nourishing eye cream instantly perks up your eye area by improving hydration to prevent dryness and tired-looking eyes. It restores your skin barrier to allow for a smoother and plumper complexion and a more even skin tone.

FOR WRINKLES AND CROW'S FEET

Your under-eye skin tends to be drier and thinner, so it's no surprise that the first signs of aging most people notice are eye wrinkles and crow's feet. Moisture is key if you want to keep fine lines under control, so Dr. Shainhouse suggests looking for eye products with hydrating and moisturizing ingredients like hyaluronic acid, AHAs, ceramides, essential oils (like argan, coconut and avocado oils) and botanical extracts. "Moisturizing the skin makes the skin plumper, so lines appear less deep," adds Dr. Shainhouse. Additionally, retinoids and peptides can help rebuild and encourage elastin and collagen production, slowing down the formation of new wrinkles and refining the appearance of existing ones.

Buy now with free delivery