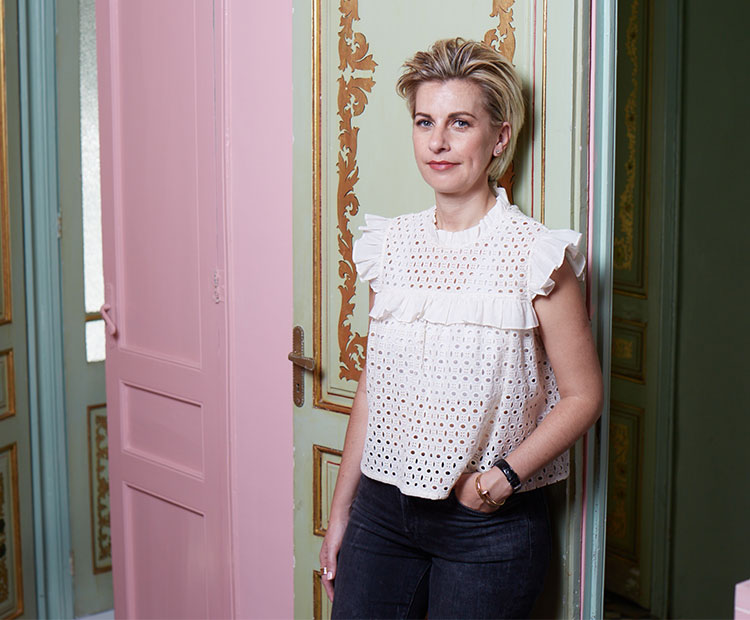 Earlier this year, we reported about a huge shift we're seeing in the hair care industry: Skinification of hair, or the use of premium skin care and anti-aging ingredients in hair care products. For most of us, it was a major aha moment—after all, isn't scalp skin too and therefore deserving of all the tender loving care we've been giving the skin on our faces? But for Miriam Quevedo, creator of the luxe, Barcelona-based hair care line of the same name, this concept isn't entirely new. In fact, she's been preaching this wisdom for over a decade now, since her brand launched in 2005.
What she did in the years after was nothing short of spectacular. She created an entire line using precious and rare active ingredients one never thought could do wonders for skin and hair: caviar, diamond, gold and platinum, among others. As scientifically advanced—and, might we say, luxurious—as her line is, her beauty philosophy is actually quite simple, rooted from age-old Spanish traditions, culture and beliefs. Here she reveals the science behind her creations, the secret benefits of the ingredients in her formulas, and her best-kept hair care tips!
What inspired you to start a hair care line? Were you always interested in hair?
I've been in the cosmetics industry my entire life, beginning as a young girl, assisting my mother in her herbal apothecary in Barcelona, Spain. In my teenage years, I met a man, whom I would later marry, whose family had owned a cosmetics manufacturing company with laboratory and R&D facilities for 35 years. We were determined to create a brand together.
In 2005, I began combining my knowledge of natural, precious and rare active ingredients with his state-of-the-art scientific innovation to create a cosmetics line at the forefront of skin care and hair care. We started with skin care and branched into hair care using a skin care and treatment approach. We pioneered the treatment angle of hair care when most companies were doing styling. After all, you can't have great hair unless you have a healthy scalp and follicles, which is skin care.
What do you love about your work?
Finding the most innovative and advanced ingredients and creating complexes from these. I'm not satisfied to include ingredients just because they're talked about and hot for the moment. No, ingredients need to work with a host of other ingredients to accomplish dynamic ends. Seeing positive, quantifiable results from consumers and our lab makes my job happy and rewarding.
How do you feel about the biggest hair care and styling trends you're seeing?
Trends come and go, but beautiful, healthy hair never goes out of style. We focus on anti-aging; that's important because hair and skin give away a woman's age. We want all Miriam Quevedo users to look their best and feel incredible. I'm all about spectacular hair whether it's tied up in a scrunchy or placed in an elaborate updo. With chemical processing, heat treatments, central heating, air conditioning, pollution, UV rays, the gamut of different water hardnesses and occlusive and irritating products, hair and scalp, like skin, take a beating.
Before you can experiment with styling trends you need healthy hair and a healthy scalp. Worse, most of today's styling products are drying and damaging to hair. Ours aren't. We've created styling products with a treatment angle to help customers and hair care professionals achieve style goals while leaving the hair gorgeous to look at and heavenly to touch.
How has your Spanish heritage affected your approach to beauty and skin care?
We take beauty very seriously in Spain, but we start by addressing how to make our skin and hair be beautiful, not just look that way. Skin care and hair care are lifelong commitments requiring ritual, preventative treatments and reparative therapies. Spanish women believe exterior beauty is more than covering up problems with makeup and disguising damaged hair with hairspray. It's always in synergy with beauty from inside. Spanish people have enjoyed life from ancient times with a nutritious Mediterranean diet, medicinal remedies and leisure activities.
"Spanish women believe exterior beauty is more than covering up problems with makeup and disguising damaged hair with hairspray. It's always in synergy with beauty from inside."
Do you notice a difference between American beauty rituals and Spanish beauty rituals?
Yes, American women enjoy experimenting with color and hairstyles, whereas Spanish women want to look more natural, like they're not wearing any makeup at all. Skin needs to glow and hair needs to radiate health and vitality, fresh out of the bathroom each morning. Just this week I read about a famous Spanish actress who's also famous in the United States who pointed out exactly this difference.
We notice that you use a lot of unconventional ingredients in your hair care line? Which of those ingredients do you really believe in? 
I don't speak about ingredients. Instead, I focus on complexes, which makes Miriam Quevedo different from competitors. We're a science-based brand, first and foremost, and our research and development guide us to prepare formulas with specific, premium ingredients based on clinical studies. Think of it like this: ingredients are just a grocery list. What matters most is how good the cake tastes. Bad ingredients, bad chef, bad technique, bad cake. The cosmetics industry needs to go beyond talking about ingredients and focus on solving problems in a modern, scientific way.
"The cosmetics industry needs to go beyond talking about ingredients and focus on solving problems in a modern, scientific way."
We mix and create amazing complexes and blends to boost the natural beauty of hair and encourage a healthy scalp, beginning with protein-rich genuine caviar. Encapsulated Swiss Glacial Water combats thermal aging and dehydration. Our Trace Elements Complex, our bespoke thermal water, and real micronized platinum and diamond powder are present in all Platinum and Diamonds products to help people with thin hair achieve unprecedented volume without coating the hair in wax or encouraging static and flyaway. Reparative and renewal peptides and hexapeptides fight skin and scalp inflammation. Other precious, micronized gem stones and our proprietary peptides are present in our special Hair Loss Shampoo to facilitate hair growth and to stop further loss.
Your hair care line is very different in that it focuses a lot on very specific hair concerns. Why is this important?
Hairdressers and customers know a problem when they see or feel one. We made the Miriam Quevedo brand to specifically target problems and provide solutions. Sometimes people have different issues that cross separate categories. Helping consumers look and feel their best is what we're all about.
For instance, we have not only specific shampoos for hair loss, color-treated hair, dandruff, oily hair and scalp, but also products that deal with issues such as thick, thin and severely dehydrated hair. A woman can have hair loss but still have thick hair! You can still have dry, thin hair, but an oily scalp. Many manufacturers forget nuances like this.
Please walk us through your personal hair care routine. 
I like to gently massage my scalp and, gently shake my hair every night. I am very conscious with my hair care routine, I like to apply a rich lipidic blend on dry hair. In winter I use our iconic Glacial White Caviar Rescue Mask plus three drops of Sublime Gold Oil and three drops of our Vitamin Reinforcing Bio-Regeneratives, applying all from ends to roots, and then gently massaging the strands and the scalp. I let it work at least two hours, then I start my cleansing ritual. The results are incredible for fighting chemical aging of the hair and scalp in the winter season. The results are shiny and silky hair and a moisture-balanced scalp.
Beautiful hair begins with a good exfoliation and detoxing of the scalp. Once a week is enough. I like to boost my blonde hair using our Extreme Caviar Blonde and Silver Hair combining with the Color Treated shampoo. And I like to reinforce the microflora of the scalp with Glacial White Caviar Precious Elixir.
"Beautiful hair begins with a good exfoliation and detoxing of the scalp. Once a week is enough."
I encourage women to use a hair mask and hyper-moisturize at home and in the salon or at the spa, invest in the most convenient shampoo treatment, and apply leave-in treatment 0n wet hair. Vitamins always are a plus to reinforce hair growth. My recommendation is to find a good professional who can diagnose and build your own regimen based on your hair and scalp needs and combat the aging process.
What about for skin?
Beautiful skin begins with an effective and non-aggressive cleansing ritual. I build my own routine using three steps: first I like to use Black Baccara Global Cleansing Milk (sulfate free). Second, Black Baccara Volcanic Cleansing Powder with Natural Volcanic Ash and polishing enzymes, and finally, toner to revitalize my skin.
I am obsessed with topical vitamin C, essential to combat cell oxidation, with natural, oral, vitamin C supplements in combination with niacin (B3 vitamin).
The biggest hair care mistake most women make?
Women need to focus more on treatment. Styling products often make hair appear beautiful temporarily. In some cases, these styling items are severely damaging to hair, blocking hair follicles and leaving impurities on the scalp. Sometimes they're very unpleasant, inflexible fixers that could damage hair keratin or increase the breakage in the hair. That's a real pity. And to keep extensions looking their best requires a daily commitment from the start. We see too many women who weren't given enough salon advice on how to care for this expensive investment.
Simple tip: If you need to comb your hair after you previously used styling products that make your hair inflexible to combing, apply some drops of our Glacial White Caviar Precious Elixir or Sublime Gold Oil before combing to prevent breakage and hair loss. There won't be any hint of greasiness or clumping, even on dry hair!