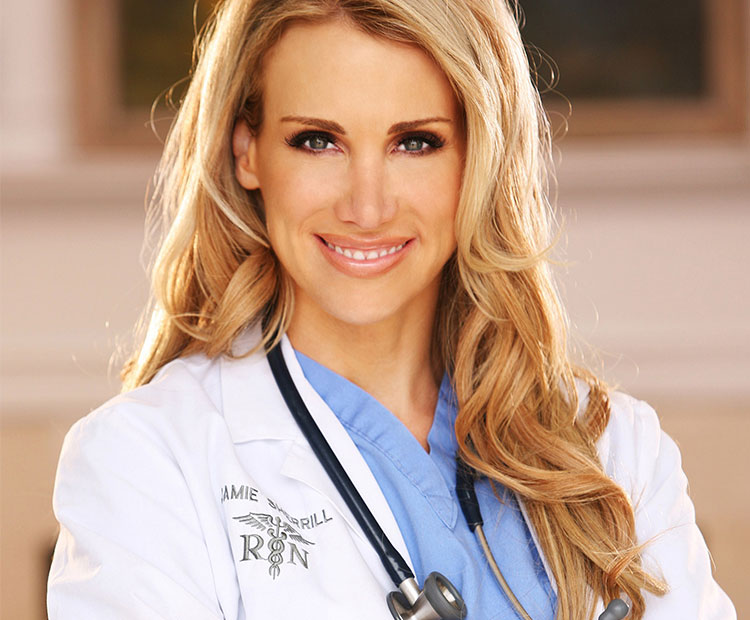 Jamie Sherrill, also known in Hollywood as "Nurse Jamie," needs no introduction. As a celebrity skin care expert and registered nurse, Jamie lends her beauty expertise on TV shows like Extra TV, E! News, The Doctors, The Today Show, Pickler & Ben, Good Day LA, Keeping Up with the Kardashians, Revenge Body and VH1's Hollywood Exes. When she's not nurturing her patients at Beauty Park Medical Spa in Los Angeles or taking care of her beautiful family, Nurse Jamie is coming up with the latest medical devices and cutting-edge skin care products. Here, she talks to Dermstore about the latest advances in cosmetic surgery, the best way to maintain post-procedure skin and the worst beauty mistakes most women make.
Dermstore: What procedures do most of your celeb clients ask for?
Nurse Jamie: We are all little snowflakes so everyone is going to have a different treatment plan. This year, body sculpting is big—from banning the bra strap fat to firming the tush–these never go away. Laser hair removal, Botox, filler and glowing skin are always on trend.
This year we've also seen a lift in high-tech tools. Devices and home-based skin care are a big part of my regimen and I make everyone participate. I have a range of Hollywood patients who use my products daily and religiously, like our Nurse Jamie Beauty Bear Pillow, which has a huge following of leading ladies like Jessica Alba, Ruby Rose, Jenna Dewan, Olivia Culpo, Emily Ratajkowski and Shay Mitchell. This keeps the delicate skin around the eyes and neck line-free and helps to stop atrophy from being more evident on one side of the face.
Botox or filler?
I always say, "If Botox and filler were drowning, I would save filler first." But the trend now is combination therapy: doing less of both actually looks more natural.
If I were to go to a big event, what treatments/procedures would you recommend to give me that red-carpet glow?
It is hard to give a one-protocol treatment program because we are all individuals and we pride ourselves at Nurse Jamie Beauty Park Spa in fully integrated programs customized for each person to meet their best skin results. Some are genetically blessed and don't really do more than an oxygen facial and our insta-famous beauty tool the Uplift roller to drain puffiness, help tone muscle and tighten skin combined with LED therapy and oxygen therapy. Another secret weapon I use is a treatment called the head-to-toe skin tightening without downtime to make any celebrity look like they have spent the last month in a health spa.
In general, since we all start to lose collagen production and skin elasticity starting age 25, we usually will use a range of laser procedures for skin texture and to boost complexion.
One pre-party treatment we do is the Hydrating Uplift Facial. This helps transform the skin from the inside out using the power of platinum. We use a microcurrent technology for resurfacing, lifting and tightening, which smooths texture and fine lines and helps stimulate the muscles, blood flow and oxygenation.
If you want to do something outside a doctor's office, the Nurse Jamie UpLift is ideal to help serums and products be absorbed. It also has a lifting and tightening effect and has a great anti-inflammatory property. You can use it every day but specifically just before an event for a more open-eyed look or more defined cheek. This works well for face and body so it helps with stretch marks and skin smoothing for waistline, hips and thighs too. Trust me, this is a celebrity secret. (Don't believe me? Do one side of your face for just one minute then look in the mirror.)
For day-of events, you need to focus on complexion and texture in a non-invasive way or only protocols with no downtime and no risk. Don't try something new on the day of an event. I also suggest a magical elixir, like our new Miracle Base. It is pure luxury in a bottle and will give your skin an amazing finish and a picture-perfect canvas for makeup.
But don't forget red-carpet prep needs to happen every day too. Eat well, sleep well on the right pillow (number-three cause of premature aging is poor sleep position), take off makeup at night and use good-quality products with the best raw ingredients. Home care matters as much as in-office does.
What about for the body?
Scalpels are becoming yesterday's news—even in Tinseltown. The latest and greatest is the SculpSure machine, which uses a regulated light-based technology to disrupt and destroy adipose tissue. It is newly FDA-approved and it is the highest tech laser treatment for a fully non-invasive treatment of lipolysis for the flanks and abdomen. What is amazing about this is it is a one-treatment procedure. Maybe in some cases two. Within a few weeks results are complete and no downtime whatsoever. Basically, the result is like you have had a little liposuction when there is nothing invasive about it. Just relax for 25 minutes and the light/heat technology will dissolve and eliminate even the most stubborn fatty deposits and tissue. This is probably the hottest treatment we have right now in the clinic.
Another popular in-spa treatment is Emsculpt. This groundbreaking treatment uses High-Intensity Focused Electro-Magnetic (HIFEM) Technology. Each Emsculpt session is 30 minutes long and is equivalent to doing 20,000 crunches or squats.
How should I maintain the results of my in-office procedures? What skin care products would you recommend I use?
Think "maintain, not reclaim" and always try to be preventative. Think of the rules of eating that are good for your body—these apply to your skin as well. Be consistent with taking off your makeup, exfoliate regularly, manually or with a tool, and use high-quality skin care products with the best raw ingredients. Old school skin care was to use aggressive products that caused chemical cell turnover reaction, which can make you more susceptible to sun damage (Retin A is so 1980s). My opinion is to use retinol ingredients sparingly, or choose EGF for cellular turnover instead.
What crucial skin care step do most women tend to forget? 
At-home devices are, to me, the future of beauty. Invest in a beauty tool that would help increase absorption of products, like my Uplift or TriAngle, which are much like the machines we use in-office. There's also the Beauty Stamp, which may very well be the best investment anyone can make. This small pad features a cross-section of microneedles that helps with micro-exfoliation, opens channels for product delivery and efficacy and aids in the body process of collagen and elastin production.
Another thing is to avoid side sleeping; it's the number-three cause of premature aging (number one is UV damage and number two is smoking). If you can, use one with a satin surface and train yourself to sleep on your back (or at least use Beauty Bear, which features an opening to protect your face).
Most women also tend to over exfoliate. We need to treat our skin like a silk fabric, not a piece of leather. When you over exfoliate (physically or chemically), it destroys the protective barrier that your skin has. Once removed or compromised, you are exposing your skin to environmental toxins, sun damage, premature aging and acne-causing bacteria.
Lastly, wear your sunscreen—this seems basic but every little thing helps.
What else is in the pipeline for Nurse Jamie? What are you working on right now?
I created my line for products that I felt were missing in the marketplace. As a busy working mom of triplets, I'm proud to say that I'm my own client. There are so many new and exciting products out there. The best part is that the better the technology, the more we can delay the need to go under the knife.
I am always working on new products and investigating new raw ingredients so there will be more on the horizon for 2019. I believe that the future of beauty starts at home. We will continue to launch at-home beauty tools and products including the launch of Nurse Jamie Adaptogens, focusing on beauty-based nutrition. I am also excited about my "next generation" Beauty Bear for the best sleep yet!