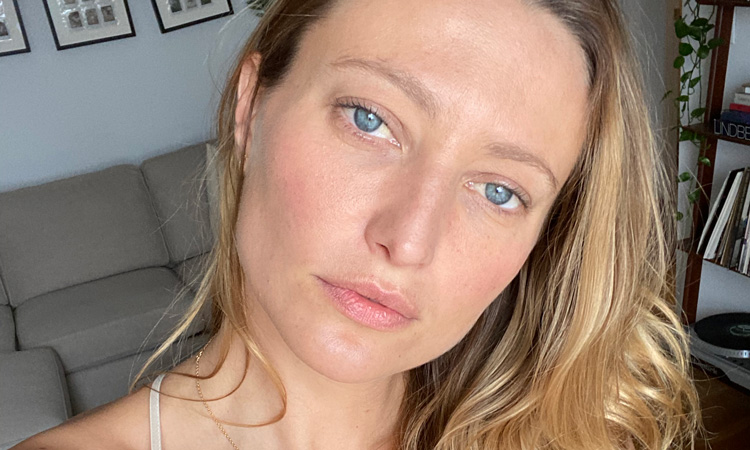 Photo: Courtesy of Noot Seear 
You've probably seen her face in some of fashion's most iconic advertisements, and we're hoping you remember her from our recent holiday campaign. But these days, model and actress Noot Seear is switching gears and focusing on a new culinary venture. For the latest installment of our More Than Skin Deep series, we caught up with the Vancouver native to chat about the foods and products that changed her skin for the better; plus, we got the scoop on her upcoming YouTube channel and what we can expect to see.
The first skin care product she bought for herself (and continues to buy):  
I got into modeling when I was super young, super naive and super scared! People were covering me in all sorts of beauty products that I wasn't familiar with, so it was a real learning process for me. The first product that stood out to me and that I went out and bought for myself was Embryolisse Cream, a cult-favorite among makeup artists in the fashion industry. I still use it and love it to this day.
Her take on nourishing your skin from within:
A beauty routine isn't just about what you put on your skin. It's about how you go through life and holistically take care of yourself. This is an ongoing journey for me as I've learned more about nutrition, exercise and general wellness. I've noticed that as I've matured, I'm gravitating towards beauty products that really protect and nourish my skin.
The best (and worst) thing she's done to her skin:
The best: I learned to value my health while also being diligent about using protective skin care products like sunscreen! I feel happiest when I'm out in nature, particularly on a surfboard or swimming in the ocean, but I haven't always been the best at shielding my skin from the sun. I wish I knew about brands like EltaMD and Shiseido back then. Their formulas are moisturizing, lightweight and provide powerful protection against harmful UV rays.
The worst: Drinking too much alcohol, not sleeping enough, exposing my skin to sun and poor nutrition.
What really changed her skin for the better:  
Like many women I had a terrible relationship with food and my body. My poor eating habits and not giving my body the right nutrients really punished my skin. With that being said, ditching those habits and studying nutrition has really helped. I can't point to a single food item or drink, but the combination of a primarily plant-focused diet, tons of water, meditating, exercising and having a consistent skin care routine has done wonders for me.
What she's most excited about for 2021:  
My goal in 2021 is to share more of myself to the world. Specifically, I want to share what I've learned about health, nutrition and cooking on my new YouTube channel, Nootritious. It's launching on Valentine's Day!
The beauty products she's obsessed with right now: