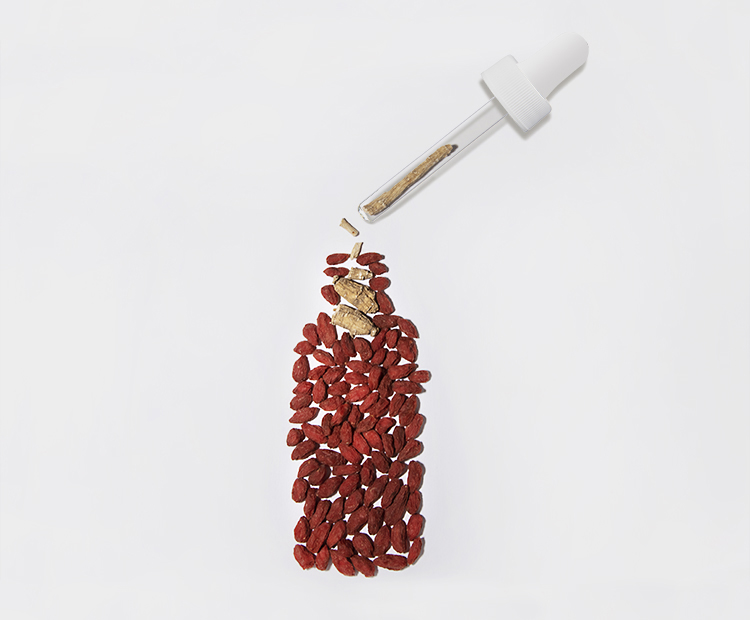 Meet the hot new buzzword in wellness: adaptogens. Although adaptogens have been used in Chinese and Ayurvedic medicine for hundreds of years, they're having a moment in natural health circles right now, including as a way to keep skin looking luminous. If, like most of us, you're feeling stressed—and your skin is showing it—adaptogens could be the answer.
What are adaptogens?
Adaptogens are herbs that reduce fatigue and the toxic effects of stress. They're called adaptogens because they adapt to what the body needs, "regulating the body rather than pushing it in one direction or the other," explains Alan Dattner, MD, a holistic dermatologist in New Rochelle, New York. For example, Dr. Dattner continues, "some people need ginseng because their energy is down, while others need it because they're too fired up to go to sleep."
The term "adaptogen" was coined way back in 1947 by N.V. Lazarev, a Soviet pharmacologist. According to Lazarev, an adaptogen must not only regulate the body's response to stress, but its effects must also be beneficial to the body's overall well being, as well as nontoxic even with long-term use.
How do adaptogens work?
Since the 1940s, thousands of studies have been done on adaptogens, primarily in the Soviet Union, Korea and China. Eleuthero (a.k.a Siberian ginseng), for example, has been found to increase the lifespan of single-cell animals, while rhodiola (a.k.a Arctic root) has been shown to reduce perceived fatigue in humans.
That said, adaptogens have not been approved for use by the FDA, and some question the methodology of the studies that have been done on the subject. However, others point to the long history of using adaptogenic remedies in the Chinese and Ayurvedic traditions and argue that the studies, if not definitively conclusive, are strongly suggestive.
What are the benefits of adaptogens?
Adaptogens are said to work by normalizing the adrenal system. And "since skin rashes can often be traced back to a hyper- or hypo-adrenaline condition," according to herbalist Michael Forman, a doctor of Oriental medicine in Miami, "they can also benefit the skin."
Dattner agrees: "I do a lot of treatment of the digestive system in order to treat skin disorders. Licorice, for example, calms the digestive system and slows the breakdown of cortisone, acting as an anti-inflammatory," which may help with skin irritations and rashes.
In addition, adaptogens are thought to slow the appearance of aging. "Eleuthero has antioxidant properties that may help delay skin aging by preventing free-radical damage to the skin," notes Joe Feuerstein, MD, associate professor of clinical medicine at Columbia University and director of integrative medicine at Stamford Hospital in Stamford, Connecticut. Likewise, he continues, "Angelica may have estrogen-like effects on skin to keep it looking youthful."
Just plain stressed and exhausted? If so, your appearance—including your skin—will show it. However, "if you get a boost from adaptogens like ginseng or maca," says Dattner, "you'll give your skin a boost as well."
How do you use adaptogens?
Forman recommends taking herbs in a high-quality liquid concentrate with water. And while incorporating adaptogens into the diet may be beneficial, says Feuerstein, "to get to clinically meaningful doses, I use pharmaceutical-grade herbal preparations."
According to Forman, "Ashwagandha, ginseng and eleuthero are the three most powerful regulators of adrenal activity and can be used long or short term to address skin conditions," but there are many other adaptogens as well. Want to try them for yourself? Consult with a doctor or herbalist who can prescribe the appropriate herbs and dosages for you. Though most adaptogens are perfectly safe when used in skin care, be sure to read the product label and consult with a skin specialist, if possible, before use.
The best adaptogens for your skin
Ready to try adaptogens? Lucky for you, some of our favorite beauty products already have them in the mix. Keep scrolling to read about notable herbs and how they can improve your skin. 
Buy now

with Dermstore

Indian gooseberry, or amla, has been utilized in Ayurvedic medicine for thousands of years and grows in India, the Middle East and a handful of Southeast Asian countries. This vitamin C–rich fruit is sour to the taste but full of sweet immunity-boosting and anti-inflammatory benefits. A natural antioxidant, studies have shown Indian gooseberry to be an effective ingredient to increase fibroblast and collagen production in the skin. Dr. Dattner concurs, "Amla supports the skin and improves the complexion by strengthening the digestion, detoxifying the liver and being rich in vitamin C and minerals. It moisturizes the skin and removes toxins from tissues and supports the immunity of the skin against bacterial infection," he adds.
Find it in: Tracie Martyn Amla Purifying Cleanser

Buy now with free delivery