Repair and rejuvenate your skin with Osmosis Pur Medical Skincare, who are utilizing Harmonized Water to treat conditions at the source (internally). This revolutionary technology is balancing energetic disruptions in our system, restoring the skin cell to its optimal state.
We were so fortunate to have Osmosis' Founder and Formulator, Dr. Ben Johnson, join us for a live Q&A here on The Blog to educate us on the advanced Osmosis product line. See all the questions and Dr. Johnson's answers below.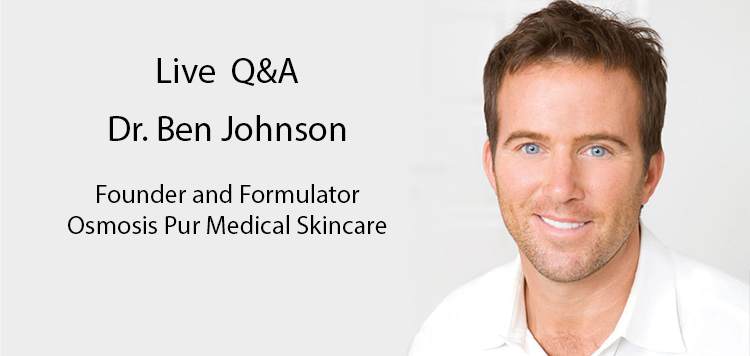 Q. What do I use for exfoliating my skin? I 'm sensitive to glycolic acid cleansers .Any recommendations?
A.  I recommend that you never exfoliate again. That increases the damage to acne scars and makes you have more age spots over time. You are sensitive to that cleanser because your barrier is compromised; we need to restore it. Use Cleanse, our gentle cleanser and Rescue topically for the spots. Add Catalyst AC-11 for the acne scars along with Clear and watch how your skin permanently transforms over the next three months.
Q. My skin is oily, I have pores and my face feels scratchy. What creams do you recommend to make my skin softer?
A.  Itching, oily and pores sounds a little like you have exposrue to estrogen toxins. It can also be associated with Candida. The best protocol is Natural Defense to treat candida, Anti-T to balance the estrogen toxins, and Rescue to heal the surface skin.