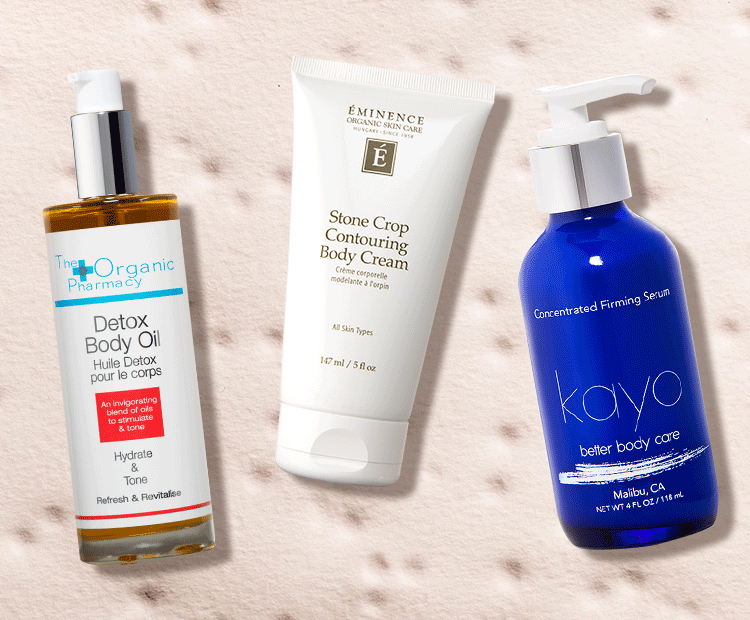 Chances are, you think about your complexion year round. But with summer right around the corner, you're probably also turning your attention to other parts of your body—and for many, that means dealing with cellulite.
"Cellulite is the herniation of fat between bands of fibrous connective tissue. This appears as skin dimpling and lumpiness," says Dr. Suzanne Friedler, board-certified dermatologist at New York-based Advanced Dermatology PC. "It is most common on the thighs, hips and buttocks but can appear in other areas as well," she adds.
Cellulite is an extremely common condition—and while it can technically affect anyone, it's much more prevalent in females. "Cellulite occurs in up to 90% of post-pubescent women," says Friedler. "Cellulite begins after puberty and tends to [become more prevalent] with age," she explains.
Where Does Cellulite Come From?
Even though cellulite is extremely common, there's not a definitive answer on what causes it—but many experts think that hormones and genetic makeup may play a factor. "The cause [of cellulite] is unknown, but since it appears almost exclusively in females, it is pressed to be due to hormones, although no one is really sure," says Dr. Andrew B. Menkes, dermatologist at The Menkes Clinic in Mountain View, California. "Genetic factors are also important because some females have more cellulite than others," he adds.
Common Myths About Cellulite 
There's a lot of misinformation out there about cellulite—which can make prevention and treatment a challenge. Some common cellulite myths include:
Cellulite is connected to weight. One of the most common myths about cellulite is that it only happens to people who are overweight. But that's not true; it doesn't matter what number you see on the scale—cellulite can happen to anyone. "[Cellulite] is not related to the person's weight since even thin women can develop cellulite," says Menkes.
Liposuction is an effective treatment for cellulite. While there are many treatments that can be effective in treating cellulite, liposuction is not one of them. Liposuction can cause fat in the treated areas to be distributed unevenly—which can actually make the appearance of cellulite worse.
Spot training can get rid of cellulite. Embracing a healthy lifestyle can help manage cellulite. "[An] active lifestyle can make a difference," says Friedler. But you can't spot-train your way out of cellulite. While you can build muscle in areas where you have cellulite (like your thighs or buttocks), you also need to burn fat—and there's no way to limit fat burning to a single area of the body.
What Works Best for Cellulite
Okay, so now that you understand what cellulite is, let's talk about what works best for tackling cellulite. And the first question is—can you prevent it? While there are certainly steps you can take to keep your body in good shape (like staying hydrated and having a regular cardio and strength training regimen), if you're genetically predisposed to cellulite, prevention might not be an option. "It is almost impossible to prevent cellulite if you're so genetically inclined," says Menkes.
But just because prevention can be a challenge doesn't mean you can't treat it! While there's currently no way to get rid of cellulite completely, there are a number of ways to reduce the appearance of cellulite, whether you work with a dermatologist or with products you can use at home.
Best In-Office Treatment Options for Cellulite
"In order to treat cellulite effectively you must break through the fibrous bands that are binding the fat and causing the lumpiness," says Friedler. She adds, the appearance of cellulite can be improved through a number of in-office treatments. "This can be done with surgical procedures, lasers and less effectively, with vigorous massage," Friedler notes.
There's no one-size-fits-all solution to cellulite treatment; if you're struggling with severe cellulite and you're not sure which treatment is best for you, talk to your doctor. "Therapies are getting better and better. See a dermatologist to determine which treatment is right for you," says Friedler.
Best At-Home Cellulite Treatments
If you want to tackle cellulite on your own, you have options! Let's take a look at some of the best at-home treatments and products for reducing the appearance of cellulite.
Buy now

with Dermstore

If you're looking for results that are comparable to an in-office treatment from the comfort of your home, you'll definitely want to give this device a try. The NuBODY Skin Toning Device pairs microcurrent technology (to firm the skin) with hydrating gel primer (to smooth the skin)—both of which help to reduce the appearance of skin dimpling and cellulite. And the best part? It delivers all of its cellulite-reducing results pain-free.
Reviews say: "It's so easy to tone and easy to use. Speedy but totally worth it! I saw results within a week I think."

Buy now with free delivery