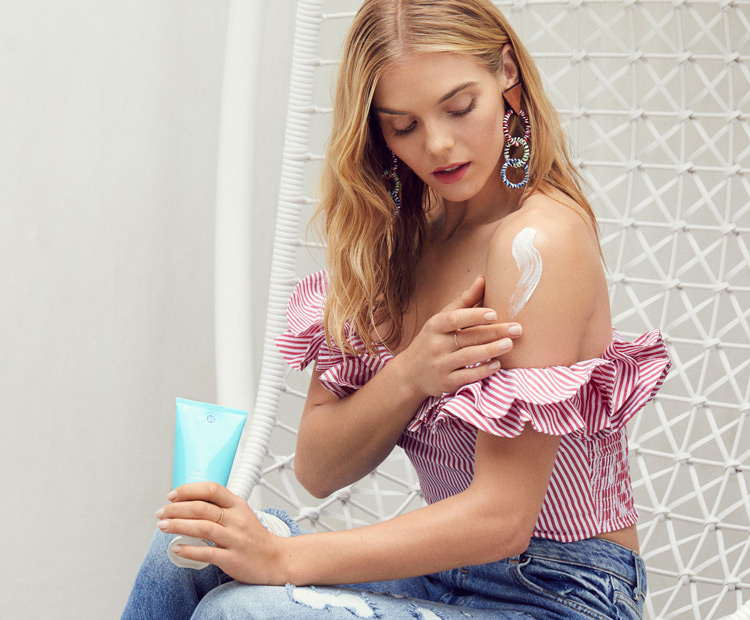 For some of us, our carefully curated skin care regimen often only involves our face and ends on our neck and chest. The rest of our body is typically relegated to the first body wash or lotion we get our hands on as we rush past the body care aisle. Aside from the fact that we don't often give moisturizing our arms or feet serious thought, part of the reason is that for the longest time, the most accessible body care products did not always reflect the kind of ingredients that our skin needs.
"The skin on our body also shows signs of aging, but the solutions available on the market are limited," says skin care expert and beauty chemist David Pollock. But not anymore. These days, ingredients (particularly the anti-aging kind, like retinol and hyaluronic acid) and products like serums, masks and moisturizers, which are traditionally only used for the face, are starting to find their way into body products. Perhaps this is a result of the ever-growing movement that steers consumers to a healthier and more conscious lifestyle. And to this, we say: It's about time.
Why Your Body Skin Needs the Same Care as Your Face
It's a common misconception that only our face and décolletage need a heaping dose of TLC. But the truth is, our body skin—much like our face—is constantly exposed to the same environmental aggressors (like UV radiation and pollution) that deteriorate barrier functions and speed up aging, says Brittany Buhalog, MD, chief dermatology resident at University of Wisconsin-Madison. As such, our body skin frequently deals with the same problems that affect our face—dryness, clogged pores, pigmentation and aging, to name a few.
More often than not, our usual soap or body wash routine hardly counts as proper skin care for the body. "The same principles apply to the skin on the body as those that apply to the face. It's important to cleanse the skin to remove dirt and impurities that can clog pores or dull skin," says Pollock. "For specific concerns, you will benefit from a targeted solution or even a body serum—in the same way that the skin on your face can benefit from it," he adds.
How to Choose Body Care Products
Choosing the best body care products is no different from picking out your face serum or moisturizer. "Look for targeted solutions that fit your needs," says Pollock, and keep an eye out for active ingredients that address specific concerns. Buhalog echoes this and adds, "When considering products to use on the body, just extrapolate from what you would use on your face. The skin on the body still deserves a gentle cleanser (nothing too harsh or perfumed, which tends to be drying and irritating), moisturizer (which helps maintain proper barrier function of the skin), treatment product (if you've got concerns such as dyspigmentation or crepey skin) and sunscreen." And if you've been using a bar of soap as part of your body cleansing routine, Pollock says stop. "The pH of bars of soap is very high, while your skin is actually acidic. I would recommend using a liquid body wash, instead," he adds.
Ready to give your body the skin care routine it rightfully deserves? Read on to find out our top picks for face-grade body care products ahead.
Buy now

with Dermstore

Whether it's due to aging or weight loss, sagging skin can be incredibly frustrating to deal with. Fortunately, this body treatment lotion is infused with time- and gravity-fighting ingredients that lift, firm and tighten commonly affected areas like the abdomen, buttocks, knees and thighs. Featuring 2 percent hydrolyzed rice protein, 2.5 percent tripeptide and 5 percent yeast extract, this body lotion supports and enhances your skin's structure and provides an instant cooling effect, leaving you with smoother, tighter-looking skin.

Buy now with free delivery