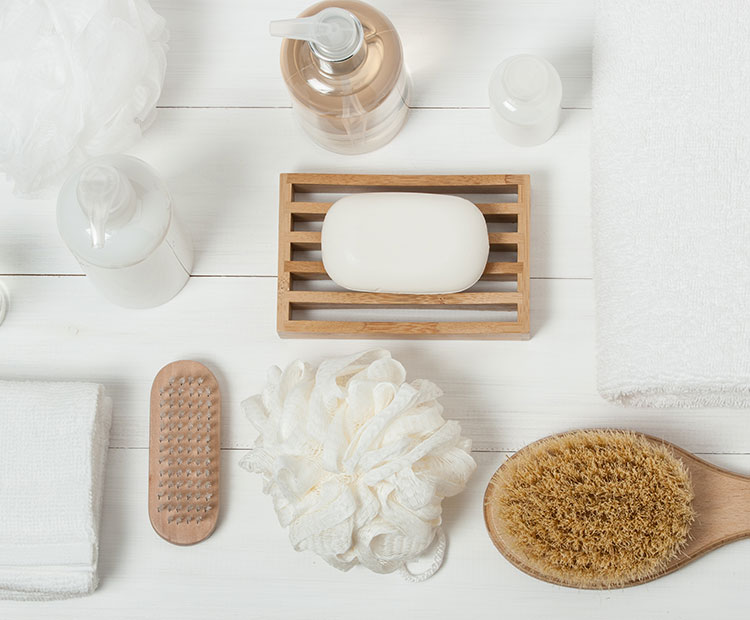 Showering is something you likely do on the daily—but how much thought do you really put into what body cleanser you use? Well, it turns out you may want to be a little more scrutinizing, especially if you are prone to certain skin conditions. But the question is, which cleanser is right for you? We're breaking down the differences between bar soap, shower gel and body wash so that you can confidently choose the right one for your cleansing needs.
What Is Bar Soap?
Ah, bar soap: The classic body cleanser you've been using since you were a kid.
"By definition, soap is a long chain fatty acid alkali salt with a pH between 9 and 10," says Dr. Fayne Frey, M.D., board-certified dermatologist in West Nyack, New York. (For comparison, your skin's pH is between 5 and 6.) "These bar cleansers are harsh on the skin, as they can remove the essential lipids and proteins found on the skin surface that help maintain your moisture barrier."
Not all bar soaps are made the same, though. In fact, there are a few different types of bar soaps, some of which are less drying than others. The translucent bar soaps, for one, are made with glycerin, a humectant that draws moisture into the skin and counteracts the drying effect of the soap, says Dr. Frey. Superfatted soaps are also another kind. According to a study published in the Indian Journal of Dermatology, these are formulated with higher levels of lipids (fatty acids) like triglycerides, lanolin and stearic acid. These ingredients form a protective film over your skin. Finally, there are antibacterial bar soaps, which contain ingredients like triclosan to squash bacteria growth and odor.
What Is Shower Gel and Is It the Same as Body Wash?
Body wash and shower gel are pretty similar. They're both liquid cleansers that use mild surfactants to cleanse skin, says Dr. Frey. The main difference lies in their texture. "Body shower gel tends to have a thinner consistency, which makes it better for warmer climates," says Berenice S. Rothenberg, owner and founder of Electrolysis and Beauty Center in New York City.
Body washes are slightly more moisturizing than shower gels (and much more hydrating than bar soaps), says Rothenberg. That's because they usually contain emollients (a.k.a. skin-softeners), adds Dr. Frey. In fact, according to a study published in the journal Dermatologic Clinics, newer formulas feature technology that delivers emulsified petrolatum (a common skin ointment) to the skin while you cleanse, which helps improve dryness.
The Best Body Cleanser for Your Skin Concerns
When it comes to choosing a bar soap, body wash and shower gel, you should be particularly picky if you have acne, rosacea, eczema or even sensitive skin, as cleansers that are too drying can cause further irritation. In those cases, look for mild body cleansers with moisturizing properties, since these won't strip your skin of essential nutrients. Here are some of our favorite options for different skin types and concerns.
Buy now

with Dermstore

This body wash gently exfoliates pore-clogging dead skin cells, thanks to the glycolic acid in its formula. Glycolic acid is a superstar chemical exfoliator that helps smooth rough areas—without the use of harsh granules that irritate your skin.
Learn more about keratosis pilaris (and how to get rid of it.)

Buy now with free delivery

Clean dry skin without stripping it of moisture with this body wash. It's chock-full of essential oils (including lavender, sandalwood and lemon) and pantheol (a moisturizing agent) to prevent excess dryness. Bonus: You can also use it as a bubble bath!


Buy now with free delivery

Calm redness and irritation with this gently lathering shower gel. The gel contains thermal spring water to soothe inflammation and itching, citric acid to get rid of dirt and excess oils, and vitamin E to pump your skin up with antioxidants.

Buy now with free delivery

4. For Natural Beauty Lovers: Korres Vanilla Cherry Showergel

This deliciously scented foamy gel is free of phthalates, silicone and parabens. What does it have? Organic marshmallow root, skin-soothing aloe and potent antioxidants like vitamin C, which protect the skin from aging and free radicals. Plus, its formula actually stimulates collagen—the protein necessary for promoting youthful-looking skin.

Buy now

with Dermstore

Guys, this one's for you! Take care of cleansing and exfoliating in one step, with this bar soap with pumice, which exfoliates away dulling dead skin cell buildup. The bar also has jojoba oil, a super-hydrating ingredient.

Buy now with free delivery