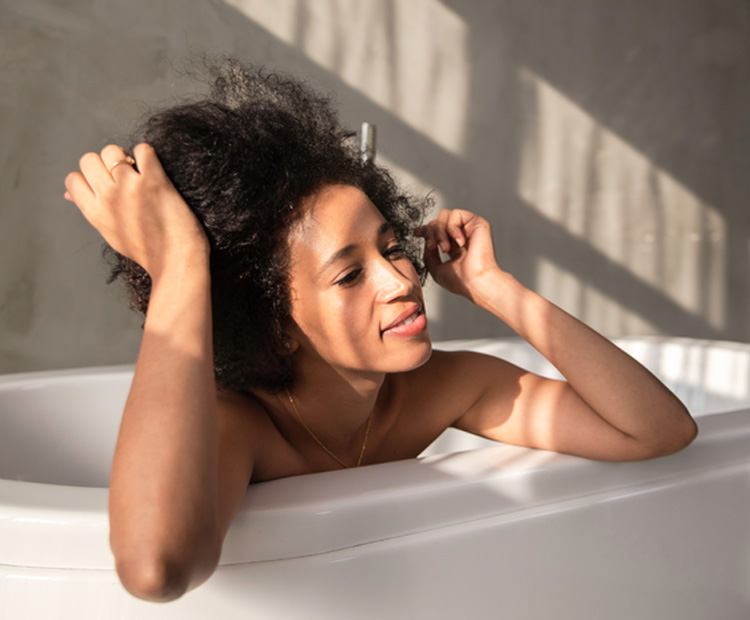 If you're a skin care enthusiast, you know how important exfoliation is in making sure your skin stays in top form. Although your face may have kept its radiant glow, you may be guilty of neglecting the rest of your body. A shame—really—considering that we naturally shed millions of dead skin cells every day. And when left unaddressed, this can build up on the skin's surface and lead to ingrown hairs and acne. But not to worry—that's what exfoliation is for.
"Proper exfoliation removes dead skin cells from the surface of the skin, uncovering fresh new skin and improving skin tone. It allows for products to penetrate deeper and work more effectively and also serves to unclog pores," says board-certified dermatologist Rhonda Klein, M.D., M.P.H., F.A.A.D.
New York dermatologist Bobby Buka, M.D., contributing founder and chief science officer of First Aid Beauty, seconds this, adding, "The other thing about exfoliation is that it improves circulation, which, in addition to the overall health benefits, improves the skin's elasticity and helps alleviate signs of scars and cuts."
Types of Exfoliants for the Body
Exfoliators are classified as either chemical or physical, and depending on your skin type, both can be incorporated into your beauty regimen. "Chemical exfoliants are good for most skin types as they work to dissolve dead skin cells rather than using grains or particles. Non-abrasive exfoliators often tend to hydrate the skin as well," explains spa industry professional Julie Pankey.
Physical exfoliators or scrubs, on the other hand, use grains—from sugar, clay, plants or nuts, to name a few—to rid the skin of surface impurities. They work best for those with dry and flaky skin as the fine granules can slough off dirt and debris to reveal fresher, brighter skin. But if you have sensitive skin, Pankey says to proceed with caution as larger-grained body scrubs can cause irritation and micro-tears.
Glycolic acid works best for chemical exfoliation, says board-certified dermatologist and beauty expert Anna Guanche, M.D., "because the acidity allows sulfide bonds between the dead skin cells to break down so that the cells will let go," she explains. Additionally, Dr. Klein recommends exfoliants with lactic and salicylic acids, willow bark extracts and proteolytic enzymes (like papain and bromelain—enzymes that break down protein and aid in tissue growth).
Now that you know how important exfoliation is for your skin, it's time to give your body some well-deserved TLC. Here are our top picks for best exfoliating products for your body.
Buy now

with Dermstore

There's no better way to pamper your skin and keep it free of dirt and dead skin cells than with this hydrating body scrub that features raw-sugar-cane granules, coconut oil and cucumber to gently renew, moisturize and revitalize your complexion. It is also infused with a BioComplex formula that's packed with antioxidants, coenzyme Q10 and alpha lipoic acid, to restore, condition and strengthen skin, leaving it more radiant and youthful-looking.
How Often Should You Exfoliate Your Body
While exfoliation is essential in boosting cell turnover, Osmosis Pur Medical Skincare founder and formulator Ben Johnson, M.D., says that too much scrubbing and peeling can actually do your skin more harm than good. He explains that forced exfoliation creates holes in the epidermal layer and "forces the epidermis to go into survival mode," causing the skin to divert collagen, antioxidants and crucial nutrients from the dermis in an attempt to repair the damage. "This, combined with the increased risk of inflammation and micro-scarring and the resulting stress to the immune system, creates a stage for premature aging and an increase in free radicals, dryness, irritation and redness, sun sensitivity and melanin activity," adds Dr. Johnson.
For those with dry and dehydrated skin, Dr. Johnson recommends using a mild enzyme exfoliant two to three times a week to help "smooth out the upper epidermal layers without causing inflammation." Pankey echoes this and adds that for sensitive skin, "Once a week is a good start to see how your skin responds."

Buy now with free delivery