Acne is one of the most common skin concerns across all ethnicities. It's also one of the most frustrating skin conditions to treat. Whether you have occasional breakouts or persistent blemishes, selecting the right products for you is the most important step toward clearer skin. And the trick to choosing the right product comes down to understanding the key ingredients, what they do and how they work. Below are the top three ingredients you need to look for.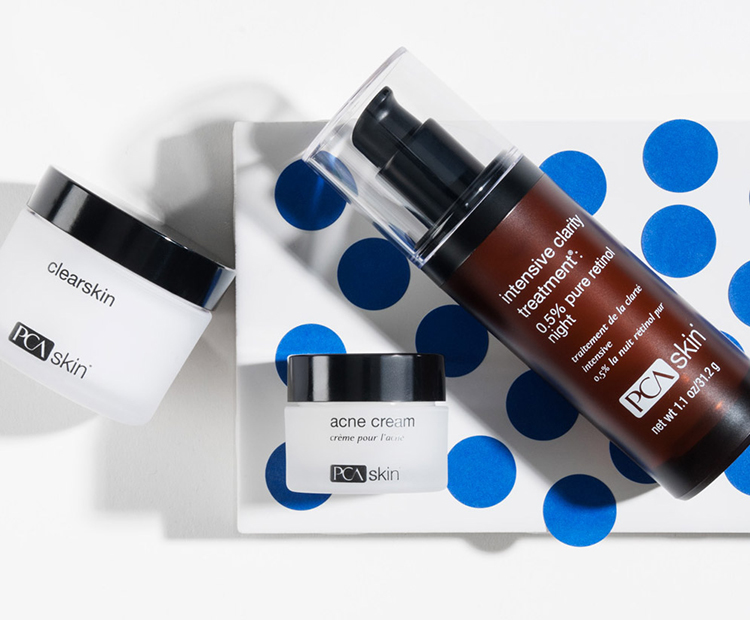 1. BENZOYL PEROXIDE
How It Works: Acne is caused by the P. acnes bacteria, which live deep within the pores and survive on oil, cell debris and skin tissue. This type of bacteria cannot survive in an environment with oxygen, which is why P. acnes thrive inside the enclosed pore. Liquid benzoyl peroxide (BPO) is an effective form because of its ability to penetrate the pore, flooding the follicle with oxygen and killing bacteria below the skin's surface.
Why It's Great: BPO works instantly on contact with the skin, making it a great ingredient for cleansers that spend so little time on the skin before being rinsed off. Benzoyl peroxide also works effectively in spot treatments because of its quick action upon application to the skin.
What Else You Need to Know: This ingredient can be topically irritating on some individuals unless combined with soothing ingredients such as gluconolactone, a polyhydroxy acid.
Dermstore Recommends: PCA Skin BPO 5% Cleanser
2. SALICYLIC ACID
 How It Works: Salicylic acid (SA) is a naturally exfoliating ingredient and is also considered lipophilic, or oil loving. A type of beta hydroxy acid (BHA), SA works by dissolving oil, dead skin cells and debris from inside the pore while exfoliating dead surface skin cells. This activity effectively minimizes below-the-skin blemishes that can lead to increased breakouts.
Why It's Great: Salicylic acid is derived from willow tree bark, wintergreen oil or sweet birch and is safe to use on most skin types in low percentages without overdrying the skin. It is a naturally occurring anti-inflammatory, which adds to its anti-acne benefits. Inflammation is one of the four main contributing factors to acne breakouts; therefore, adding in anti-inflammatory ingredients can decrease the occurrence of breakouts.
What Else You Need to Know: Salicylic acid can penetrate oil-filled pores, making it effective for those with oily, acne-prone skin. Its larger molecule size also penetrates the skin at a slower rate, so it's safe to use on even the most sensitive skin types.
Dermstore Recommends: PCA Skin Acne Gel
3. NIACINAMIDE 4%
How It Works: Also known as vitamin B3, niacinamide has a plethora of uses within skin care. With similar benefits to that of niacin, niacinamide doesn't cause the flushing response often associated with niacin. This ingredient aids in the reduction of breakouts by easing inflammation and preventing transepidermal water loss.
Why It's Great: Those with acne-prone skin often use drying ingredients to heal breakouts. Unfortunately, this practice can worsen the acne and cause excess oil production. By including niacinamide in products, the moisture content of the skin is normalized, which helps prevent further breakouts by reducing excess oil production.
What Else You Need to Know: Niacinamide's anti-inflammatory, antioxidant and hydrating benefits promote a more even skin tone.
Dermstore Recommends: PCA Skin Clear Skin