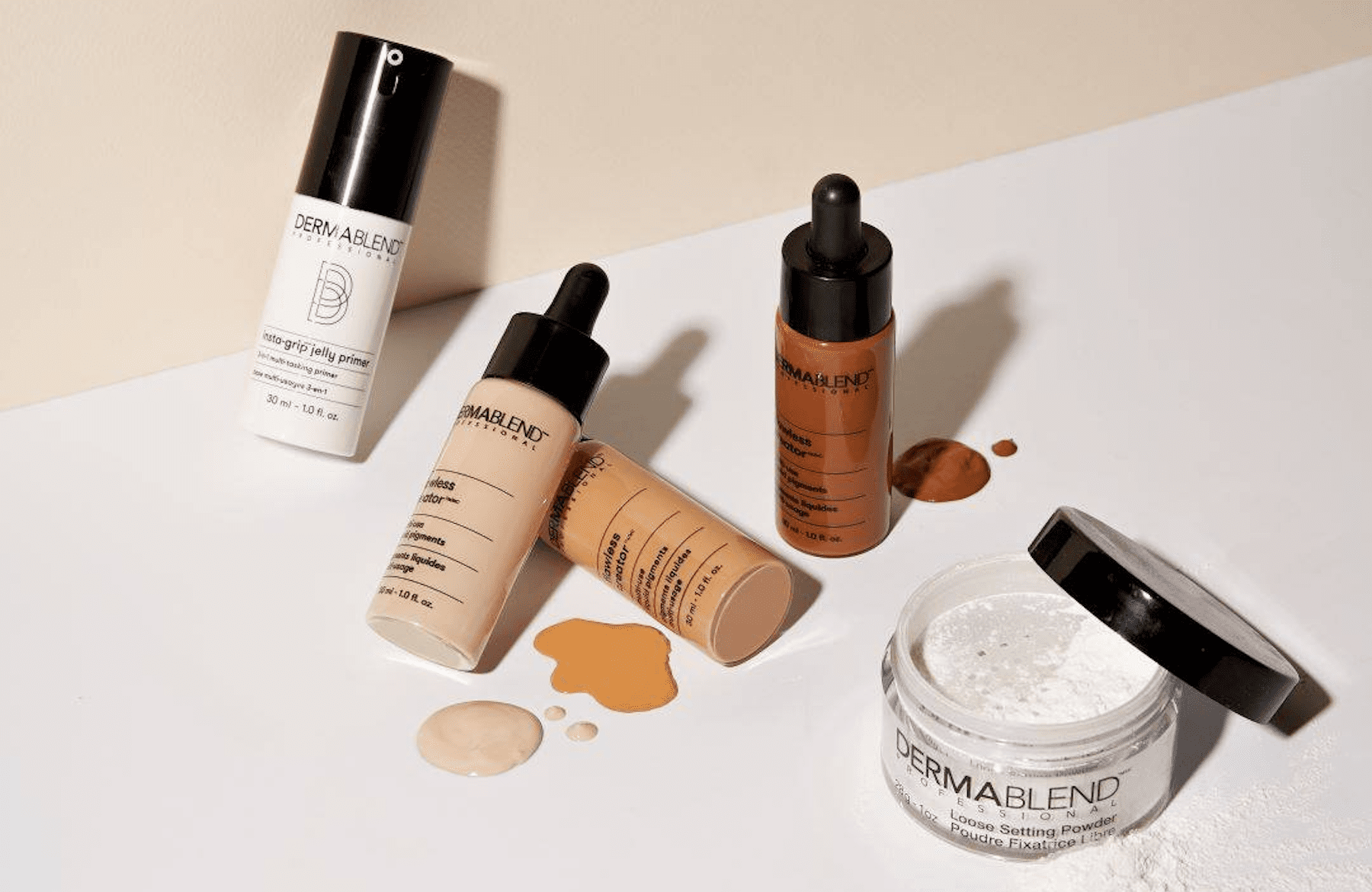 Even if dramatic makeup isn't part of your daily routine, Halloween is most certainly the time to make an exception. This holiday offers the perfect opportunity to go way beyond the limits of your every-day or even going-out look, and tap into the potential that lies within every tube, pump and pan in your makeup bag. Since Halloween often requires venturing outside of your usual comfort zone, we turned to the pros at Dermablend to put together some professional tips for making your vision board a reality and helping your look last long after the final trick and treats.
Prep your skin
The key to Halloween makeup success and long-lasting wear is proper prep, and priming your skin for makeup is the first essential step—especially when you're working with products like cream-based color sticks, face paints, stick-on crystals and glitter.
Although you may prefer more "slip and slide" when priming your skin for makeup on a normal day, dramatic Halloween looks that include face paints or color sticks require a base that provides long-lasting "grip." Dermablend's Insta-Grip Jelly Primer delivers the hold you need for targeted makeup application and building color that won't smudge or bleed for up to 24 hours. And for the record, this fast-absorbing primer is formulated with plant extracts to smooth, moisturize and tighten the skin for enhanced makeup application. Its clear, jelly texture works seamlessly with all skin tones, and the non-comedogenic, allergy-tested formula is safe for all skin types and skin conditions including sensitive skin and acne-prone skin.
Create a blank canvas
When going for a skeleton, alien or otherwise unearthly Halloween makeup look, you need to start with a base that creates a clean slate. Flawless Creator can be used on its own for full yet lightweight coverage, or mixed with moisturizer for a more dewy, fresh-faced vibe that lasts for up to 16 hours when followed with setting powder. If you're going for a dramatic, contoured result (such as a zombie or skeleton-inspired look), use Flawless Creator in light and deep shades to highlight and sculpt without the worry of clogged pores or irritating sensitive skin. From there, use powder shadows to add and intensify drama.
When your Halloween makeup involves a dramatic eye, Dermablend's Cover Care Full Coverage Concealer makes an ideal base. Its skin-perfecting formula evens out tone and texture before you tackle more complicated eye-makeup looks, and provides up to 24 hours of smudge- and transfer-resistant wear (without the need for an eye-specific primer). Beyond Halloween, this non-comedogenic, dermatologist- and ophthalmologist-tested, alcohol-free formula can be used safely for all your concealing, highlighting, contouring and priming needs around the eyes and on the entire face each and every day.
Set
The secret for maximizing the staying power of your Halloween makeup is a translucent setting powder that ensures long-lasting wear without compromising your artistry or color payoff. This final, finishing step is crucial especially if you create your look with several layers of makeup and cream-based products. In this case, you'll need to apply more setting powder than usual and leave it on for a longer period of time before buffing excess away so it can balance excess oil and moisture. Dermablend's original Loose Setting Powder provides up to 16 hours of smudge- and transfer-resistance to help prevent your makeup from rubbing off on your costume.
For some, wearing significantly more makeup than usual can be uncomfortable. In the case of Halloween, a boost of extra hydration can help. Dermablend's Lock and Last Water-Resistant Setting Spray provides much-needed moisture that helps keep skin looking and feeling fresh while offering up to 24 hours of smudge- and transfer-resistant wear.
Tricks from a professional makeup-artist
It's a lot easier to get creative with your Halloween makeup when you have insider advice that helps you make the most of your products—and gives you new ways to use them.
Any powder eyeshadow can replace liquid eyeliner with a little setting spray, like Dermablend's Lock and Last Water-Resistant Setting Spray. More than a hydrating mist, this setting spray dries down quickly and allows you to use any eyeshadow to create a cat-eye (or any other look you're after) while creating a smudge-resistant finish. You can also spray it on an angled brush or damp wedge sponge to clean up any mistakes.
Use Lock and Last Water-Resistant Setting Spray can help prevent glitter from getting everywhere. Simply spritz it on an eyeshadow brush before dipping into the glitter, mist the area you're applying it to and press the glitter into place. The water-resistant seal will create a skin-friendly film that holds your sparkle in place.
If your Halloween makeup goals include changing your lip shape, use Cover Care Full Coverage Concealer to blur out your natural lip line and create a fresh slate before working your magic with liner.
If you make an eyeliner mistake, you don't have to start from scratch. Just place a little Cover Care Full Coverage Concealer on an angled brush and create a new, crisp edge.
Crafting the ideal Halloween makeup look may be your first priority—and these tips are sure to help you make the most of your efforts. And don't forget to wash your face before you get into bed and call it a night.