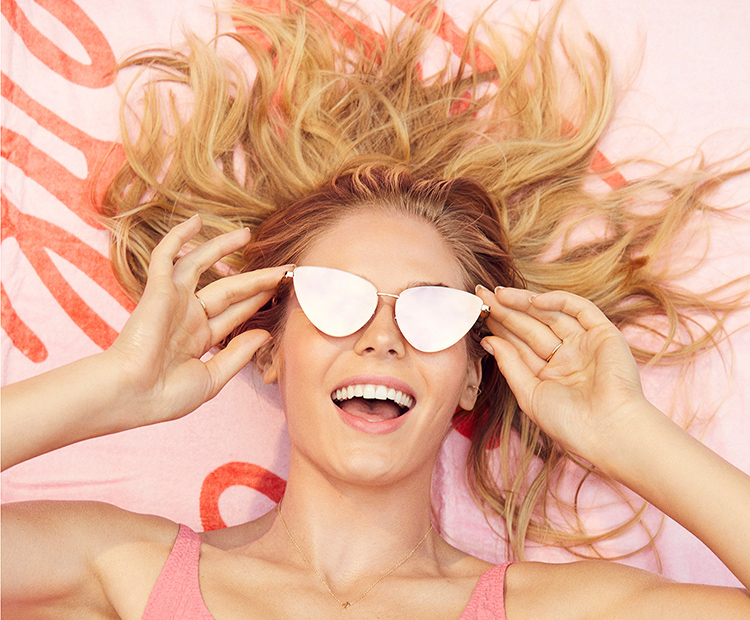 For those of us who color our hair, brass can be a real pain in the…wallet. The goal is to have your cool blonde or brunette tones stay exactly how they look when you walk out of the salon, right? But often those warm tones seep in, and before you know it, you're looking orange as the sun, ready to head back to the chair for a touchup. Well, it turns out there's a way to combat brassiness and hold your color for longer. We turned to Alexandra K. of Crush Salon in Los Angeles to give us the 411 on how to fix brassy hair.
What Causes Brassy Hair
First, consider why brassiness starts in the first place. "It's caused by harsh chemicals—like ammonia found in hair color—exposing your underlying pigment," Alexandra says. Your underlying pigment is the base color beneath the tones that meld together to form your more obvious natural hair color. For example, very dark brunettes actually have a red underlying pigment. When choosing hair color, your colorist is no doubt taking this into consideration. If warm tones are lurking in your underlying pigment, he or she needs to know how to expertly break that base.
Preventing Brassy Hair
In order to prevent your hair color from turning brassy, Alexandra recommends a low-pH or ammonia-free hair color along with a proper color formulation recommended by a professional. Chances are if you're repeatedly encountering brassiness soon after a color, your colorist should try a different product—or you should try a different colorist. But do note, if you're highlighting or lightening darker brunette locks, you may need to put in the work for extra upkeep. Alexandra recommends turning down the heat on styling tools and staying away from UV rays. "Wearing a hat and using a leave-in sun protection spray will protect hair from the sun," she says.
Products That Lessen Brassiness
There are a handful of products that help to stave off brassiness after color treatment, and it all starts in the shower. "Be sure to use a sulfate-free shampoo (or hair care products designed for color-treated hair) to maintain your more ashy tones and keep the hair from turning brassy," Alexandra says. With the right colorist, smart color choices and innovative color-protectant products, preventing and removing brassiness can be a breeze. Here are our top picks to help you get started:
Buy now

with Dermstore

Philip B. is renowned for botanical hair treatments, and its Icelandic Blonde Shampoo will not disappoint. This unique formula of botanicals and oils tones the hair while also protecting and strengthening. Plum extracts neutralize warm tones while grapeseed oil nourishes and time-released botanicals moisturize. Simply massage into clean, wet hair, let sit and rinse.
Tip: Use as needed and alternate it with the other shampoos and conditioners. Use a fine tooth comb to evenly disburse the product through hair for best results.

Buy now with free delivery