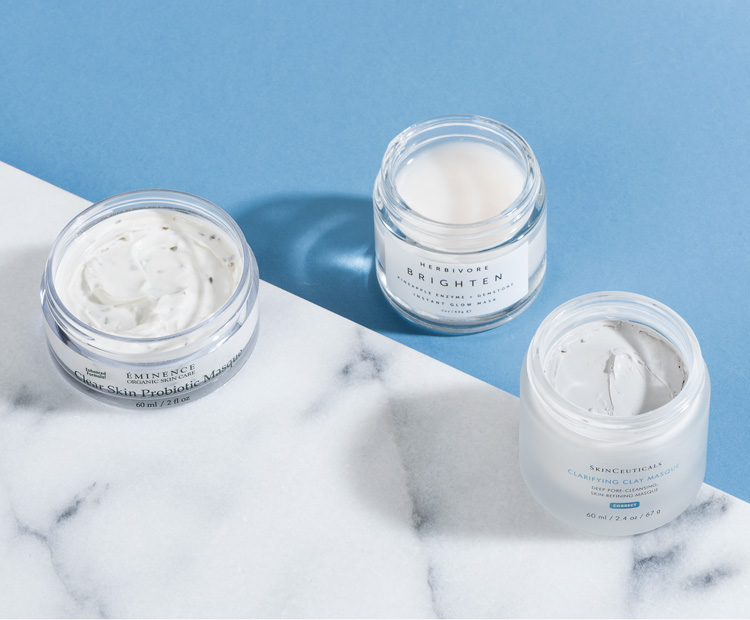 Ask any beauty junkie and they'll agree: Masking is an essential part of every skin care routine. And while it might not be something we do every day—like cleansing and moisturizing—it can be just as effective.
That said, not all face masks are the same. Some saturate your skin with moisture, some fade dark spots and brighten your skin tone, some soothe inflamed and irritated skin, while some slough off dry skin buildup for a softer, smoother-looking complexion. The latter—a.k.a. exfoliating face masks—offer all the benefits of your favorite face scrub, but without the abrasive rubbing and tugging that can leave micro-tears on your skin. For the right way to use exfoliating masks, plus the best ones out there, read on.
The Skin Care Benefits of Exfoliating Face Masks
There are countless benefits of exfoliating face masks. For one, they "get rid of dry, flaky skin," says Dr. Debra Jaliman, a board-certified dermatologist in New York City. "People should exfoliate to rejuvenate and brighten the skin," she adds.
On top of that, "Regular exfoliation [can] help with any sun damage or skin discoloration from the summer months." And if you're looking for a way to up the ante on your skin care routine, exfoliation might help you do so. "When we don't exfoliate, it leaves [a layer of] dead skin on the surface [and] moisturizers don't penetrate [as] deep," explains Dr. Jaliman. As a result, "Skin looks rough and dull," she notes.
How to Use an Exfoliating Face Mask (And How Often)
Incorporating an exfoliating face mask into your routine is one thing; knowing when and how to use it is another, as every skin type (and need) is different.
"If you use a lot of makeup, exfoliating at night is important to get rid of any remaining makeup that your cleanser left behind," she explains. In addition, those with dry or oily skin might benefit from exfoliating in the morning—especially if they use products with retinol at night. "Exfoliating in the morning is the way to go because you don't want to exfoliate at night when using your retinol products. When someone uses retinol, the outer layer of the skin is sloughed off and the newer skin underneath is revealed. Using an exfoliating mask at the same time [might] be too harsh," notes Dr. Jaliman.
When using an exfoliating face mask, Dr. Jaliman recommends using "a gentle cleanser before the mask to make sure any dirt, oil and makeup is off your face." And once you've rinsed your exfoliating mask, it's important to "follow [up] with a good moisturizer," she advises. Post-masking, your skin should be free of the dry, dead skin buildup, making it easier for nourishing serums and moisturizers to do their job.
As for how often you should use an exfoliating face mask? Dr. Jaliman says, "One to two times a week is fine if you are using [it] for the first time. Once you see that you have no reaction, you can use it two to three times a week," she explains. That said, Dr. Jaliman stresses how important it is to read the instructions when using these at-home beauty treatments. "Wearing an exfoliating mask longer than the suggested amount of time could cause irritation," she explains.
The Best Exfoliating Face Masks
When it comes to exfoliating face masks, there are a variety of ingredients and formulas that can give you soft, glowing skin. From glycolic acid to pineapple enzyme to charcoal, take a closer look at the best exfoliating face masks, plus the ingredients that give them their exfoliation power, below.
Buy now

with Dermstore

Key Ingredient: Kaolin + Bentonite Clay
Clay masks might be marketed as deep-cleaning, but they're also exfoliating. "Kaolin clay draws out impurities from your pores," notes Dr. Jaliman, while bentonite clay is "beneficial for oily skin, clogged pores or acne," she explains. Because clay can slough off pore-clogging aggressors, those with acne-prone or oily skin might benefit from adding one to their routine. As for what exfoliating clay mask to try? SkinCeuticals makes a Clarifying Clay Masque that is enriched with both kaolin and bentonite clay along with plant extracts to pull out impurities, balance oil production and gently slough off dry, dead skin cell buildup.


Buy now with free delivery