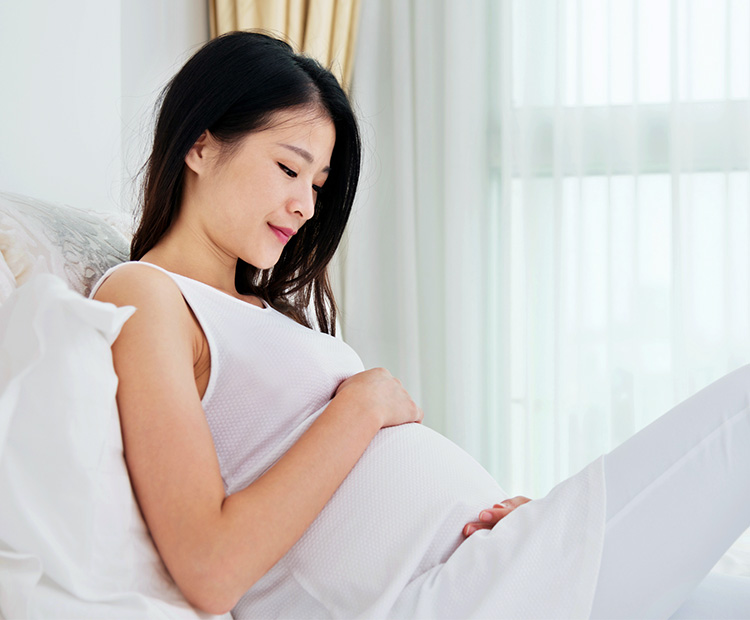 You're glowing! Two words women imagine showering down on them when the news arrives that they have a baby on the way. Yet the same fairy dust (ahem—hormones) that flushes our cheeks with a "pregnancy glow" happens to also bring unwanted skin changes. So on top of the million-and-one concerns running through your mommy-to-be brain, you're now thinking about skin care ingredients and beauty treatments to avoid while pregnant, nursing or trying to conceive (TTC).
What Happens to Our Bodies When TTC, Pregnant or Nursing
What worked for your skin once upon a time may no longer be what your skin needs during this new chapter of your life. "Our skin becomes very sensitive and often changes texture, character and even tone," says Dr. Shilpi Agarwal, board-certified Family Medicine Physician and Medical Advisor to Belli Beauty. Agarwal notes that the use of harsh chemicals or even your normal skin care routine can dull your complexion and cause rashes. With this in mind, it's time to adopt a new regimen.
The problem is that your skin is the frontline defense against daily toxicities but that some products are designed to penetrate the skin, potentially entering the bloodstream and harming your little one. "They can affect our hormonal cycles and interfere with organ development in an unborn baby," adds Agarwal.
This goes for every new-mom stage. "Nursing moms' skin comes in direct contact with [the] baby and small amounts of toxins from body lotions on the breast can be absorbed into young babies skin and have damaging effects," which Agarwal says usually appears in the form of skin rashes on the baby.
As you try your best to care for your little tyke, you may find that even the smallest risk of toxicity from your go-to skin care products is out of the question. So to help you and your baby stay safe during this exciting time, we brought you a breakdown of the top ingredients and treatments to avoid while pregnant, breastfeeding or TTC.
Skin Care Ingredients to Avoid When Pregnant
1. Hydroxy acids and benzoyl peroxide
These acne-fighting ingredients have become the gold standard in clearing pores and exfoliating dead skin cells but are generally not recommended for hypersensitive skin. This comes as ultra-bad news for new moms for whom practically all will experience extra sensitivity to just about everything, including salicylic acid and benzoyl peroxide.
"Salicylic acid is the most common beta hydroxy acid (BHA) you'll find listed as an ingredient and the only BHA that has been studied in pregnancy," explains Zondra Wilson, Founder and CEO of Blu Skin Care. "High doses of the acid in its oral form (it's an ingredient in aspirin) have been shown in studies to cause birth defects and various pregnancy complications," she explains.
Utilizing salicylic acid's more gentle cousin, lactic acid, this face wash "still helps cleanse and remove dead skin without the same irritating aftereffects," Agarwal notes.
2. Retinoids
A miracle acne-treatment for some women, retinoic acid is available only from a doctor's authorization. That is, until you're trying to conceive, at which you should cease use and store away. Retinoids, among other forms, can cause birth defects such as malformation, and jump to the top of the list of what to avoid when trying to get pregnant.
3. Essential oils
A therapeutic, highly concentrated substance extracted from plants, essential oils are generally good for your skin, and there are a handful of essential oils you can continue to use while pregnant as long as you are careful. But—and this is a big but—some of these powerful perfumes can cause contractions, explains Alexandra Gouteron Le Ny, Certified Health Coach, Yoga Instructor and Reiki Healer, as she calls out oils on an avoid list including cumin, fennel, oregano, rosemary and thyme.
Indulge in these instead: Eucalyptus, black pepper, frankincense, geranium, peppermint or ylang-ylang, diluted with a carrier oil such as coconut, grapeseed or sweet almond oil.
4. Chemical sunscreens
Don't worry, you can still sunbathe! Sunscreens are generally A-OK but to be extra safe, choose an all-natural option that doesn't penetrate the skin. Agarwal taps into her expert advice to recommend a mineral-based sunscreen because it provides a physical barrier using zinc, a safer alternative ingredient.
Beauty Treatments and Services to Reconsider
5. Hair dyes
There's no evidence of hair dye harming the baby; however many mothers-to-be choose to wait until the second trimester (when the baby is more developed) to tint their tresses in order to minimize any possible damage to their growing baby. Did we mention those fumes? Hair dying doesn't smell so sweet (actually, it's toxic) so it's very important to be in a well-ventilated room if doing so.
Pro tip: Opt for a trendy balayage look by only highlighting from midshaft down, leaving the roots untouched so that the chemicals are only absorbed by your strands and not by your scalp.
6. Tanning and self-tanner
Getting your fake tan on is deemed okay when pregnant. That's because the active ingredient, dihydroxyacetone, is non-toxic and can't move beyond the skin barrier. But what to avoid while breastfeeding? Refrain from using self-tanner around the breast area where your baby comes into contact with your skin. While these ingredients are not toxic to our skin, if applied to the breast the baby is exposed orally to the product and studies have suggested this can harm baby's cell and organ development.
On the reverse end, tanning by sunbeds during pregnancy is a big no-no. Sunbeds may cause your body to overheat and the harmful UV rays are also found to break down folic acid which is extremely important for healthy development.
7. Botox
Yes, more stress from these new-mom worries can sometimes equal more wrinkles. And while Botox is generally thought to stay in the area it is injected (ingredients not reaching the developing baby), there isn't enough data to back this up, so most healthcare providers advise postponing this treatment until after you give birth.
8. Manicures and pedicures
Much like with hair dyes, you don't have to say goodbye to mani-pedis for a full nine months. "However, you may have to skip this part for two reasons," says Zondra Wilson. "First, the smell may irritate you, especially if your pregnancy is sensitive. Second, if you remove calluses before painting your nails, you'll have a higher chance of cutting yourself," she notes. Pregnant women are at higher risk of infection so experts recommend simply trimming your nails for a while.
An Updated Skin Care Routine
While you are allowed to indulge in an extra serving (or two!) of those Italian herb breadsticks, this is not the time to throw caution to the wind when it comes to your skin care routine. So what's your next move? Caring for your changing skin and your little one's 100% well-being, of course! Remember, the importance of updating your skin care routine is twofold: your changing estrogen levels shifting and the potential harm of certain ingredients found in skin care products.
Ready to make the switch? Start by switching to mostly unscented skin care products, using all-natural remedies when possible or purchasing from brands designed with moms in mind. "If you're dealing with pregnancy-induced acne, a dermatologist can likely give you a safe topical antibiotic," notes Wilson. Talking to your doctor is always the best remedy and be sure to mention to your manicurist or hairstylist if you are pregnant.