Many factors can negatively impact our skin, from poor diet to lack of sleep, but what about the external factors we can't control such as environmental conditions like sun?
Dermstore's latest research analyzes seven external factors impacting our skin, including air quality, pollution, UV rays, sunshine hours, average winter temperatures, and altitude, to determine the best and worst states to live in for skin health.
The best states for great skin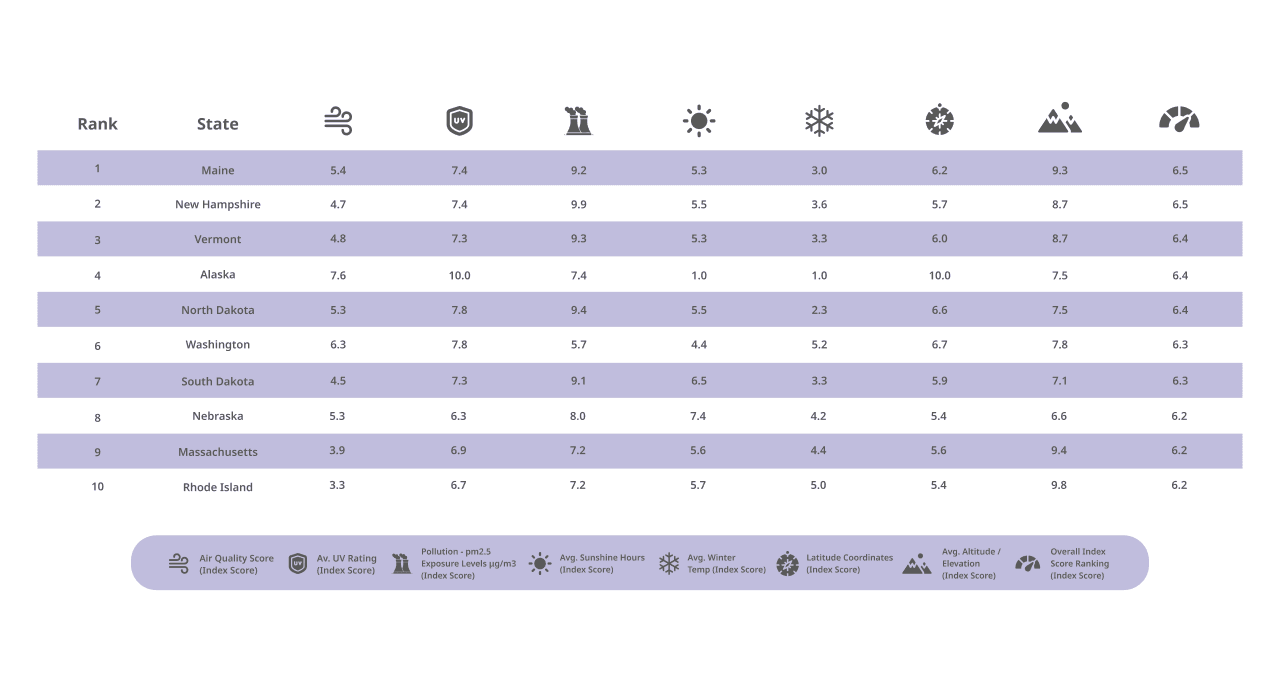 According to our research, Maine is the best state for great skin thanks to its relatively low UV rating (4.2 on average), low elevation (600ft on average) and low pollution levels — pm2.5 exposure level of 5 — one of the lowest across America.
In fact, three of the top five best states for great skin are positioned in the northeast of America — Maine, New Hampshire and Vermont — thanks to their low elevation levels and high air quality scores.
While Alaska has harsh winter conditions, the state secures the fourth position in our research due to its extremely low UV rating score of 2—- the lowest across all states — and its low pollution levels. North Dakota rounds off the top five with an index score of 6.35 overall.
Maine – with an index score of 6.53
New Hampshire – with an index score of 6.50
Vermont – with an index score of 6.40
Alaska – with an index score of 6.37
North Dakota – with an index score of 6.35
The worst states for skin health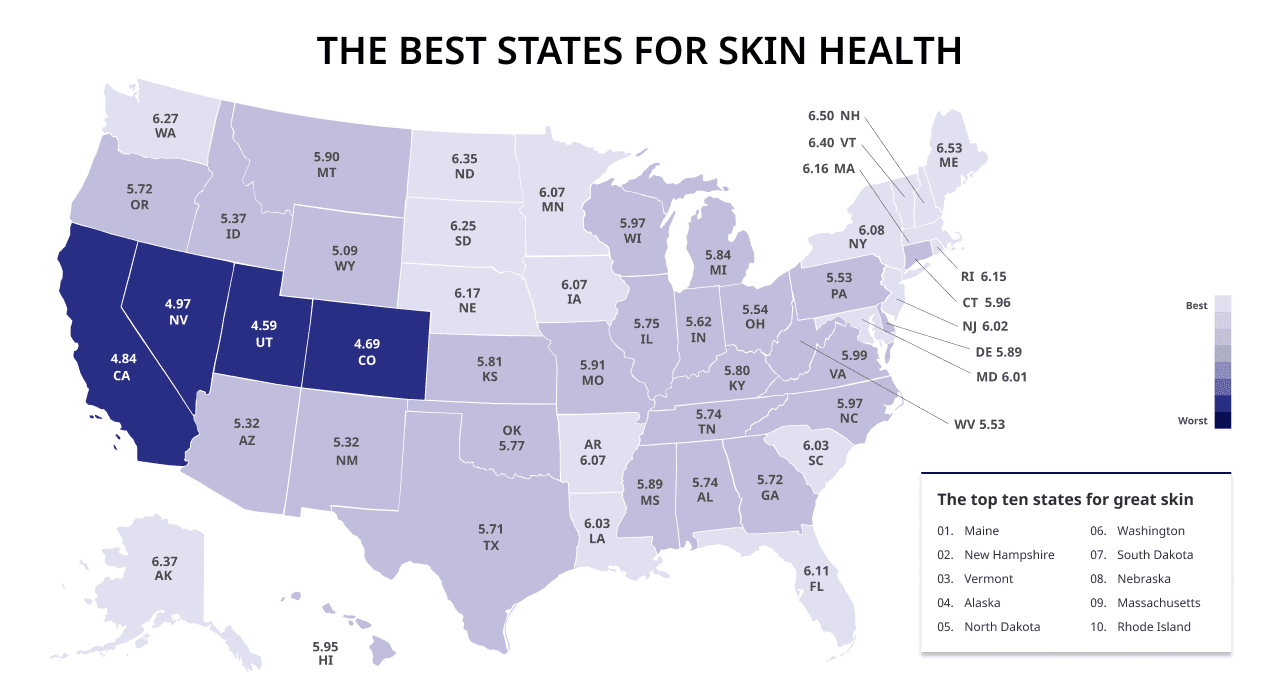 At the other end of the scale, Utah is named the worst state for skin health with an overall index score of 4.59. This is a result of Utah's high elevation compared to the other states, higher average sunshine hours, and poor air quality score of 51.2 according to The World Air Quality Project.
Other states within the bottom five include: Colorado, California, Nevada and Wyoming.
Utah

– with an index score of 4.59

Colorado

– with an index score of 4.69

California

– with an index score of 4.84

Nevada

– with an index score of 4.97

Wyoming – with an index score of 5.09
The impact of air quality and pollution on your skin
Exposure to air pollutants has been associated with skin aging as well as inflammatory skin conditions like atopic dermatitis, eczema, psoriasis, and acne.
Dermstore's research found Hawaii has the best air quality levels with an official air quality score of 21.2. In fact, Honolulu is one of only six cities in the U.S. ranked on all three of the American Lung Association's cleanest cities lists for ozone, year-round particle pollution, and short-term particle pollution. 
Utah has the worst air quality score at 51.2, followed by Ohio and Georgia both with an AQI of 48.2. 
Another factor analyzed was fine particulate matter exposure levels, which have been linked to skin aging, wrinkle formation and changes in pigmentation. Wyoming was found to have the lowest levels at 4.2 μg/m3, followed by New Hampshire and Hawaii both at 4.3 μg/m3. California ranked worst for this air pollutant factor with an official score of 13.3 μg/m3 — more than 200% higher than Wyoming.
The impact of UV rays on skin
Exposure to UV rays has been linked to premature aging as well as signs of sun damage such as wrinkles, leathery skin, liver spots, actinic keratosis, and solar elastosis.
Our research analyzed mean UV ratings to determine which states are more likely to suffer from skin damage. Perhaps unsurprisingly, Hawaii was found to have the highest exposure to UV rays given its positioning closest to the equator, while Alaska had the lowest — with an average UV rating of 2.
The impact of weather on your skin
Changes in humidity and temperature can have a huge impact on our skin. While healthy levels of vitamin D might help to prevent skin from premature aging as well as helping to treat skin conditions such as dry skin, psoriasis and eczema, too much sun can cause damage to skin cells, elastic fibers, and collagen levels.
Due to this, Dermstore's in-depth research analyzed average sunshine hours as well as average temperature in winter to get an accurate view of where skin health can be at its optimum across the whole year. 
As we move from spring to summer, it's important to consider how the climatic changes can impact our skin and adjust our skin regimen accordingly.
Dr. Loretta Ciraldo, a board-certified dermatologist in Miami and the founder of Dr. Loretta skin care shares her expert advice on how to help your skin live its best life this summer: "You definitely don't need to change every product you are using as the seasons change. But during the summer months, it is advisable to make some tweaks to your daily skin care regimen."
You may want to change your cleanser to address increased sebum production in summer. Formulas containing salicylic acid are often good summertime cleansers.

Consider using a hydrating, tinted SPF in place of morning moisturizer and makeup to reduce the number of products you're applying to your skin.

You can consider using a green tea serum in place of an oil-free moisturizer. Green tea is very helpful for oily skin and acne, and it is actually photoprotective.

If you are exfoliating with a chemical or physical exfoliator, you might want to lessen the frequency of use (more on this in a bit).
The skin's natural rate of exfoliation becomes more rapid during summer months so experts recommend cutting back on the frequency of exfoliation during the summer. Our dead cell layer also helps to provide some protection from the sun which means that exfoliating will make skin more sun-sensitive — another reason to consider exfoliating less.
Hydrate from the inside out
Summer can dehydrate your skin, and applying moisturizer alone isn't enough. Drink plenty of water and consider using a hydrating mist throughout the day.
Sun protection is essential
Apply SPF liberally and reapply every few hours. Even on cloudy days, our skin is sensitive to UV rays which can lead to skin cancer, pigmentation, and wrinkles.
Repair and prevent damage
Consider adding antioxidants into your skin routine such as vitamin C, which helps skin to fight back against sun damage and premature aging.
Methodology
To see the full set of data, visit: https://public.flourish.studio/visualisation/10013816/
To find the best and worst states for skin health, we used data across seven external factors to establish an index. The index system used is a formula which scores each metric to produce the final rankings and an average score is calculated across the data points. The state that scored the highest was then used as the best state for skin health.
Sources
Air Quality Score – World Population Review / The World Air Quality Project
Fine Particle (pm2.5) Exposure Levels – μg/m3 – United States Environmental Protection Agency / America's Health Rankings
UV Rating – United States Environmental Protection Agency / Weather 2 Travel
Latitude Coordinates – Latitude and Longitude Finder
Average Elevation – World Atlas
Average Winter Temperature – Current Results
Average Sunshine Hours – World Population Review / Centers for Disease Control and Prevention /Climate Temps
Data was collected in March 2022.