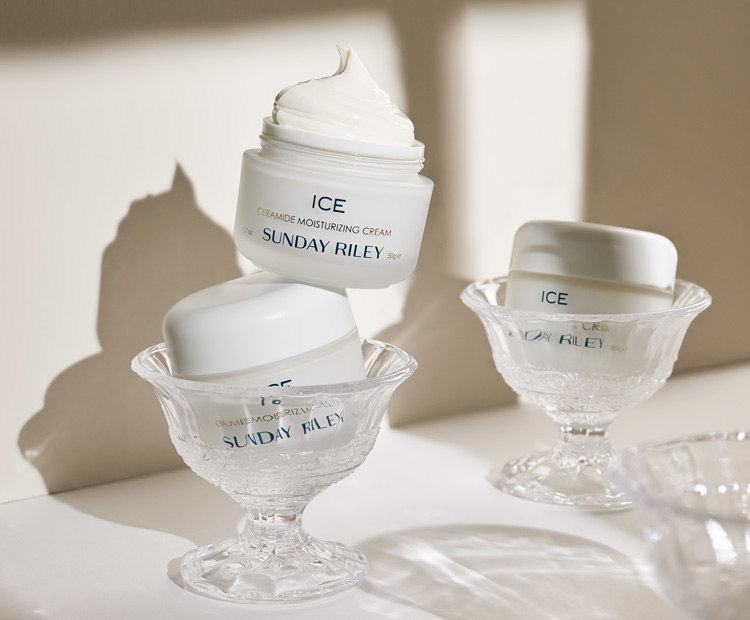 If you've been paying close attention to what's in your skin care products, then you've probably noticed that ceramides are often listed as one of the main ingredients found in your favorite moisturizers, body lotions, serums and cleansers. But what exactly are ceramides and how do these skin care heroes save your skin one concern at a time?
What Are Ceramides
Naturally found in high concentrations in the outermost layer of the skin, ceramides are waxy lipids or fats that form a part of the skin barrier. "They make up over 50 percent of the skin's oil composition. Ceramides are composed of sphingosine and fatty acid. They are found in high concentration in cell membranes, as part of the lipid bilayer. In the skin, ceramides are some of the fatty component of sebum or skin oils that we secrete," explains California board-certified dermatologist Anna Guanche, founder of Bella Skin Institute.
How Ceramides Benefit Skin
As the skin's natural moisturizer, ceramides aid in preserving the skin by creating a protective layer that helps prevent the loss of moisture and shields the skin from environmental aggressors. They play an essential role in keeping dryness, dehydration and premature signs of aging at bay. "Ceramides act as linkers between epidermal skin cells—akin to the cement between bricks in a wall—to help seal up the skin barrier, to protect the deeper layers and to prevent moisture loss," explains board-certified dermatologist Tsippora Shainhouse.
However, constant exposure to pollution, sun damage and the natural aging process can reduce the production of ceramides over time and affect the way they function in your skin. "Without ceramides, the skin would become dry and cracked. That, in turn, will expose inner layers of skin to various toxins and allergens from the environment, making it inflamed and itchy," adds board-certified dermatologist Viseslav Tonkovic-Capin, editor at DermBoard.org.
Because ceramides are naturally found in your skin, they are safe for every skin type, especially those dealing with skin concerns that are aggravated by dryness. "Ceramides are great for addressing dry, flaky or 'broken' skin and managing eczema," says Dr. Shainhouse. They are particularly beneficial for patients with atopic dermatitis who have a genetic defect in the skin molecule filaggrin and leads to a deficiency in ceramides. "Applying topical ceramides can help 'fill in the cracks' between the epidermal cells to create a smooth, more complete protective skin barrier, to help prevent moisture loss and minimize skin irritation from outside agents," adds Dr. Shainhouse.
Ceramides in Your Skin Care Products
Topical ceramides mimic the natural oils in your skin, which makes them "effective when combined with other moisturizing ingredients, such as fatty acids, cholesterol, hyaluronic acid and glycerin," says Dr. Guanche. "You will often see some of these already combined together in various topical moisturizers," she notes.
"Most, if not all, skin care ingredients can work well with ceramides, as they are neither acidic nor basic and will not degrade other ingredients," echoes Dr. Shainhouse. "As a moisturizer, they can help seal in humectant ingredients and can even be layered underneath greasier ointments to smooth and seal the skin barrier, while the ointments provide a waterproof top layer," she adds.
As an anti-aging ingredient, ceramides also work well with other powerhouses such as retinols and acids, says Dr. Shainhouse. "[Ceramides] can soothe skin and prevent the disruption of the skin barrier, which can be a side effect of these agents," she explains. "These combinations may even help the effectiveness of ceramides if the top layer of skin is exfoliated so they can better penetrate the skin. Retinoids and actives should be applied first, then 'sealed in' with ceramides," explains Dr. Guanche.
Best Skin Care Products with Ceramides
If you're looking to reap the skin care benefits of ceramides, you've come to the right place. We've rounded up the best skin care products formulated with ceramides for all your needs, below.
Buy now

with Dermstore

This lightweight yet ultra-moisturizing cream delivers long-lasting hydration and helps reinforce the skin's natural moisture barrier, beefing up its defenses against external stressors like UV damage and pollution. Best for normal-to-dry skin, it harnesses the moisturizing properties of beetroot and coconut extracts while ceramides, vitamin F and pomegranate sterols strengthen the skin's barrier and seal in moisture.

Buy now with free delivery