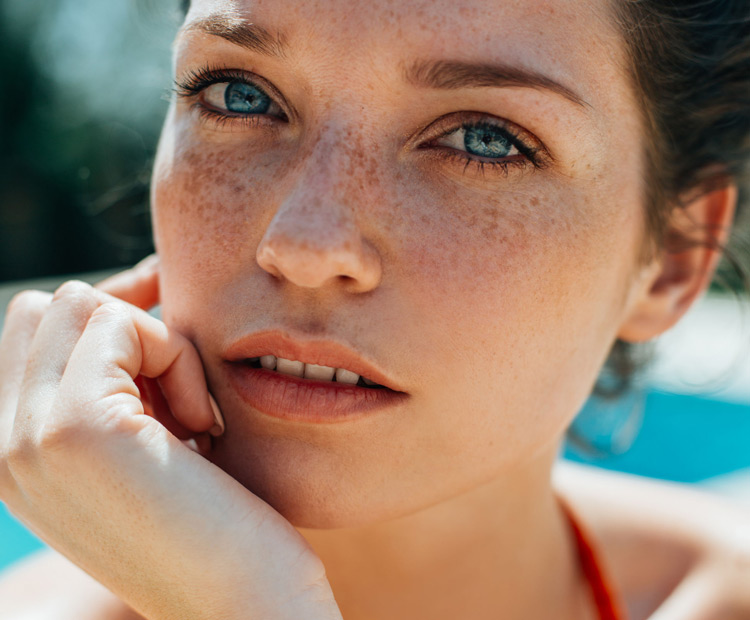 Experiencing a flare-up of dark patches on your complexion? It could be a hormone-triggered type of hyperpigmentation commonly known as "the mask of pregnancy," or melasma. The good news? It can be treated with in-office treatments and home remedies in the form of powerful skin care products. Curious to know more? We tapped one of Dr. Oz's favorite dermatologists to find out what causes melasma, how to tell if you have hormonal hyperpigmentation, how to get rid of it and more. See our dermatologist's guide to melasma, ahead!
What Is Melasma?
Also referred to as pregnancy mask, "melasma is a condition caused by hormonal change from pregnancy or hormonal treatments, such as birth control," says Dr. Dendy Engelman, MD, FACMS, FASDS, FAAD. "It usually appears in patches on the face—forehead and upper lip are sites of predilection—and it's more likely in women than men," she adds.
How Does Birth Control Affect Melasma?
"The hormonal changes from birth control can trigger melasma by stimulating the melanocytes to produce melanin pigment," says Dr. Engelman. That said, just because someone takes birth control doesn't mean they will experience hyperpigmentation. "Not everyone on birth control will get melasma, some are more prone than others," adds Dr. Engelman.
What Does Melasma Look Like?
Wondering how to tell if you have melasma? While a dermatologist can best determine whether or not it's actually the mask of pregnancy, knowing what it looks like can also help. "Melasma is patchy, with more distinct patterns," says Dr. Engelman. "It can also appear gray—unlike freckles or sunspots, which are brown in color," she adds.
When Should You Seek Treatment?
If you notice these dark patches on the skin, you may want to book an appointment with your dermatologist to "make sure this is what you have and strategize a treatment plan," says Dr. Engelman.
Precautions to Consider
One key thing to consider? Sun exposure. "Hyperpigmentation is caused when melanin—what gives our hair and skin color—is overproduced in certain spots on the skin," says Dr. Engelman. "Melanin goes into overproduction in the sun to protect our skin from harmful UV rays, causing them to look darker than your natural skin tone," she adds. "Exposure to the sun makes the issue worse," she explains.
In addition to the sun's UV rays, Dr. Engelman warns against using products with salicylic acid, as it can have a damaging effect on melasma-ridden skin.
On top of that, your diet may also have an effect on melasma. "It has been reported that avoiding certain foods with high estrogen content—e.g. dried fruit, chickpeas, tofu, soy and multigrain bread—will help limit or correct melasma," says Dr. Engelman.
How to Get Rid of Melasma
While melasma can be frustrating, there are some home remedies that can help fade dark patches. Furthermore, "in-office procedures like IPL and Pulsed Dye Laser treatment (PDL) will reduce symptoms," says Dr. Engelman.
For those looking to reduce the look of melasma at home, Dr. Engelman recommends the following:
Buy now

with Dermstore

Dr. Engelman's top choice for helping to reduce signs of melasma? Sunscreen. "The safest sun protection to use is physical [sunscreen] made with either titanium dioxide or zinc oxide," she says. As previously mentioned, melasma-ridden skin can be ultra-sensitive to sunlight, as the UV rays cause the skin to go into melanin overdrive. Applying (and reapplying) sunscreen daily can help keep hyperpigmentation from worsening.
Try: EltaMD UV Clear Broad-Spectrum SPF 46 
Your search for a physical sunscreen enriched with zinc oxide ends here. Formulated with hyaluronic and lactic acid, EltaMD's UV Clear Broad-Spectrum SPF 46 doesn't just create a barrier between your skin and the sun's UV rays, it can help moisturize and protect the complexion, too. Not to mention: Its oil-free formula makes it ideal for everyday use.

Buy now with free delivery