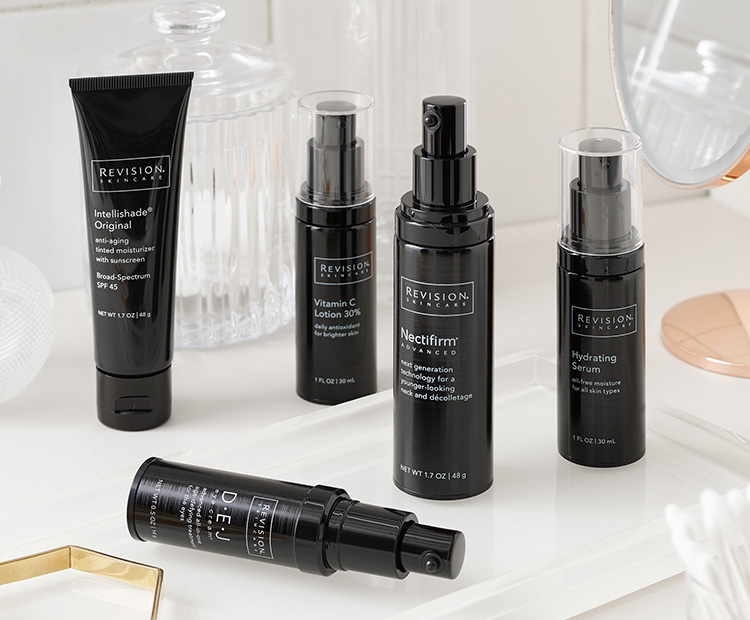 If we had to dream up a true holy grail skin care product, it would check all the boxes: be packed to the gills with active ingredients; keep skin's pH and microbiome in good health; be a favorite among dermatologists; and deliver real, visible results.
The products in Revision Skincare's portfolio meet all of these criteria and more—no wonder it's one of the fastest-growing professional skin care lines out there.
Not sure where to start adding Revision Skincare's impressive formulas to your routine? We've put together this guide to everything you need to know about the brand, along with the top six products to try first.
What Makes Revision Skincare's Formulas Unique?
In short, it's all about the science. While many skin care brands use third-party manufacturers, Revision Skincare owns and operates its own research and development facility in Dallas, Texas with more than 20 scientists on staff. This allows the company to develop innovative technologies not found in other product lines. The brand pioneered the use of bioavailable peptides, which help combat visible signs of aging, and formulates all of its products with prebiotic technology to harness skin's natural microbiome.
All of Revision Skincare's products are formulated to be compatible with one another (which makes it easy to customize your routine) and are designed with long-term skin health in mind. This means all formulas mimic the skin's neutral pH level, and the brand doesn't use certain ingredients (like denatured alcohol) that can damage skin.
Ready to see what this professional-grade skin care line can do for you? Here are a few of our favorite Revision Skincare products to try now.
Buy now

with Dermstore

Do you really need a separate product for your neck and décolletage? Short answer: yes. "Each area of the skin—eyes, lips, neck, body and hands—is different. This means that not all ingredients and technologies are compatible with each area equally," a Revision Skincare rep explains. With eight different peptides and Smart Antioxidant Technology, this cream is specially formulated to firm, lift and contour the neck and jawline.

Buy now with free delivery