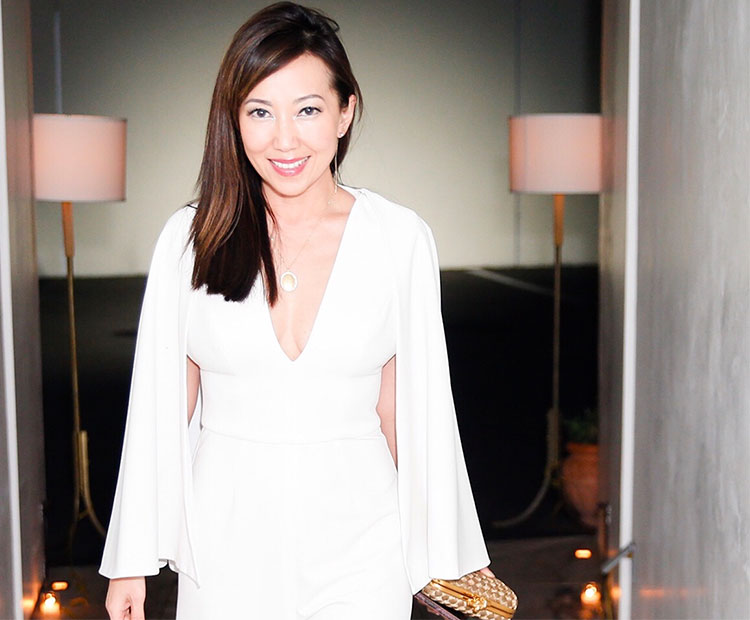 If there's one person who understands the superior craftsmanship and attention to detail that go into designer handbags, it's Tina Craig, style icon, entrepreneur and co-founder of one of the most influential style blogs on the web: Bag Snob.
Long before professional influencers and Internet personalities existed, she and her good friend and Bag Snob co-founder Kelly Cook have been curating their love affair with luxury purses and engaging fellow enthusiasts since 2005. From there, she has gone on to design a bag collection for DKNY, create a bag line with HSN, land a front-page feature in a top fashion magazine and collaborate with high-profile designers and luxury brands.
But it's not just bags that she's passionate about. Over the years, what started out as an outlet for two stay-at-home moms has morphed into a luxury lifestyle empire, covering travel, jewelry, couture and even skin care and beauty—a topic that Tina is very passionate and knowledgeable about from years of trying out products and writing about them. In fact, Tina's skin care and beauty tips have been featured in several blogs and magazines, including Harper's Bazaar, Vogue and Stylecaster.
Just what does it take to have near-perfect skin even in her 40s? We sat down with Tina to get her take on skin care secrets, tips and must-have products!
Dermstore: What's your skin care philosophy and how has that changed over the years?
Tina Craig: Less is more! I used to have a ridiculous 13-to-15-step routine for day AND night, but now I rely on a few "super" products.
What's the one skin concern you've struggled with the most, and what have you done or used that really made an impact on your skin?
I'm Chinese and blessed with pretty good skin. However, pigmentation is my biggest struggle! Regular exfoliation helps but not too much as it can activate the melanin in your skin. I also started doing PRP (platelet-rich plasma injection) with microneedling seven years ago—before it was trendy—and it changed my skin completely!
What have you learned about your skin that you wish you knew when you were in your 20s? 
Stop scrubbing with hot water and washcloth! (And stop over-exfoliating!) I now only use cold or lukewarm water with a muslin cloth and cleansing oils.
In five words or less, how would you describe your current skin care regimen?
Clean, exfoliate, brighten, hydrate, ROLL.
What do you look for in your skin care products before you buy them?
Avoid any ingredient I am unable to pronounce!
Best beauty tip you've ever received?
Using cold water to wash my face! It's life changing!
Your five must-have beauty products and why you love them?
Buy now

with Dermstore

Achieve velvety soft skin with JUNO Antioxidant + Superfood Face Oil from Sunday Riley. Infused with a botanically active blend of superfood seed oils and antioxidants, this nourishing face oil protects and brightens skin, unveiling a healthy glow.Key Ingredients: * Blueberry Seed Oil: high antioxidant levels, vitamin E and Omega-3 * Cranberry Seed Oil: rich in vitamins A, C, E, and K, perfect balance of Omega 3-6-9 * Red Raspberry Seed Oil: soothing and calming properties * Broccoli Seed Oil: rich in vitamin A and erucic acid (an Omega-9 oil)Due to a manufacturer packaging change, item

Buy now with free delivery