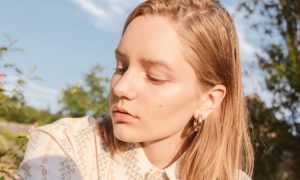 Next to flashier ingredients like retinol and vitamin C, vitamin E is something of an unsung hero. You've probably spotted it in at least one of your products, given that it's one of the most widely used ingredients in beauty (it's typically listed as "tocopherol" on ingredients lists), but you might not know it does far more than moisturize. From powering your other actives to working its wide-ranging benefits from the inside out, vitamin E does it all—and truly deserves a front-row spot in your skin care lineup. Below, six reasons why this hardworking ingredient is one of our favorite antioxidants (and should be yours, too).
1.Vitamin E keeps sun damage in check.
Sunscreen and vitamin E are an unbeatable duo: Together, they work even harder to shield you from UV rays while also protecting against free radical damage. Vitamin E is a powerful antioxidant, and studies have shown it's extremely effective in countering the destructive effects of sun exposure (including wrinkles, uneven pigmentation, loss of tone and moisture, and skin cancer). Don't sub it in for SPF, but think of it as the ultimate add-on to your sun-protection routine. Treat your face to a layer of Colorescience Even Up® Multi‐Correction Serum in the A.M. for a dose of bio-available vitamin E, along with nourishing peptides, ceramides and hyaluronic acid.
2. Dry skin drinks it right up.
Skin craving more moisture? Just add vitamin E; it's also been shown to have serious hydrating effects. "Vitamin E is a fat-soluble ingredient, meaning it can penetrate the skin's top layer," says Dr. Mona Gohara, a board-certified dermatologist and associate clinical professor of dermatology at Yale School of Medicine. As it accumulates in skin's sebum glands, it helps "fortify the lipids that are integral to our protective moisture barrier," strengthening the skin's natural ability to prevent water loss. If your complexion is feeling especially parched, it's best served up in a nourishing formula like Eminence Organics Rosehip Triple C+E Firming Oil.
3. It's like a power pack for your other antioxidants.
Think of vitamin E as a solo superstar that also works well with others. You'll often see it appear alongside other antioxidants, especially vitamin C (like in the ultra-popular SkinCeuticals C E Ferulic). That's all thanks to its ability to enhance those ingredients even further. In studies, combining vitamins C and E has been shown to increase their antioxidant-protection abilities by a factor of four, so feel free to stack up those actives.
4. It can help with thinning hair and a stressed scalp.
Don't restrict those antioxidant benefits to your face; your hair and scalp should also reap the rewards. Vitamin E supplements can help boost growth if you're experiencing hair loss, and may also help prevent oxidative stress in the scalp. UV ray exposure affects your hair and scalp just like the rest of your skin, so neutralize free radical damage with a vitamin E-powered hair routine. Pair a daily application of VIRTUE® Healing Oil with a once-weekly Olaplex No. 3 treatment for smoother, stronger, fully protected hair.
5. Making vitamin E part of your daily diet can max out your results.
Moisturizers and serums aren't your only possible source of vitamin E. The ingredient feeds your skin antioxidants both topically and internally. According to Dr. Gohara, you can absorb enough vitamin E to contribute to overall skin health through a well-balanced diet. Your primary sources should be foods like nuts, spinach, whole grains and olive and sunflower oils. She also recommends incorporating foods rich in vitamin C to boost the antioxidant, free radical-fighting effects, just as you would through skin care.
6. It's not the best choice for healing scars, but it's a great eye-cream addition.
Time for some quick myth-busting: You may associate vitamin E with speeding scar healing, but experts agree there's no data to support this. Dr. Gohara says that silicone scar strips are actually a far more effective choice for fading scars. Instead, incorporate vitamin E into your eye-treatment routine. "Vitamin E helps fade fine lines and wrinkles and improve skin texture," says Dr. Gohara. Studies have also pointed to its efficacy in reducing dark circles and lines in the delicate under-eye area. So, skip the scar care and dab on an eye cream rich in vitamin E (like iS Clinical Youth Eye Complex) before bed to wake up to well-rested skin.