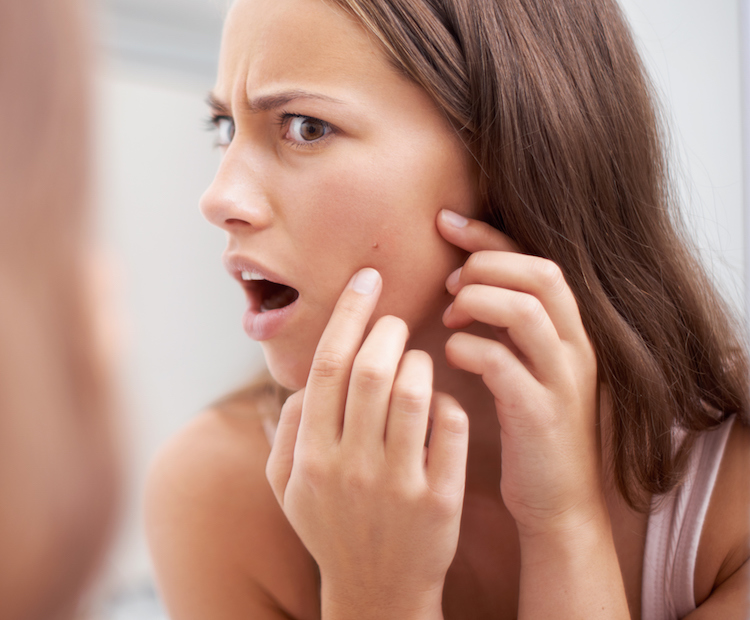 Too often when it comes to skin care, we can't catch a break—just a breakout. Acne looks different on everyone, but the ever-present whiteheads and blackheads remain the same. Is it bad karma, bad skin care or just a few bad habits? Where do they come from, and what can we do to treat them? We sat down with Lauren Hartman, MS, PA-C, a skin care expert from the Warmuth Institute of Dermatology, to talk about the differences and similarities between whiteheads and blackheads and the treatment of each one.
What's the Difference Between Whiteheads and Blackheads?
Hartman tells us that acne is a self-limited disease that involves the sebaceous follicles and is considered to be one of the most common skin conditions in the United States. It can be found on the face, chest, back, upper arms and shoulders. More commonly, it appears in the form of either whiteheads or blackheads. So what does that mean? "Acne lesions are characterized as inflammatory or noninflammatory," says Hartman. "The non-inflammatory lesions are called comedones, which can be open or closed." Hartman also states that scarring is unique to each patient, so treatment of acne scarring is individualized and can consist of chemical peels, microdermabrasion and laser resurfacing. Check out our complete guide on acne dos and don'ts to help smoothe and soothe your complexion, stat.

Whiteheads
Categorized as the "closed comedones"—whiteheads are generally pale in color, slightly elevated and can be more difficult to detect. The pore becomes clogged beneath the skin, so it is important to avoid squeezing or popping a whitehead as it will break the protective layer of skin, increasing the risk of scarring. The difference between whiteheads and acne is that traditionally acne is red and inflamed, with or without a 'head' of pus signifying that telltale infection. Whiteheads are easier to detect through touch than sight (unless you're fairly close up).
Blackheads
Categorized as the "open comedones"—blackheads are slightly raised or flat with a dark follicle filled with lipids and keratin. Because blackheads are open and exposed to the air, the color changes to a dark gray or "black." Blackheads are extremely common and can be even harder to extract without proper exfoliation two to three times a week.
---
Causes of Whiteheads and Blackheads
According to Hartman, the primary cause of acne itself is unknown, but she shared that there are several factors believed to influence it.
Whiteheads
Because the pore of a whitehead is clogged and "closed," it may be more likely due to internal (or not at all our fault) causes such as genetics, hormones, menstruation and emotional stress on the body.
Blackheads
Because the pore of a blackhead is clogged and "open," it may be more likely to occur due to an external cause such as increased oil on the skin from sunscreens, moisturizers, cosmetic products, etc., or contact from your hands, smartphones, pillows, towels or any type of transferrable bacteria.
Though there are differences between the two, Hartman says that all of these things can affect the state of our pores and whether or not they become clogged. The process that creates both whiteheads and blackheads involves sebum production, inflammation, follicular hyperkeratinization and the multiplication of the organism "propionibacterium acnes" (a bacteria that can essentially grow within the pore). Your diet might also be to blame for acne breakouts, with high-glycemic ingredients like white grains and sugars responsible for most of the damage, Hartman adds. "A healthy, balanced diet is one of the more important aspects of managing it."
---
Treatment for Whiteheads vs. Blackheads
Blackheads and whiteheads treatment differs, as the two are separate forms of acne. "Early treatment of acne is the best way to prevent scarring and further development," says Hartman. Here's how to prevent whiteheads and blackheads, with treatment recommendations for both.
How to prevent Whiteheads
See a dermatologist to confirm skin and acne type. Whiteheads can vary in size, severity and appearance from person to person, so it's worth getting them checked and confirmed before moving forward with a treatment plan. Dermatologists can prescribe topical medications such as those containing benzoyl peroxide, topical antibiotics, topical retinoids and, in more severe cases, oral antibiotics.
Know your acids. "Over-the-counter face washes containing salicylic acid or benzoyl peroxide tend to work well for whiteheads as they are the predecessor to an infected pore," says Hartman
Rethink your lifestyle. As whiteheads are more often caused by genetic, hormonal and environmental factors (rather than any topical aggravation), address any small but effective lifestyle changes you can make to improve your skin. Whether that's drinking more water, getting more sleep, eating less sugar or finding stress relief, find what works for you – and do more of it.

If you're new to salicylic acid and/or benzoyl peroxide, try some of our favourite face washes and cleansers to clear your complexion in no time. We like La Roche-Posay Effaclar Duo Acne Treatment with Benzoyl Peroxide for mild cases, a gentle yet effective treatment to unclog and smoothe skin. Formulated with 5.5% benzoyl peroxide to dry out blemishes and 0.4% micro-exfoliating LHA to smoothe skin texture, it's a worldwide bestseller for a reason. For moderate to severe acne, PCA Skin BPO 5% Cleanser is an ultra clarifying formula for problematic skin. Gently eliminating acne-causing bacteria, its potent 5% concentration benzoyl peroxide heals existing lesions and helps to prevent future breakouts. With aloe, cucumber, nettle and chamomile extracts to comfort and calm, each application gently heals, clears and soothes.
How to prevent Blackheads
Know your oils from your acids. Salicylic acid and benzoyl peroxide can also fight blackheads, but treatment for blackheads should be focused more on maintaining the oil and products that come in direct contact with the skin.
Create a regimen with few good products. Having a consistent acne regimen without the introduction of several different products can prevent an overage of oil—for example: a cleanser, toner and moisturizer. It can be all too easy to be swayed by the latest treatment or serum, but in the case of blackheads less is more.
Exfoliate regularly. Weekly treatments by way of exfoliation and masks can really help to improve the appearance of blackheads. Try Paula's Choice SKIN PERFECTING 2 BHA Liquid Exfoliant, a blackhead bestseller. BHA – or salicylic acid – exfoliates and promotes faster cell turnover to unclog and clear pores, minimizing the appearance of blemishes, inflammation, uneven tone and wrinkles.
For a blackhead busting regimen, we like Glytone Mild Gel Cleanser, a clarifying oil free formula infused with AHAs to help exfoliate skin and remove impurities. Glycolic acid gives skin a much needed boost, bringing back your glow and banishing dead skin cells and clogged pores. Follow up with REN Clean Skincare Ready Steady Glow Daily AHA Tonic, a brightening toner spiked with lactic and azelaic acid; gentle AHAs that support and promote a balanced skin tone and barrier. Finally, Eminence Organic Skin Care Clear Skin Probiotic Moisturizer keeps skin hydrated with a beautifully natural, non comedogenic formula. With willow bark extract and tea tree to tone and yogurt to soothe, the tried and trusted BioComplex boosts antioxidants, Coenzyme Q10, and Alpha Lipoic Acid in a powerhouse last step.
---