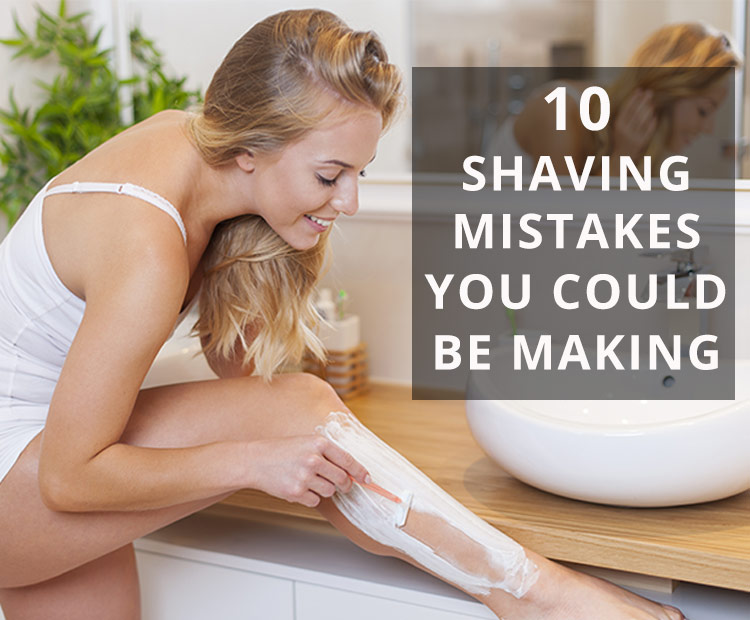 Are you shaving your legs correctly? Apparently, not everyone is. Here, the 10 most common shaving mistakes most women are guilty of—and what can be done to get the smoothest shave ever.
1. Skimping on the Razor
For the most comfortable shave, steer clear of straight, cheap and disposable razors. "Invest in razor heads with multiple blades and good pivoting action," says Rayner Smith of TICO Shaving. "This allows for passing over ankles and tricky curves much easier."
2. Reusing Blunt Blades
A standard disposable razor's lifespan can go up to seven uses, but that number could go down, depending on how large an area you're shaving and how thick your hair is. "A razor blade should glide across your skin," says dermatologist Susan Bard. "If your razor feels like it's pulling, that probably means it's dull and should be replaced."
3.  Shaving Too Soon
"Shaving too often or too soon can potentially irritate the skin and lead to ingrown hairs," Dr. Bard says. "Besides, letting the hair grow out slightly allows for a closer shave the next time around."
4. Shaving Against the Grain
"Always shave with the grain, not against. And then give an additional stroke across the grain to allow for a closer shave," says Dr. Bard. "Use long, slow and steady strokes, and never go over an area more than twice."
5. Dry Shaving
"To reduce the friction from the razor and decrease the chances of irritation, shave after you've been in the shower for a few minutes because water will soften up the hair and open up the pores," offers Dr. Bard. "Hot towels and steam baths will also do the trick."
6. Using Harsh Pre-shave and Aftershave Products
"Whether you have sensitive skin or not, avoid products that contain alcohol because they can easily dry out your skin," says Dr. Bard. "Those with sensitive skin should also avoid fragranced products: They can irritate your skin."
7. Not Cleaning Your Blade
If you're planning to reuse your razor until the end of its lifespan, clean it properly after every use. "The best way to clean your blade is to rinse it with hot running water. The higher the water pressure, the better," says Dr. Bard. "Once it's clean, let it air-dry to prevent it from rusting away."
8. Storing Your Razor in the Shower Area
If your blades are still getting rust spots even after you clean them, it's probably because you're storing them in the wrong place. "Don't store your razors in the shower, even though that is the best place to use them," says Smith. "Store it in an open area where it's not humid to keep your razors looking new and ready for another run."
9. Using Razor for Small Areas
"Smaller areas of the body like the upper lip and the eyebrow area are best left to waxing, depilatories, threading or laser hair removal. Shaving can lead to course stubble and irritation," explains Dr. Bard.
10. Sharing Your Razor
"Never ever share a razor," warns Dr. Bard. "Doing so can easily transmit infection."

Readers, have you committed any of these shaving sins? What did you do to rectify it? Share your thoughts with us on the comment section below.
//