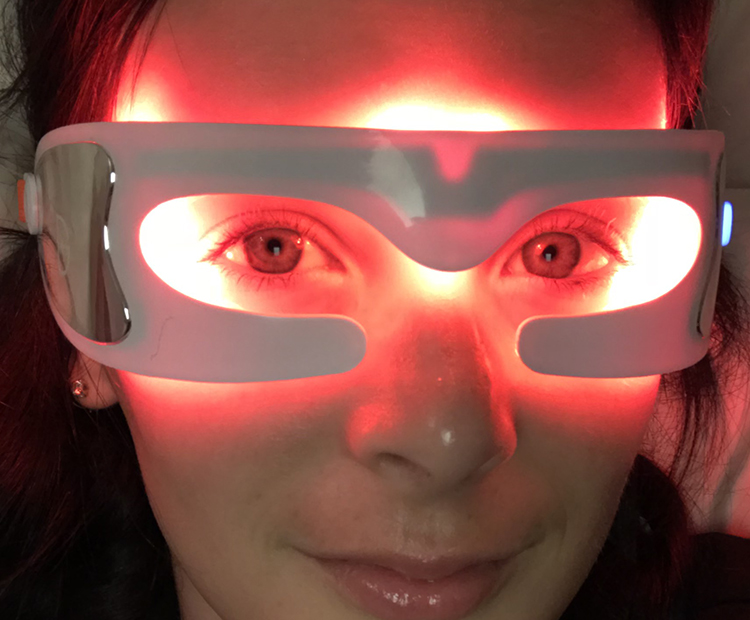 Let's be frank: Aging sucks—especially aging skin. And while you may start to notice that your skin ages more rapidly in your 40s, 50s, 60s and so on, the first signs of aging can actually appear in your mid-twenties. I know this because it happened to me (and because my dermatologist said so). While I have—for the most part—been blessed with good skin genes, that hasn't saved me from one of the earliest signs of skin aging: eye wrinkles.
When I first noticed eye wrinkles (specifically crow's feet) pop up around my eyes, I instantly felt betrayed by my body. My first instinct was to call my mom and get mad at her for not telling me that eye wrinkles at 25 were a thing. She laughed at me and told me it wasn't as bad as it seemed—and she was right (as mothers usually are). Aging is actually a beautiful thing. However, the first sign of it—albeit microscopic—is certainly alarming.
A few years and eye creams later, I have come to terms with the fact that my skin is aging. But, I haven't stopped looking for a way to slow down the process. Which is how I came across my new secret weapon against eye wrinkles: Dr. Dennis Gross SpectraLite EyeCare Pro.
What the SpectraLite EyeCare Pro Does
The eye treatment—which, ironically enough makes you look like a skin care superhero—utilizes light therapy to reduce the appearance of various types of eye wrinkles. And, according to Dr. Dennis Gross himself, it can change the look of your eyes. "Light therapy is used to stimulate collagen, which ultimately reduces fine lines, wrinkles and crow's feet," says Dr. Gross. "The SpectraLite penetrates deep within the dermis of the skin with its 72 powerful LED lights," he explains. "It is truly a breakthrough device that changes the look of your eye area," he adds.
Dr. Dennis Gross is a big believer in light therapy and felt that there was a major gap in at-home eye-device offerings that were safe and effective. Which is why he and his team created the SpectraLite EyeCare Pro. "What's out there now can often be ineffective, take too long to use or see results and in some cases, be unsafe," says Dr. Gross. "I wanted a product that was easy to use, hands-free and compliant. I couldn't find anything to recommend to my patients, so I designed it myself."
As far as safety and effectiveness are concerned, the SpectraLite EyeCare Pro is the latest FDA-cleared light-therapy eye device that is proven to build collagen and refuse fine lines and wrinkles. "The results speak for themselves," says Dr. Gross. "In a clinical study, we had 97% of patients show visible improvements in fine lines, wrinkles and skin tone—absolutely incredible!" The key to these results? Daily use. And the SpectraLite EyeCare Pro's unique design creates an ease of use that makes doing so possible. "Consistency is crucial to getting the best results possible. At a commitment of only three minutes a day, really anyone can find the time to improve the eye area."
Following my conversation with Dr. Gross, I was sold. I just had to have the SpectraLite EyeCare Pro. The only thing holding me back? The aging skin around my eyes is not nearly as bad as I think it is, so my results wouldn't be as miraculous as the studies show. However, Dr. Gross assured me that "those in their 20s can use the device as a preventative measure, as it's never too early to start taking care of your skin."
How to Use the SpectraLite EyeCare Pro
The eye treatment comes in a neatly packaged box with the eye mask, an attachable (and adjustable) strap, a USB charging cord and an orange cloth bag to store your mask (there's even a separate pocket inside for your charger). Before testing it out, I plugged the eye mask into the charger and let it reach a full charge.
Once the EyeCare Pro was charged and ready to go, I attached the straps and placed the mask over my eyes. Then, I pressed the magic button on the side of the device and my world lit up in orange. While the LED lights were a little too bright for my sensitive eyes, Dr. Gross assured me that it's completely safe to leave your eyes open during use. Although he did say to keep them closed if my eyes felt uncomfortable (and they did).
Upon first use, my favorite feature of the SpectraLite EyeCare Pro was that the light shuts off after three minutes—so, you don't have to set a timer or worry about leaving it on for too long. Another thing I loved? It was strangely relaxing and helped quiet my mind—sort of like a meditation tool!
In addition to my favorite feature, I love how easily the Spectralite EyeCare Pro travels. Thanks to its USB charger and drawstring bag, I can pack it safely in my carry-on and use it pretty much anywhere (though I'm sure I'd freak some people out if I used it on an airplane).
The Verdict
Since I'm using Dr. Dennis Gross SpectraLite EyeCare Pro for preventative reasons, I don't have shocking results to share. However, I will say this product is worth every penny and every three minutes spent using it. Not only is it easy to use, it has stellar research and studies to back it up. Plus, according to Dr. Gross, the commitment to youthful-looking eyes is much smaller than most other anti-aging treatments available. "If you use the device every day for three minutes a day, you should see visible improvement in fine lines, wrinkles and skin tone in 8-10 weeks," he explains. And, get this: Some users have seen results after two weeks of use!