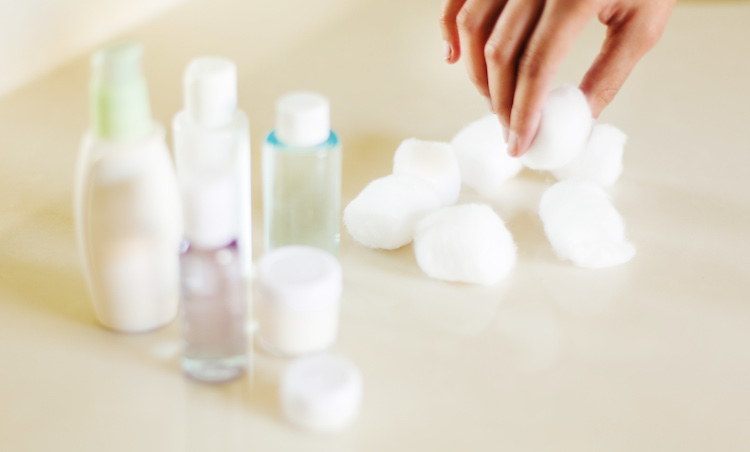 Although oily skin can seem like a lot to handle, it's definitely possible to keep it under control with a simple daily routine and a few helpful products. Knowing how to care for your skin without triggering even more oil production is a solid starting point to stay shine-free as you work and play.
Cleanse as Needed
A common misconception for those who struggle with oily skin is to slather the skin with astringent and other harsh foaming cleansers. This strips the skin of all of its natural oils, and in turn, produces excess oil. Using a cleansing oil actually helps to dissolve the pore-clogging oil produced by your face, without stripping it dry. After cleansing, apply a lightweight, water-based formula with a matte finish and avoid the T-zone or other areas that are prone to shine.
Make It Matte
There are countless powders and other shine-busting products that help to keep makeup in place, but controlling oil starts with creating a matte base. Look for ingredients like green tea that specifically help to decrease sebum production and reduce inflammation—whether in toner or moisturizer form. Also, don't skimp on sunscreen. Many formulations now come in lotion form, which contains less oil and produces a matte finish that blocks UV rays and helps to mattify your complexion.
Absorb Excess Oil
While using an appropriate cleanser can help limit excess oil production, over-washing can dry out skin, and cleansing isn't always effective or convenient during daytime hours. If you're out and about, a discreet solution is to pat off excess oil with blotting paper. The absorbent sheets are less dehydrating than frequent washing and can serve as a quick fix to help your skin appear more matte. Fine or pressed mineral powder is also great for absorbing oil and controlling shine, without messing up makeup application.
Exfoliate Regularly
People with oily skin are often more prone to acne and breakouts. To help prevent clogged pores and keep skin looking smooth and soft, exfoliate as frequently as 2–3 times a week. For those with oily skin, beta hydroxy acids are optimal exfoliants because they can penetrate more easily through oil. They also help to remove the buildup of dead skin cells, which contribute to clogged pores. If your skin is very oily or acne-prone, try a solution that contains 2 percent salicylic acid.
This article has been reviewed by board-certified dermatologist Dr. Emmy Graber.