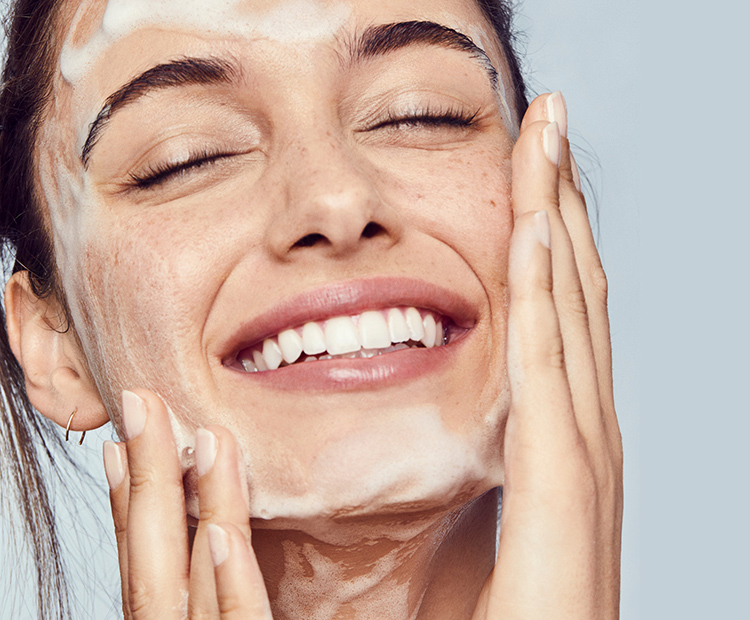 There was once a time when we all believed washing our faces with soap and water was all the cleansing our skin needed before we hit the sack and call it a night. Then double cleansing came along, and our bedtime routines were never the same again. Turns out our usual soap-and-water combo (and face wipes) isn't going to cut it if we want all that gunk and grime off our face after a full day at work (and extended happy hour).
What Is Double-Cleansing?
"Double cleansing is a method of cleansing your face twice: First, with an oil-based cleanser and again with a water-based cleanser. It can help remove stubborn, pore-clogging and acne-causing impurities that can remain on the skin even after washing your face once," says  Dr. David Lortscher, a board-certified dermatologist in New Mexico. "The benefit of double cleansing is that the first cleanser will break down any makeup, remove dirt and excess oils from the day and clean your skin. The second cleanser will address your particular skin type or concern and should have ingredients to hydrate, smooth or exfoliate and treat acne. Doing both steps will assure that any treatment and moisturizing is not done in vain," adds Dr. Craig Austin, a board-certified dermatologist in New York and founder of Cane+Austin.
Why It's Important to Double-Cleanse According to Your Skin Type
Double cleansing may be a two-step technique that only adds a few minutes to your usual regimen, but as with most things in skin care, it's not a one-routine-fits-all. Considering every skin type and taking into account your specific skin concerns, choosing the right double-cleansing duo is key in making sure you get the most out of your routine.
Using the best double-cleansing products for your skin type also allows you to avoid over-washing and over-drying your skin. "If we strip too much of our natural oils, our body can respond by producing more oil that can lead to breakouts and irritation," explains board-certified dermatologist Deanne Robinson, M.D.
Dr. Tracy Evans, a board-certified dermatologist in California, echoes this and suggests double cleansing only at night—when you actually have dirt and makeup to wash off—to make sure you're not altering the natural balance of oils and microbes on your skin.
With all the products on store shelves and beauty aisles, picking out your double-cleansing dream team can be overwhelming—especially if you're not sure what ingredients to look for or which cleanser is best for your skin type. So don't just grab the first face wash and cleansing oil that you see. First, read the tips below to know which dynamic cleansing duo will give your skin that much-needed deep-cleaning glow!
How to Double-Cleanse
No matter what your skin type, the main steps involved in double-cleansing are the same:
Apply a cleansing oil, balm or micellar water to dry skin.
Use your fingers, a cotton pad or a soft cloth to massage the first cleanser into your skin, helping to break down makeup, sebum and sunscreen residue.
Wet your face with water.
Apply your second cleanser and massage into skin, using your fingertips, a soft cloth or a cleansing device.
Rinse off the cleanser and pat your face dry.
The process of double-cleansing can vary a bit depending on your skin's needs. Here are some specific products and methods to try.
If You Have Oily Skin
Cleanser 1: Try Bioderma Sebium H20
Lathering your face with more oil when you're already battling with slick and shine sounds like a recipe for (a greasy) disaster, but an oil-based cleanser can actually help rid your skin of impurities and sebum. "Oil attracts oil, so this will help to remove makeup, sweat and any other oil that has accumulated on your skin," explains Dr. Lortscher. If you're not a fan of oils, soak a cotton pad in micellar water instead and lightly dab and sweep over your eyes and across your face. Its tiny oil molecules called micelles can effectively draw out pore-clogging dirt and excess oil.
Cleanser 2: Try Sunday Riley CERAMIC SLIP Clay Cleanser
Follow it up with a gel or clay face cleanser, suggests Dr. Austin, with ingredients like aloe, rose, green tea, moringa seed and glycolic acid. These can help balance moisture, prevent inflammation and regulate sebum production. "The key is to remove dirt and oil while also helping to balance and hydrate skin," adds Dr. Austin.