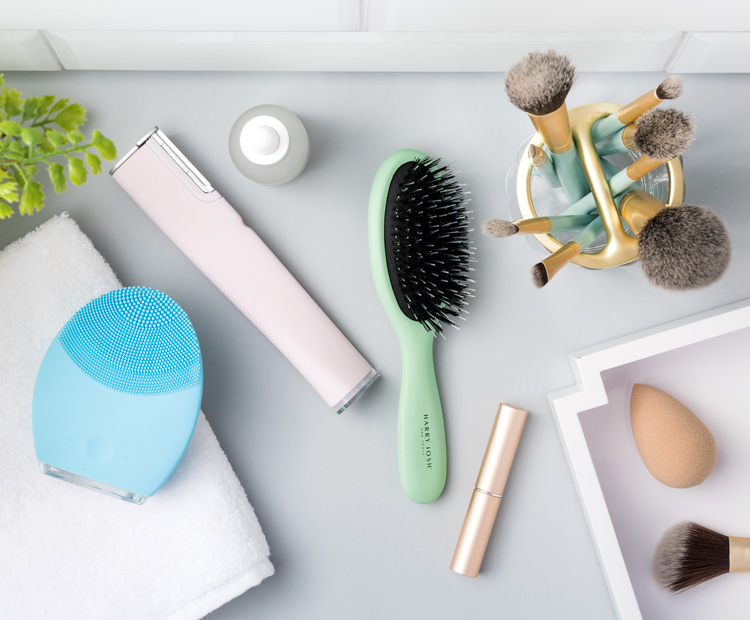 If you're anything like us, you might not give much thought to how you organize your beauty products and tools. Some choose a makeup bag, others pick the medicine cabinet of their bathroom, while others have the luxury of a vanity. Most of the time, as long as those brushes, hair wands and eyeshadow sticks are in a cool, protected environment, you're fine…or are you? Board certified dermatologist Dr. Papri Sarkar notes that beauty lovers should be aware of the health hazards and the hygiene of their daily-use goodies. "Tools won't function properly, can grow bacteria or mold or cut you if it's a sharp instrument like a razor, when not stored properly," she explains.
Much like anything you apply on your body, being mindful of ingredients and how they're compromised with exposure to different elements may help you to understand the best TLC strategy. Dr. Sarkar explains that moisture, sunlight and temperature all affect a product's efficacy. She explains that a product with vitamin C may degrade if exposed to sunlight, or that one with acidic pH can be jeopardized if water is spilled on it. A retinoid could also decrease its effectiveness if it's in the sun for too long.
To get the most out of your products in a healthy, dermatologist-approved way, follow these smart tips for keeping them safe and sound.
[listimage brand_id=100113 prod_id=5230]
Serums
Of all the skin care products you invest in, serums are not only among the most expensive, but they can be the most sensitive to the elements. This is mainly due to their ingredients: "Vitamin C degrades if exposed to light and oxidizes when exposed to air. To increase the life of your vitamin C serum, keep it tightly capped in the fridge," she recommends.
How about your retinol? Dr. Sarkar says to keep these in cool, dry place out of direct sunlight, like your medicine cabinet.
[listimage brand_id=100155 prod_id=2706]
Moisturizers and eye creams
Much like serums, other liquid facial products can be easily impacted, too. Dr. Sarkar says that you should ensure anything you apply on your sensitive pores daily remain at a cool degree.
"Leaving these in warm places with an open container can cause contamination and cause infections especially if applied close to the eye," she continues.
For safekeeping and for that extra benefit of having that soothing, cooling effect, place your eye cream in the fridge.
[listimage brand_id=500737 prod_id=14697]
Makeup tools like brushes or sponges
Dr. Sarkar says in the case of makeup tools—blush brushes, contour wands, sponges for foundation and so on—it is less about where you keep them, but rather, how often you clean them. "If you don't clean your makeup brushes or tools often enough or let them sit in wet products, they're likely to get contaminated with bacteria or mold," she explains. "Without care, you can experience infections, breakouts, irritation, clogged pores and be less effective at applying makeup."
If you're honest with yourself, it's probably been a while since you've given them a thorough wash—so get to it! Dr. Sarkar suggests keeping them in a cool, dry place where they will rid of water easily.
[listimage brand_id=502561 prod_id=63419]
Hairstyling tools and brushes
Okay, fess up: when was the last time you pulled all of the hair out of your brush? Not today, right? Dr. Sarkar reveals that we should be cleaning out our brushes each and every single day to protect ourselves from the lingering bacteria that could be left over from previous washes. How come?
She explains: "Hair is amazingly good at holding onto organisms and product and you don't want that getting back on freshly washed hair," she says. Where should you keep your tools? In a cool, dry place—especially any electric hair-styling tools, as water can be dangerous.
[listimage brand_id=100098 prod_id=2714]
Liquid makeup
Dr. Sarkar says that too often, we leave open liquid makeup when we're in a rush to get to work or meet up with our pals, causing it to get concentrated and become darker in shade. She also reiterated the importance of keeping tinted liquid formulas in the right temperature. For example, if you expose this same formula to sunlight, it can separate, becoming greasy without pigment or thicken to the point where you can't use it. And if it's too chilly? It can actually freeze! That's why you can consider this sort of product as the Goldilocks of beauty essentials: it has to be kept in a temperature that's just right.
[listimage_fh brand_id=500664 prod_id=55968]
Powder makeup 
If liquid makeup is picky, powder foundation is a bit easier to please: Dr. Sarkar says that the best rule of thumb to follow is keeping your powder makeup in a dry place.
The only issue you could run into is if your friend or partner bumps your compact into the sink, or accidentally dipping a wet brush or sponge into your powder container, adding moisture and making it clumpy. Pressed powder is also fragile; a little mishap could send it crumbling into pieces and turn the insides of your purse into a powdery mess. Instead, zip it up and store away for whenever anyone is around who might not be as careful as you are.
[listimage_fh brand_id=504361 prod_id=69625]
Nail polish
You should develop a habit of always keeping your nail polish in a place that's away from heat. Not only does this extend its shelf life, but it will ensure that your beloved shade doesn't dry out. "Keeping them in a hot place can cause the components of the polish to separate, making it less effective," she explains. A great place is a closet or even under the sink in your bathroom.