There is nothing worse than hitting the snooze button a couple of times, groggily rolling out of bed, looking in the mirror and realizing your hair is an utter disaster. Going to work/school looking like Cousin Itt isn't an option, but throwing your hair up in a messy topknot is starting to get too repetitive. 
Heatless hairstyles are becoming all the rage because constant curling or flat-ironing not only takes a lot of time, but can also damage your hair in the long run. Below you'll find three quick and easy ways to curl your hair without using any heat.
Rather than spending an extra 30 minutes every morning curling your hair, you can now get perfectly voluminous, effortless waves by just—wait for it—sleeping! With each method, you're not only able to wake up with gorgeous, perfectly curled hair, but now you aren't forced to sit in front of the mirror for 30 minutes fussing with a curling iron with your eyes half shut.
Option 1: The "I Just Rolled Out of Bed" Goddess Waves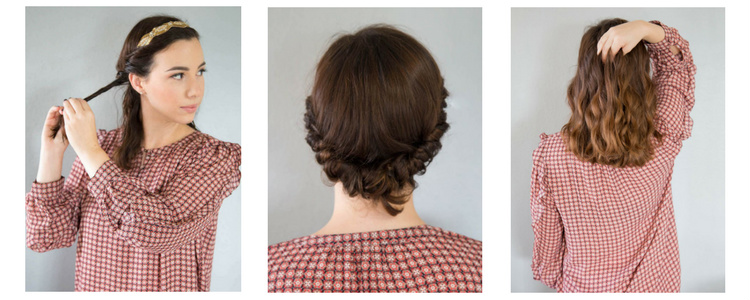 This one is by far the easiest method because these waves are a bit more effortless and you don't have to dry your hair to achieve them! We're taking low maintenance to the next level.
Hairstyle Instructions:
Begin with wet or dampened hair and secure a headband that wraps all the way around your head without pulling any hair through

Starting with one-inch sections, wrap your hair over the band each section at a time until all your hair is twisted into the headband

Sleep on it all night

Unwrap your hair the next morning, and you have perfectly effortless waves
Verdict: This hairstyle was, by far, the easiest because it took the least amount of time and it wasn't necessary to start with dry hair. Did the curls look perfectly even and symmetrical? No, but it ended up sort of mimicking a beachy wave look with a ton of volume! This heatless hairstyle was my #1 choice!
---
Option 2: Soft & Relaxed Waves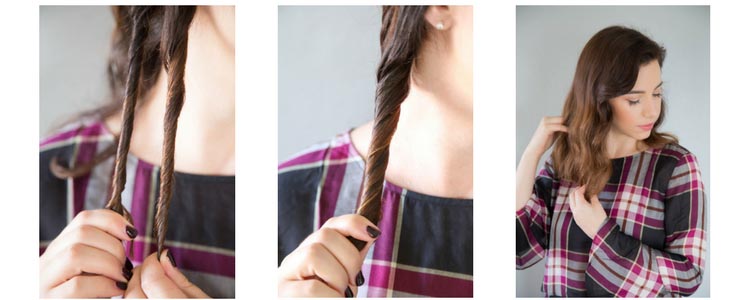 If you're looking for a more natural and less "Shirley Temple" look, this method will be perfect for you. Once you've completed this look, you'll feel like a Victoria's Secret model in no time!
Hairstyle Instructions:
Begin with wet or dampened hair.

Part your hair into 2–3 sections and twist each one-inch section of hair away from your face

Keep twisting for a few minutes until each section of hair remains in place

Leave hair in each twist until completely dried

Once hair is fully dried, separate each section until you achieve the desired look
Verdict: This hairstyle is a tad more time-consuming because you spend more time twisting each section of your hair rather than throwing it up and brushing out your curls the next morning. Although the curls didn't seem to last all day, it's still a great option if you need a quick fix for an hour or two.
---
Option 3: Retro, No-Heat Curls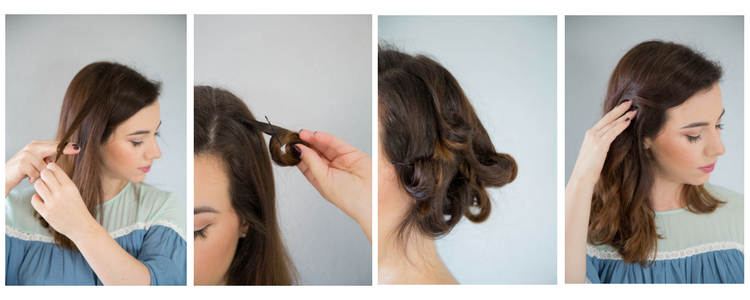 This hairstyle is great for the girl on the go. It only takes a few minutes to style (plus a bit longer to set), and you don't need wet hair or a curling iron! Grab a few bobby pins and some hairspray, and you're good to go.
Hairstyle Instructions:
Separate your hair into two sections

Starting with the bottom section, separate one-inch pieces of hair and loop each piece around two of your fingers while securing with a bobby pin

Repeat this step until you have secured all your hair into looped, one-inch sections throughout your entire head

Spray with hairspray and let set for 20–30 minutes

Undo each piece and gently brush through your hair
Verdict: This no-heat style was by far the most complex. It sort of mimics how hot rollers work, only you're swapping the hot rollers for your fingers. It can be a little tricky at first because you have to make sure your bobby pins have an extra tight grip because if you have thick hair, it could end up being a hot mess with the rolled pieces of hair coming down everywhere. Once the hair was set in place and sprayed with hairspray, the curls definitely imitated a less structured and more relaxed state and, in the end, were really pretty.