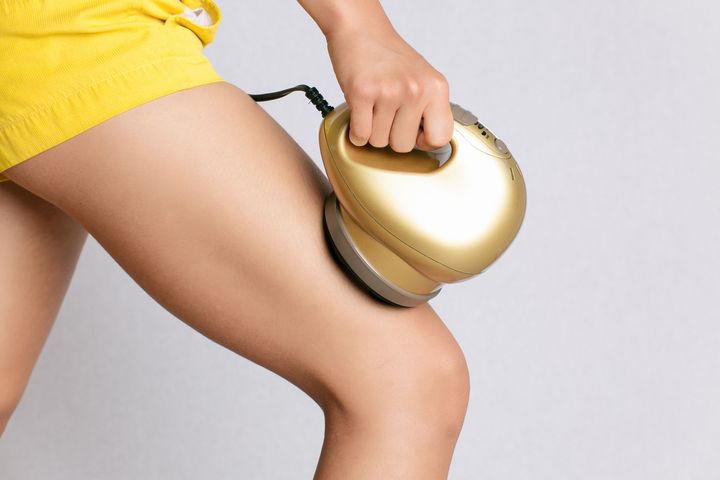 Given that 90 percent of women have some form of cellulite, it's no surprise that there's a huge market for smoothing it, reducing it and eliminating it. Cellulite makes its appearance most commonly in women aged 25 to 35. While the female hormone estrogen is the main culprit, genetic predisposition, diet and physical activity also play roles in cellulite formation. When it comes to sorting through all the various products, procedures and devices, it's important to increase collagen, target the fat, and increase circulation.
Topical Cellulite Creams
Most ingredients in topical cellulite creams work to target the fat cells—like caffeine and aminophylline—by breaking down fatty tissue to lend skin a smoother texture. Retinol is another common ingredient in cellulite creams. Just like it works to smooth the appearance of wrinkles on your face, topical retinols may slightly help the appearance of cellulite by increasing elasticity in the skin, but it doesn't get to the root of the problem and is unable to penetrate the deeper levels of the skin.
Cellulite Massagers and Vacuums
There's a range of anti-cellulite devices found at your dermatologist's office and for at-home use—both operate on the same principles as professional tools. Home-use massagers encourage lymphatic drainage, potentially smoothing out the uneven fat deposits that give cellulite its distinctive "orange-peel" texture. Cellulite vacuums also promote drainage and reduce excess fluid deposits, and aim to detoxify skin tissue to fight dimpling. These products often work in conjunction with topical creams that include skin-firming elements such as alpha hydroxy acid and free radical–fighting antioxidants.
Cosmetic Procedures
There are a number of smoothing procedures for targeting cellulite, but contrary to popular belief, liposuction is not one of them. Instead, doctors opt for "subcision surgery." While it was initially used to treat acne scar indentations on the face, this procedure also works well for dimples on the thighs and butt. The treatment involves either local anesthesia or general anesthesia and a cutting tool called a "dermasector" that treats the cellulite-forming bands just beneath the surface of the skin. The procedure takes 20 minutes to an hour and the swelling will usually disappear in about a week or ten days while the bruising can last as long as eight weeks before entirely disappearing.
Cellulite and Exfoliation
You may already practice a cellulite-fighting technique in your regular skin-care routine: exfoliation. Whether you exfoliate with a chemical-based wash that includes sensitive skin–friendly glycolic acid or a physical exfoliator for normal skin types—these use everything from coffee to ground olive stones—the process of sloughing away dead skin cells also helps subtly slough away cellulite. Exfoliation not only promotes lymph drainage, it improves cellulite-fighting circulation and lends the skin a fuller, firmer look.
This article has been reviewed by board-certified dermatologist Dr. Emmy Graber.