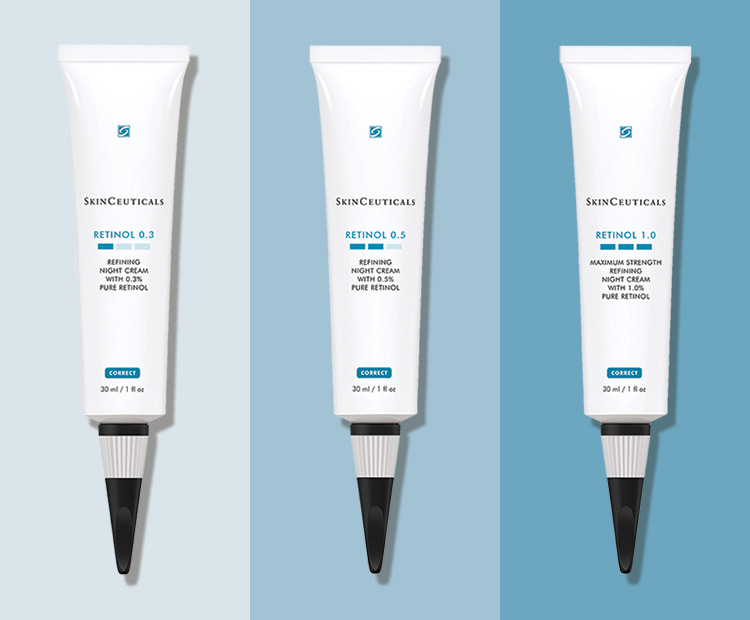 Retinol, a vitamin A derivative, is probably one of the most researched anti-aging ingredients out there. Aside from being a potent antioxidant, countless studies back its ability to stimulate cell regeneration, rebuild collagen, reduce fine lines and wrinkles and fade age spots. It also helps to refine skin's texture, minimize pore size and even skin tone. "It has the best science behind it," says Dr. Ashley Magovern. "There are countless studies that show over and over again that retinoic acid derivatives, like retinol, really do what everyone says they do."
In the market for a new retinol product? Chances are you've seen the number of retinol options available in the beauty aisle today—all of them promising a younger-looking complexion. But not all retinol products are created equal. Strength, purity of the ingredients, stability of the formula, the method of delivery and even packaging all play an important role when choosing your product. Another crucial thing to consider is your skin's ability to tolerate this potent ingredient.
To help us dive deeper into the subject, we tapped the experts at SkinCeuticals, one of the leading professional skin care brands that utilize this ingredient in its products. Here, they talk about what makes SkinCeuticals' retinol lineup unique, how to choose which one to use and how to use it for best results.
What makes SkinCeuticals' retinol products unique?
"There are many formulas that contain the ingredient retinol. Retinol is an ingredient that is both light- and air-sensitive. Retinol exposed to air and light potentially risks a reduction of formula effectiveness when topically applied. The best retinol products contain ingredients that support retinol's stability and [are] encapsulated in a way that doesn't expose active ingredients to air or light to maintain its efficacy.
SkinCeuticals Retinol 0.3, SkinCeuticals 0.5 and SkinCeuticals Retinol 1.0 all contain pure retinol (versus retinol formulated with a derivative of soybean) that is encapsulated to ensure maximum stability and provide slow release on skin for improved tolerability."
How to pick the right retinol product for you
"The numbers in your retinol's product label are indicators of the strength of the formula. SkinCeuticals' retinol line is available in three different strengths: Retinol 0.3, Retinol 0.5 and Retinol 1.0. How you choose the strength depends on your skin's ability to tolerate retinol, how long you've been using retinol and the results you're after. Here's a quick guide:
Retinol 0.3: All skin types and stages of retinol users, with the goal of improving the appearance of mild skin concerns.
Retinol 0.5: All skin types and stages of retinol users, with the goal of improving the appearance of mild to moderate skin concerns.
Retinol 1.0: Skin types that have acclimated to the lower-strength of retinols previously or have been users of retinols and exfoliators, and with the goal of improving the appearance of moderate-to-severe skin concerns. This is the highest strength one can go. Indications of making the decision to move up to 1.0 would be long-term usage of retinol 0.5 and wanting to add an extra skin care boost to the appearance of a person's treatment regimen."
How to use retinol for best results
"Consistent nightly usage of retinol has demonstrated anti-aging benefits, including brightening, improvement of elasticity and dermal thickening. The goal is to work your way up to nightly usage. If it's your first time using a retinol, start by integrating retinol into your nightly regimen two to three times a week in the first two weeks. Make sure that retinol is the first product applied to freshly cleansed skin.
With consistent usage, you should start seeing results—overall improvement in the youthful of appearance skin, improved skin elasticity, decrease in fine lines and wrinkles—after 12 weeks. If you want to track your results, we suggest taking skin photos before usage of retinol, and then at two-week increments after using retinol."
Other precautions to note
"Visible side effects of retinol usage during the first couple of weeks include the appearance of peeling, excessively dry skin, light irritation, itching and the sensation of skin warmth. These are fairly common and sometimes to be expected. However, if you feel excessive burning, excessive stinging, skin swelling and skin inflammation, or erythema, irritation, burning and itching that lasts longer than three days, contact a medical professional for a skin evaluation.
One misconception we often hear is that using retinol 'thins the skin.' It's actually the opposite: one of the long-term benefits of retinol usage is encouraging skin appearance to be thicker and more youthful."