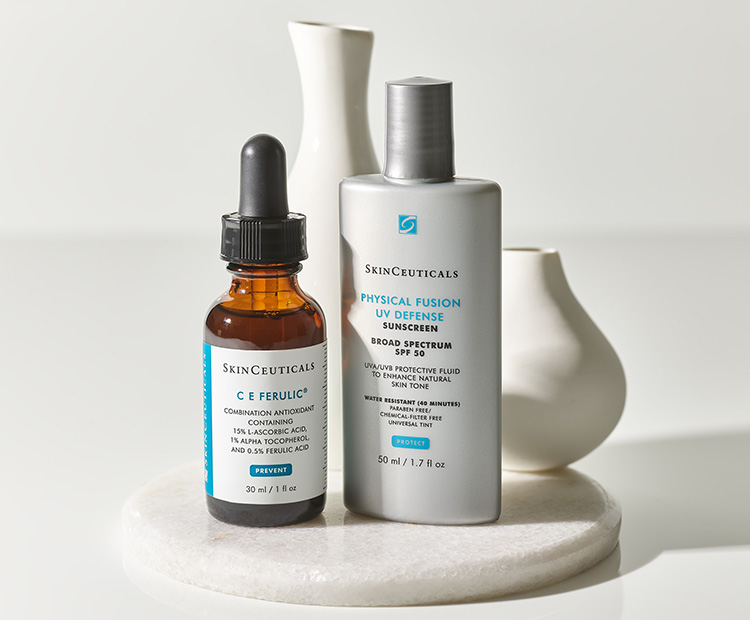 Amid the sea of skin care products clamoring for attention, a few continue to stand out—and for its profound ability to defend the skin against damage associated with aging, SkinCeuticals C E Ferulic is one of them. Just about everyone in the Dermstore office keeps a bottle of this trusted serum on hand 365 days a year: Clearly we're among the believers. And we're not alone: This product has over 1,800 5-star reviews from Dermstore customers. So just what makes this formulation so life changing? Read on.
A Superior Antioxidant
According to celebrated cosmetic chemist Ron Robinson of BeautyStat.com, it's all about the ingredients. "Ferulic acid is a potent antioxidant that is found in many plants," he explained. "Studies show that when it's combined with vitamin C and vitamin E, the synergy provides significant protection from UV rays, which can cause cancer. This protection can help prevent sun damage and premature aging."
Aside from neutralizing free radicals, it also helps build collagen and replenish lipids to keep your skin firm, smooth and youthful-looking. "This was one of the first nonprescription products to catch my eye years ago, when antioxidants really began to take on a prominent role in skin care," explains Dr. Ashley Magovern, Dermstore's medical director and a board-certified dermatologist in Manhattan Beach, Calif. "Antioxidants prevent and reverse photodamage, and they also help prevent and improve the appearance of fine lines, wrinkles and dark spots while maintaining the integrity of your collagen. When used in combination with sunscreen, C E Ferulic has been shown to provide better protection than sunscreen alone."
How to Apply C E Ferulic for Best Results
Now that you know how powerful this antioxidant serum is, here are a few tips to ensure that you're using it to its full potential. (Aside from using it with other potent SkinCeuticals products, of course!)
1. Apply in the Morning
Antioxidants are best applied in the morning, after cleansing and toning and before applying your other skin care products, including your moisturizer.
2. Go Beyond Your Face
Because this product is highly concentrated, you don't need to apply a lot—about 4 to 5 drops on dry skin should be enough to cover your face, neck and chest.
3. Complete Your Regimen With a Sunscreen
After moisturizing, complete your regimen with a potent sunscreen. When used together, antioxidants and broad-spectrum sunscreens provide the most complete protection against visible aging caused by environmental aggressors. To ensure you get optimal protection, reach for a high SPF, broad-spectrum sunscreen that doesn't contain oils, fragrances or any harsh ingredient that could irritate your skin; try SkinCeuticals Physical Fusion UV Defense SPF 50.
While it is firmly recommended to reapply sunscreen every two hours, there's no need to do the same with C E Ferulic. Once absorbed, this serum can't be washed or rubbed off and remains effective for at least 72 hours.