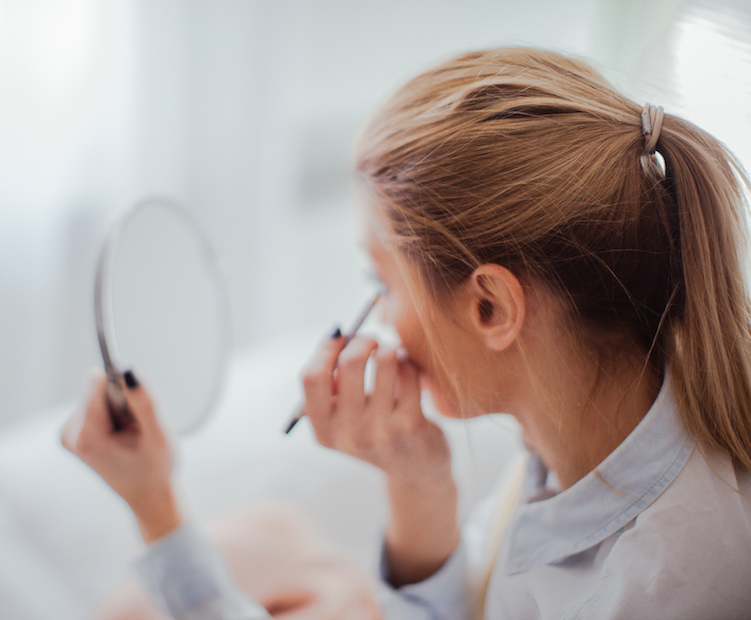 Looking for the perfect eyeliner can feel like an infinite quest. There are a ton of different kinds of eyeliner: liquid brush options, liquid felt tips, pencils, gel pots, retractable and glide-on liners; the list seems endless. If you've had the same liner in your makeup bag for years, it might be time for an update. To make things a little easier, we surveyed makeup lovers, novices and experts for crowd favorites, tips and tricks to finding your new go-to eyeliner.
Pencil Eyeliner 
Pencil eyeliner: a timeless classic. Go for a sexy, smudgy look and blend your pencil eyeliner across your lids, or keep it neat and tidy to create an appearance that makes your eyes pop.
What We Love: One respondent says, "I always use a pencil liner for my waterline" to avoid getting any liquid in her eyes. Pencil eyeliner goes on easily and can provide the smoldering lines you crave.
What We'd Leave: Messy sharpener shavings. Don't forget to pack your sharpener on trips or in your purse for touch-ups or you may be out of luck!
Pro Tips: A thinner line will create a more natural look if you're choosing a pencil eyeliner. If you're up for venturing away from the standard black, find a color to complement your eyes. Plums and purples play up brown eyes, and for blue-eyed gals, try blinc's Pencil Eyeliner in grey for a sultry yet subtle look.
Retractable Pencil Eyeliner 
If you're looking for something more subtle, try a retractable pencil eyeliner in dark or light brown. If you're feeling like going after a more striking look, you can't go wrong with the NYX Collection Noir Skinny Black Liner.
What We Love: The functionality and precision, plus never having to sharpen a pencil eyeliner again. Our readers love a smooth, glide-on retractable pencil eyeliner for its "ease of application."
What We'd Leave: Twist it up too high, and it may break off! Be careful not to accidentally waste any of your newest treat.
Pro Tips: Apply a thin line to both your top and bottom lash line for a night out, taking care not to tug at the skin on your upper eyelids.
Liquid Eyeliner (Felt Tip)* 
A crowd pleaser for sure! At Dermstore, we love liquid eyeliner. Versatile, long-lasting and easy to use, liquid eyeliner with a felt tip may very well be the newest addition to your makeup bag if it isn't already one of your essentials. Cult favorites Stila Stay All Day Waterproof Liquid Eyeliner and Eyeko London Skinny Liquid Eyeliner are sure to impress.
What We Love: Sharp, bold lines that create a flattering and dramatic flair. Liquid eyeliner can be useful for hiding a hangover in the morning and ideal for adding sultry vibes to your look before a date. Our readers say, "It's precise, easy to use and creates instant drama." Perfect your winged eyeliner look with a liner you don't have to sharpen that "isn't messy and creates a clean line," according to one respondent. Master your winged liner with our helpful how-to video here.
What We'd Leave: The potential for inch-thick, beatnik-style lines. If you haven't yet perfected your liquid eyeliner skills, be careful not to end up going overboard while trying to even things out.
Pro Tips: Don't be afraid to start over! If your right eye came out glam and fabulous, but the left eye doesn't follow suit, don't be afraid to remove it and start clean. Hold your eyelid taut, look down and reapply. Just need to touch it up a little bit? Beauty blogger Hayley Paige tells us, "If you mess up and apply too much winged eyeliner, or if it looks sloppy, take an angled eye shadow brush, dip it in makeup remover and clean up the edges of your wing."
*Liquid eyeliner with a felt tip overwhelmingly won our recent survey, with nearly 50 percent of respondents saying they prefer this type of liner for everyday use.
Liquid Eyeliner (Brush Tip)
For thin, sharp lines, we love liquid eyeliner with a brush tip. Create a smooth, matte finish that may be slightly easier to remove than its felt tip counterpart (although it still can be tough to erase without the right remover). One of our top favorites is jane iredale's liquid eyeliner, which comes in a rich chocolate brown or an intense jet black.
What We Love: How long it lasts! It's the perfect tool for all-day glamour.
What We'd Leave: While we love the long-lasting benefits of liquid eyeliner, it's not always easy to remove. To avoid excessive eye-rubbing, soak a cotton pad with eye makeup remover and gently wipe over eyes.
Pro Tips: Brush tip liquid eyeliner requires time and precision to perfect. Take your time, and make sure to allow your liner to dry fully to avoid smudges. From our recent survey, our readers tell us they "prefer liquid just because the application is the smoothest."
Gel/Cream Eyeliner
For nights when you're going on a hot date, or feel in the mood to try something a little more advanced, break out a pot of jet-black gel eyeliner. Gel is also ideal for experimenting with colors. We recommend Vincent Longo's Creme Gel Liner in Flamenco or Teal Green. 
What We Love: Gel eyeliner stays put, and is the ultimate accent to a smoky eye. Using a brush with a seductive gel eyeliner can produce bold lines and an added "wow" factor to your appearance.
What We'd Leave: Any glam girl hates letting one of her favorite products go to waste. Unfortunately, gel eyeliner can dry out over time without daily use. If your favorite gel looks a bit dry, add a small dash of water and mix it together.
Pro Tips: One of our readers tells us, "Gel liners are awesome, but might be a bit tricky if you're not used to using a brush." Get a thin, angled brush for better control at creating different effects.