If you're like me, you've probably started seeing dandruff-like flakes on your clothes too. (Please tell me I'm not the only one!) That's usually how it is for me at the end of winter, which makes me wish sometimes I were a reptile that could just shed that dead, flaky layer and emerge with smoother, younger skin.
When sugar scrubs and lotions aren't cutting it anymore, I usually go for a full-body microdermabrasion treatment. Fortunately, these days you don't need to schedule a spa appointment to get this skin-smoothing, glow-enhancing treatment; it's no longer for those with too much time on their hands (or disposable income). With an at-home diamond-tipped microdermabrasion device, not only can you slough off dry, dead skin cells all over your body, but you can also make a scar or age spot look less conspicuous in just a few minutes a week.
If you already have a microdermabrasion device at home, great. Here's how you can use it for your entire body to get that head-to-toe glow.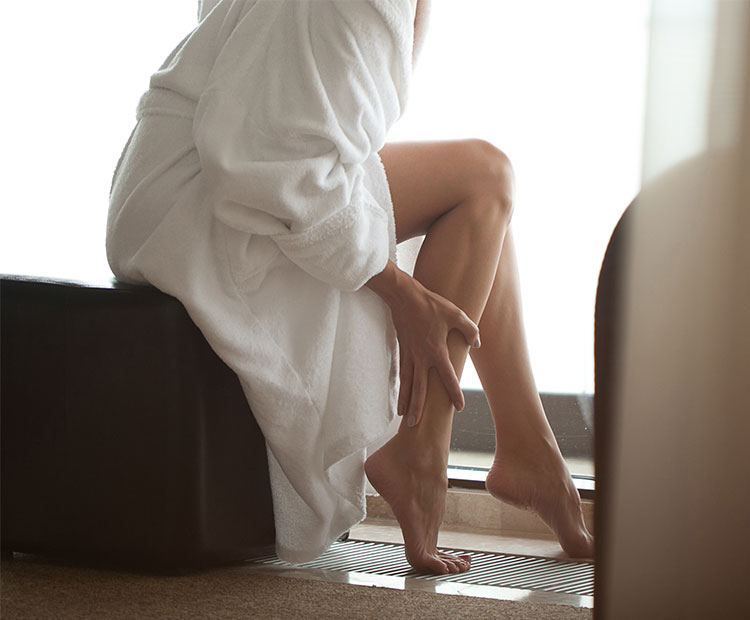 1. Begin with freshly bathed, shaven and dry skin.
Just to clarify, you don't have to be literally freshly shaven to reap the benefits. It's only recommended that you shave before the treatment rather than after. There's also no need to apply lotion or any skin care product between washing and microdermabrasion.
2. Be sure that your device has a clean filter inserted and the diamond tip is securely in place.
Trophy Skin's Microdermabrasion Device comes with a medium-coarseness diamond tip. This tip is suitable for use on the face and body. However, if you have our body tip, you will have the option of a heavier coarseness and larger surface area to make your treatment time a little shorter.
3. Set your machine on the highest suction level.
Since skin on the body is tougher than the face, I suggest treating on the highest suction level. Keep the entire diamond-tip surface in contact with your skin as you glide the tip across it in continuous, even strokes. Always keep the tip moving across the surface—holding it in one place can cause the suction motor to hang on to your skin. Continuous movement will keep this from happening and give you the best possible results.
4. Keep in mind that you may have to use more than one filter.
If this is your first time giving yourself a microdermabrasion body treatment, check and change your filter often. You won't believe how much gunk is coming off of your freshly showered and shaved skin.
5. After-treatment care is just as important.
Once you finish your body treatment, rinse with cool water and gently pat dry. First-timers might experience a slight stinging sensation. This is normal because you have just removed the top layer of your skin's surface. Apply a rich body moisturizer and sunscreen to the treatment area.
That's it! Feel free to give yourself a body treatment as often as a couple of times a week. If you have a spot that you are working to diminish, I recommend treating that area two to three times per week.
READERS—Have you ever given yourself a full-body microdermabrasion treatment before? What did you think of your results? Share your thoughts in the comments section below.