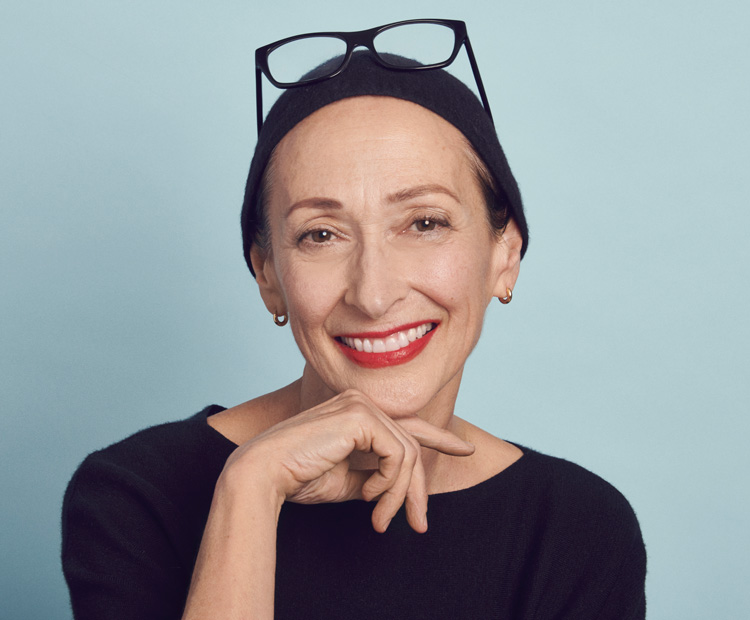 When we first heard that Rose-Marie Swift, celebrity makeup artist and founder of the Instagram-favorite beauty brand RMS Beauty, is coming to the Dermstore HQ for a visit, the entire room went nuts—the excitement was just unbelievable, and for good reason! Rose-Marie has been in the makeup business for over 35 years, tending the faces of some of the most famous A-list celebrities—think Gisele Bunchen, Zoe Saldana, Miranda Kerr, Tilda Swinton and Demi Moore, among others. Her work has been featured in several fashion and beauty magazines all over the world, including Vogue (French, Italian, American, Nippon, China, Russian) W, Harper's Bazaar, Allure, Marie Claire, Glamour and Elle. With her unique eye for beauty, mastery of application techniques and subtle approach to makeup, Rose-Marie easily became one of the most sought-after professional makeup artists in the world.
Her success, however, came with a price. Several years ago, Rose-Marie began to experience some health issues that affected her physically, mentally and emotionally. After an extensive series of tests, she learned that her blood contained toxic levels of heavy metals, including aluminum, barium, cadmium, lead and mercury, as well as high levels of pesticides and other chemicals, which she later learned was a result of her years of exposure to cosmetics. She could not believe that the products she uses to make women look and feel beautiful were the same products that were sabotaging her health. This led her to create her own line of pure, organic color cosmetics, which are not only formulated without potentially harmful chemicals but are also infused with nourishing ingredients to hydrate, illuminate and enhance the skin.
Today we sat down with Rose-Marie to learn more about her amazing line of products, as well as how she uses them for best results.
1. Most of us are aware that certain chemicals in our beauty products may not be safe for our bodies, but we use them anyway. How dangerous are these chemicals and how seriously do we need to do something about it?
Rose-Marie Swift: It seems to me that if a product doesn't cause immediate burning or pain, then it simply passes the test with no questions asked. Relying on the industry to be forthright, after all, it is self-regulated, is for fools. We never consider how chemical combinations may react to each other, ingredients that have been banned in other countries (yet not in America), or hear about ingredients that are falling under scientific scrutiny for being endocrine disruptors and zeno-estrogenic (gender-bending chemicals). The list goes on. There is a huge wakeup call happening in the industry and the consumer is hearing more about questionable ingredients. The beauty industry itself has been trying to draw attention to making regulations and guidelines for some of these ingredients. Time will tell.
2. There is a growing demand in the health and wellness industry for more naturally derived products—do you see the same trend in makeup? Or do you think makeup is lagging a bit behind?
I find this question rather interesting as the natural skin care market is exploding yet the makeup-buying consumer still chooses to cover their skin in color products filled with aging, drying, synthetic and genetically engineered chemicals. Doesn't that defeat the whole purpose?
3. Some women are hesitant to try natural makeup formulas because they don't think the color payoff is the same as their current favorites. What do you say about this? How is RMS makeup responding to this?
In the past, natural color cosmetics have received a very tepid response, and rightly so. Most of them were just not good. Most had no color payoff, inferior ingredients, minimal expertise in formulations, bad textures, and were definitely not fashion forward by any means. I helped change that, thanks to my experience in the beauty industry as a makeup artist for over 35 years, challenging the status quo on formulas, ingredients, textures and education itself. Hence RMS Beauty was born.
4. What ingredients do you think are the absolute worst for your skin and why?
Hands-down synthetic chemical-laden sunscreens. No ifs, ands or buts. Nasty. They damage the skin and they damage the environment.
5. How difficult is it to formulate beauty products that are not only safe but are also as effective as their competition?
I think that we need to look at the comment "as effective as their competition." How truly effective is the competition? Are these anti-aging claims really valid? Are those long-wear products actually good for you? Safe and effective natural products can be created properly if brand owners/labs have integrity and whose motivating factor is not profit-driven. It costs more money, in most cases, to use organic and high-quality ingredients. The myth that natural beauty products are "not effective" is slowly diminishing as natural brands are stepping up their formulas and innovation, proving them wrong.
6. Some people say it's easy to switch to natural products when you have generally normal and healthy skin. What advice would you give those who have certain skin issues and are taking prescriptions from their dermatologists and estheticians?
I am going to get in big trouble answering this one, for sure, but I do not put much faith into any pharmaceutical prescriptions for the skin. I do tell people that have sensitive skin, rosacea, eczema and psoriasis to avoid steam-distilled essential oils even though they can be very therapeutic because they do cause problems for sensitive skin, for sure.

7. Speaking of dermatologists, not a lot of them are fans of the natural beauty movement, stating that some natural ingredients don't have a lot of studies backing them up. How are RMS' ingredients different?
I love the comment "natural ingredients don't have a lot of studies backing them up." The history of the benefits of herbs throughout the centuries has proven that many are advantageous for both skin and health. What has changed this is big pharma denying their potential due to their own (patenting) and profiteering agenda.
8. What are some of the most remarkable products in your line?
My products are user-friendly, natural and subtle. RMS Beauty Oil, which Japanese Vogue cited as one of the 10 best beauty oils in the industry, gives your skin that light, reflective glow, and it's great for people with rosacea, eczema, psoriasis and acne. It features buriti oil (rich in natural SPF), jojoba oil (closest to our skin's natural oil), tamanu oil, rosehip oil (high in vitamin C) and adaptogenic herbs to balance skin (ashwagandha). (Side note: Bacteria does not grow on oil; that's why none of the products have water.) Keep this in a cool dark place. I would apply three drops in the evening on damp skin.
My "Un" Cover-Up is a tinted moisturizer, foundation, concealer—whatever you want to call it.
Living Luminizer is good for older skin.
9. Your brand has recently dabbled in wellness with your probiotic capsules. Why do you think that's important? What is your brand's take on probiotics?
I am a firm believer that the skin is a mirror to the gut and if your gut health is not balanced, then nor will your skin be. Unfortunately, people don't understand the gut-skin correlation as a healing modality.
10. Please walk us through your morning and evening skin care and hair care routine.
I have a very simple routine. I concentrate more on my inner health [than I do spending money on "hope in a jar"]. I take my morning RMS Beauty Within Prebiotic + Probiotic and a liter of water along with a green juice. Every meal includes a Beauty Within Digestive Enzyme and those are anti-aging.
I religiously use my Beauty Oil on damp skin as a primer under my "Un" Cover-Up in shade #22 in the morning. I darken my brows with the Swift Shadow Tobacco Road TR-97, then apply Living Luminizer as my highlighter on my lids and my cheekbones. Nothing gives a lit-from-within luminous glow like that product. RMS Wild With Desire (Red) lipstick is always on my lips with my Dressed Up Red Lip Liner and Defining Mascara.
Removing my makeup and cleansing the skin involve my raw, cold centrifuged Coconut Cream which I also add into the bath water. My hair is short and easy to handle so all I use is the Dr. Alkaitis Hair Shampoo and I am done.