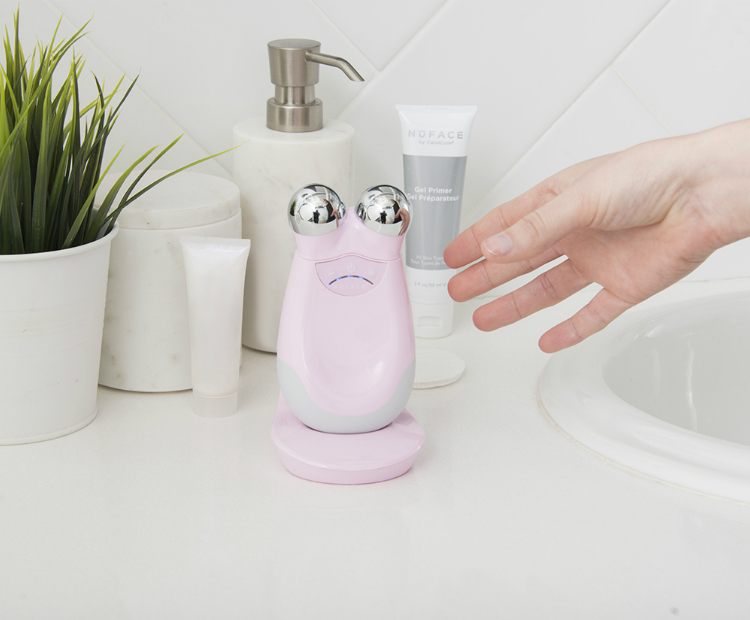 When I first saw the NuFace facial toning device, I had the feeling of entering a science fiction set. This is what space-faring socialites will use to beautify themselves before teleporting to dinner, right? But maybe that thought says more about my beauty practices than anything else—before working at Dermstore I didn't know what serums were and had never used a face mask. (We all start somewhere, right?) So needless to say, I was a bit nervous about trying out this high-tech device, having never done anything like it before.
What the NuFace does
Far from being sci-fi, microcurrents—the low-level electrical currents that the NuFace delivers—have been shown to have healing effects in studies since the 1960s. Plus, the ancient practice of traditional Chinese acupuncture relies in part on this same phenomenon; acupuncture needles generate measurable electrical charges when used in the skin.
So the NuFace is an at-home handheld device that delivers microcurrents to your face. It stimulates facial muscles in order to encourage brighter skin tone, reduce wrinkles, and give an overall lifted appearance. Read on to see what happened when I gave it a try, including before-and-after photos. (And for the sake of science, the only makeup I'm wearing below is eyebrow pencil and mascara.)
What happened when I used the NuFace
First I read through the short instruction booklet with helpful illustrations and charged the device overnight so it'd be ready to go. Then I followed a couple steps:
Step 1: Cleanse face
I used a micellar water on a cotton pad.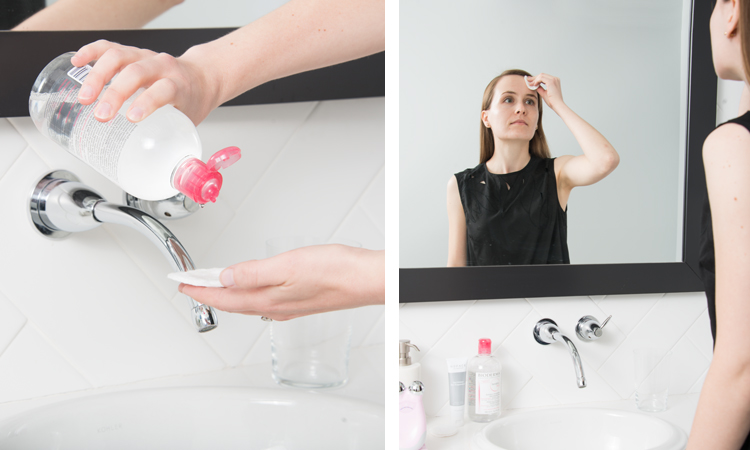 Step 2: Apply the gel primer
You'll want about four times what's shown here for your whole face—this amount is for one cheek. I'll use more to do one side of my forehead, and then later I'll do the second half of my face.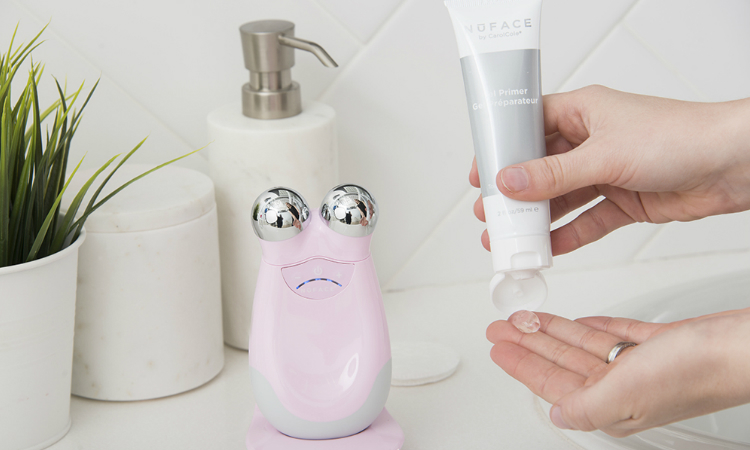 The primer is a clear goop that'll ensure the microcurrents are delivered to your facial muscles.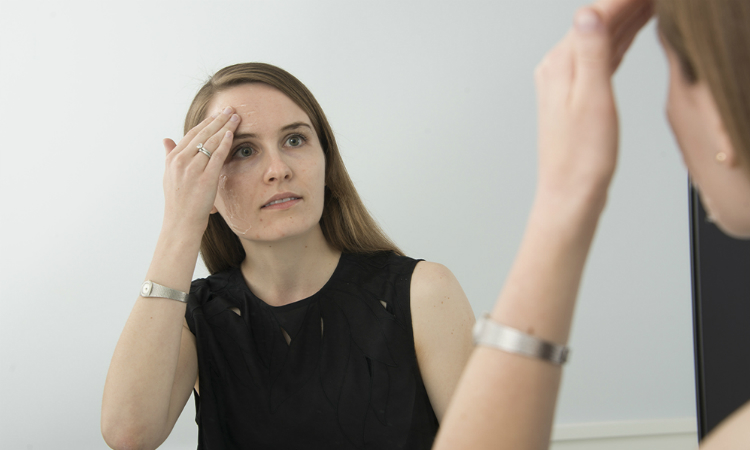 Step 3: Turn on and go
Starting with one cheek, I moved the device across my face slowly, using the beeps every five seconds to tell me when to move to the next area. The instruction booklet's illustrations show you the movements to do: three on your cheek and three on your forehead (plus a couple "advanced holds" I haven't tried yet). Then I washed my face, gooped up the other side, and repeated.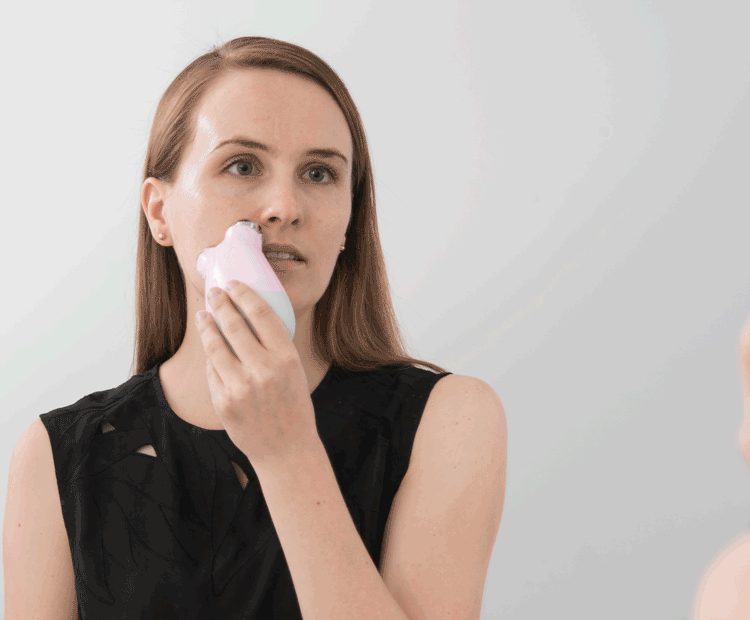 The verdict
Using the device is really quick. Following the suggested steps in the instruction booklet means spending less than one minute on each side of your face, so you can definitely get the whole thing done in five minutes, including washing your face before and after.
There are no tingles or really any sensation at all when using it. If you do feel something uncomfortable like an electrical buzz on your skin, use more priming gel.
As you can see, the immediate results are not necessarily show-stopping, but I did see more lift in the skin under my eyes and the corners of my smile lifted a little higher. My skin definitely felt tighter and more smooth and firm. I'll admit I also checked myself out quite a bit in the days following, and I have to say I felt and looked fresher.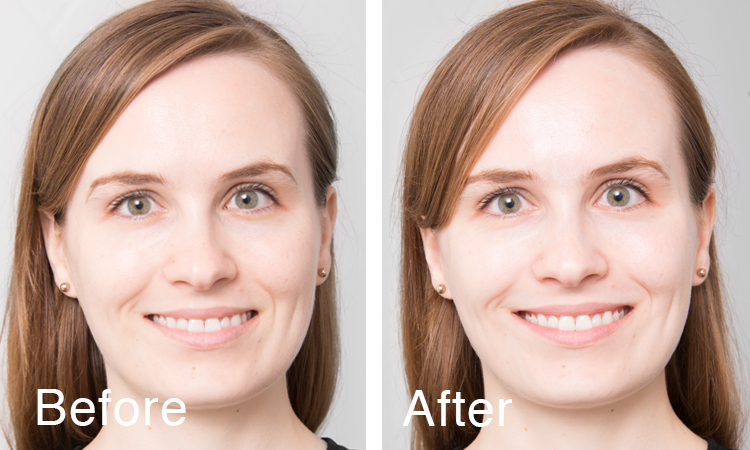 What's next
I'll definitely keep using the NuFace. Suggested use is every day, but I actually still feel that nice tightness and tone in my face for a couple days after use, so I'll probably keep to once or twice a week for now. So far I've only used it at the lower settings, so I'm interested to see what a higher setting might achieve, and what continued use can do.
Have you tried the NuFace or other microcurrent devices? What results have you seen? Tell us about your experience in the comments below.