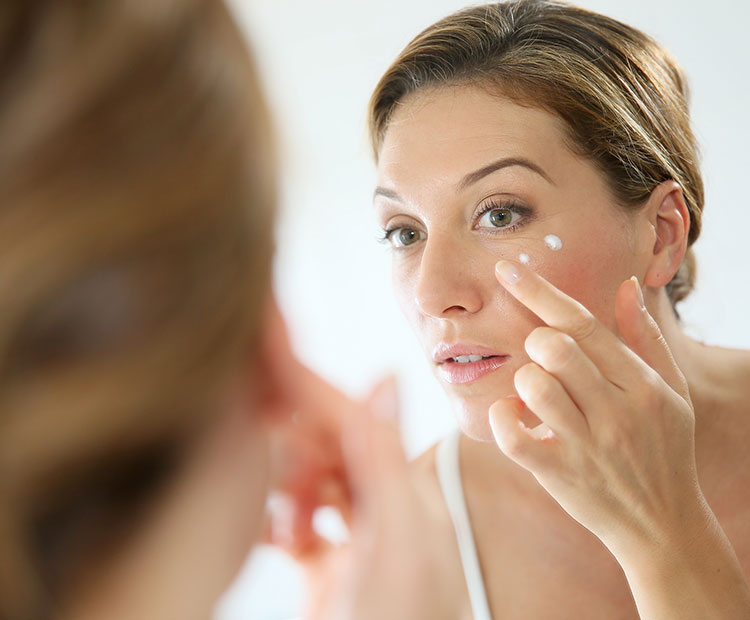 Human placenta, which forms in the uterus during pregnancy, performs many functions vital to the baby's life. Ultimately, it connects the growing baby to its mother's life supply, providing vitamins, proteins and enzymes to promote healthy growth, supplying oxygen and removing toxins from the baby's body. Natural antibodies in the placenta form a protective barrier to keep nutrients in and bacteria out. Hormones secreted by the placenta also encourage new blood vessels to form, which boost the baby's metabolism and energy.
We know that the placenta is the natural, vital element that nourishes, protects and breathes life into every human cell, so it only makes sense that protein-rich placenta extract has been found to be an exceptional skin treatment. In fact, the healing power of placenta to repair skin damage, loss of elasticity, uneven pigmentation and deep lines and wrinkles as well as severe redness and bruises are so well-known in the medical community that it's become a go-to skin treatment solution among renowned dermatologists and plastic surgeons in Beverly Hills.
Physicist Emilia Karsh, Ph.D., discovered the phenomenal healing power of human placental essence when it was applied to the severely burned skin of her supermodel friend. It was a skin "miracle" that changed Dr. Karsh's life path. After years of research on skin cells, she discovered that natural plant placenta was even more powerful than human placenta to regenerate skin.
Plant vs. Human Placenta
The plant placenta is the natural substance found under the pistil of the plant. It has a high concentration of amino acids, proteins and peptides that ignite skin's natural collagen creation and cellular metabolism.
Two key attributes of natural plant placenta produce this remarkable, broad-spectrum skin repair. First, plant placenta essence is recognized, or accepted, by our own skin cells, so it has a unique ability to penetrate deeply into the skin's hypodermis, where damage begins. Second, plant placenta helps harmonize the various activities of individual skin cells to maximize the healing benefits of clinically proven anti-aging peptides, antioxidants, vitamins and botanicals. The great healing power of plant placenta is quickly seen in wound repair, including skin abrasions, serious bruising, redness, irritation and burns.
In clinical testing versus human placenta, plant placenta demonstrated a 70% increase in skin oxygenation. When skin consumes more oxygen it creates healthy proteins that strengthen and protect the vital collagen structure that keeps skin acting and looking youthful. By stimulating circulation, skin cells regenerate more quickly to firm skin tone and repair visible lines and wrinkles. Even damage from UV rays and environmental pollution diminish, fading discolorations to make skin look brighter and clearer.
EMK's Bio-Placenta: The Natural Skin-Repairing Miracle
To bring this healing natural ingredient to everyone, Dr. Karsh developed EMK Skin Care. At the heart of every EMK skin treatment is the pure essence of natural plant placenta from the agave cactus plant, native to Central America. The unique EMK Bio-Identical Placenta goes through a complex extraction process that retains the plant placenta's molecular compatibility with the skin for unprecedented healing results. The instant visible result of the amazing "life giving" EMK Bio-Placenta is dramatically more supple, hydrated skin for a refreshed, less lined appearance. Skin looks lifted, brighter and feels incredibly silky.
With continued use, EMK Bio-Placenta-infused formulas deeply regenerate skin, provide long lasting hydration and dramatically repair every visible skin flaw. They restore remarkable skin luminosity and glow—like that of a child. No wonder many A-list celebrities rely on the immediate benefits of EMK Skin Care for red-carpet events. (Editor's Note: Victoria Beckham, Madonna and Eva Longoria are just some of the brand's avid fans.)