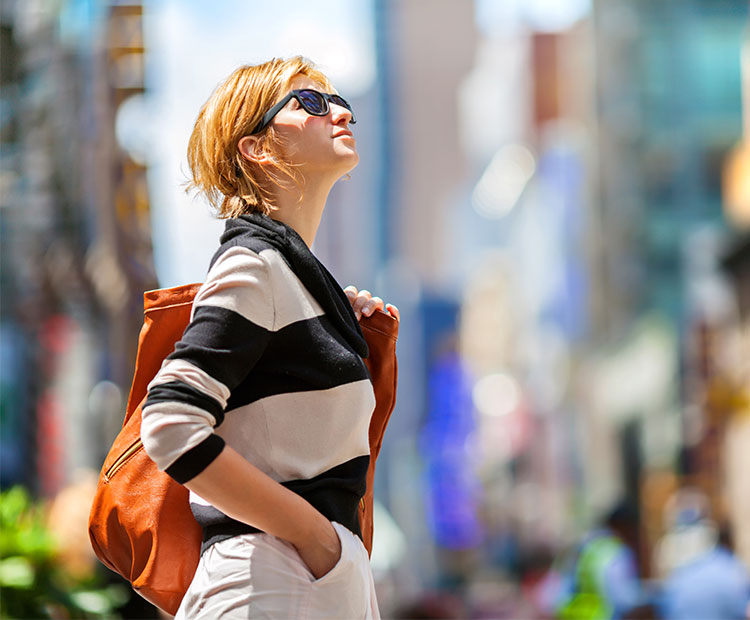 Moving from the suburbs of Los Angeles to New York City was a bit of a shock to both my life and my skin. I went from being surrounded by nature and year-round sunshine to living in a polluted city with temperamental weather that seemed to always have a beauty repercussion. That said, weather wasn't the only thing that forced me to flip my beauty regimen upside down: The fast-paced lifestyle, late nights and delicious $1 pizza on every corner were also to blame.
In re-thinking my morning and nighttime routines, as well as some lifestyle habits, I discovered a variety of skin care secrets, including a few that completely transformed my East Coast complexion (as I like to call it). Luckily, I've never been good at keeping things to myself. See the beauty secrets I learned after moving to New York City ahead.
Protect Your Skin With Antioxidants
Growing up in California, I learned very early on how important it is to protect your skin from the sun's always lingering rays and, as a result, never left home without a bottle of SPF. That said, it never occurred to me that the atmosphere is chock-full of other damaging entities, like city pollution, until I moved to New York City.
According to board-certified dermatologist, Dr. Debra Jaliman, pollution is something we should all watch out for. "Just as smoking is known to prematurely age the skin, the air we breathe in can do it too," says Dr. Jaliman. "Air pollution can cause darkening of the skin and acne-like eruptions. It can quickly make the skin appear dull and [has been] linked to worsening skin conditions, such as eczema and acne," she adds.
To protect my complexion from city pollution, I incorporated an antioxidant-rich serum—my favorites are vitamin C and rosehip oil—into my morning and night time routine. According to the American Academy of Dermatology, antioxidants can protect the skin against the aging effects of free radicals and pollution.
Try: Eminence Organics Rosehip Triple C+E Firming Oil
Match Your Beauty Routine to the Weather
One of the biggest beauty mishaps I experienced after moving to New York City was a major change in my clear skin (or lack thereof). Prior to moving, I had relatively clear skin with little to no breakouts. But, city life changed that. Instead of my usual blemish-free complexion, I was all of a sudden faced with a new breakout almost every day. I knew something wasn't right, so I scheduled an appointment with a dermatologist. Turns out my skin was going through an adjustment period and fortunately, my blemish-ridden skin did not last long.
That said, I learned a valuable lesson in matching my beauty routine to the weather. Summertime in California usually calls for dry heat, whereas in NYC it can be really hot and really humid during most of the summer months. So, I switched out my thicker face moisturizer for something a little more lightweight and slowly but surely my skin started to breathe again.
As someone who rarely experienced seasons, I wasn't used to having to switch up my beauty regimen as often, but doing so really helped my skin adjust to the dry, cold winters and hot, humid summers.
Try: SkinMedica's Ultra Sheer Moisturizer
Cold Spoons for Puffy Eyes
It's true: New York City really is the city that doesn't sleep—and sometimes you don't either. Whether it's a late night out with friends or a work event, getting a full night's sleep is a sometimes impossible feat. Pair lack of sleep with chronically puffy under-eye bags and you're looking at me post-five snooze buttons.
To combat my tired, puffy eyes, I started keeping two silver spoons in the freezer and applying the backs of them to my eye contour first thing in the morning. The cooling effect is an excellent (and somewhat alarming) way to wake up in the morning and can actually work wonders on swollen areas. According to Dr. Jaliman, "the coolness helps by de-puffing the surrounding eye area," leaving you with a more refreshed-looking eye contour.
Try: skyn ICELAND Hydro Cool Firming Eye Gels
Other Tricks for Puffy Eyes
In addition to cold spoons, Dr. Jaliman also suggests cold cucumber slices tea bags. "You can place a steeped and cooled tea bag on your eyes for a few minutes," says Dr. Jaliman. "This will help make your eyes look less puffy and more awake," she adds. "Make sure the tea bags contain caffeine because caffeine constricts blood vessels and decreases puffiness."
On top of that, Dr. Jaliman says to try sleeping on two pillows since "having your head raised when you sleep reduces the amount of puffiness in the surrounding eye area." And, of course, getting enough sleep. "When you don't sleep enough, it causes blood vessels under the eyes to dilate. This causes darkness because you see the vessels under the thin eyelid skin."
Hydration Is Key
One of the best beauty (and life) tricks I learned after moving to New York City was to hydrate as much as possible. My skin is heavily affected by my body's moisture levels and I can see a major difference when I've had one glass of water versus the recommended amount. But, in a fast-paced city like NYC, it's not always easy to remember to hydrate—especially when you have to lug a giant water bottle with you on the subway (hello shoulder pain!) and always have to pee.
That said, the active lifestyle New Yorkers lead is no match for dehydration, so carrying a water bottle everywhere you go is worth every shoulder ache and bathroom break.