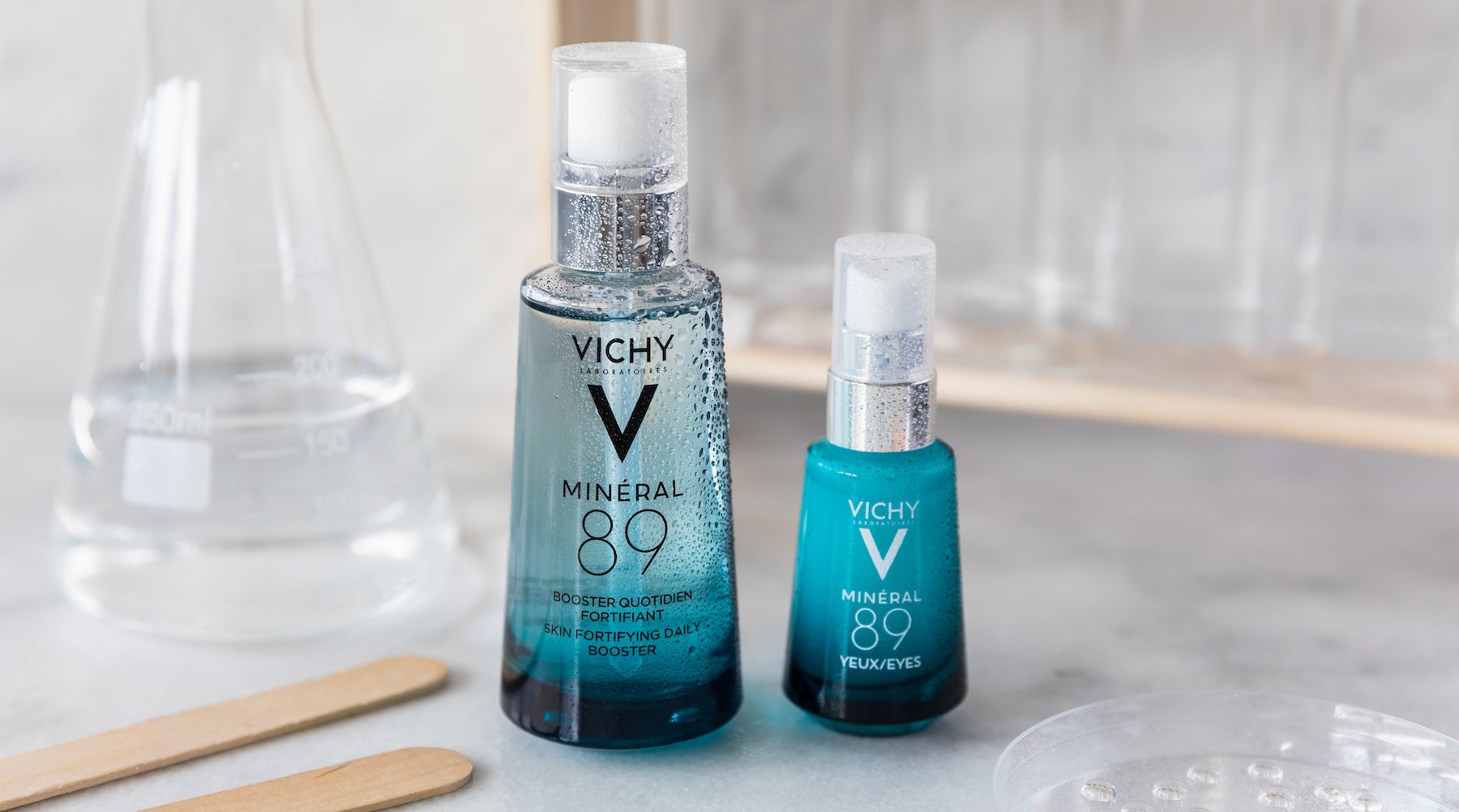 No matter your skin type, an effective skin care routine should always include the basics: a cleanser, moisturizer and sunscreen. From there, targeted treatments can be added to address specific concerns, like visible signs of aging, uneven skin tone and breakouts. Extra hydration and soothing benefits are an extra bonus, and there's one universal serum that provides a boost for virtually every unique skin type: Vichy's Minéral 89 Booster Serum.
Formulated with 89% Vichy Volcanic Water, which includes 15 essential minerals that help provide much-needed antioxidant protection, and naturally derived hyaluronic acid, this serum promotes healthy, glowing skin and delivers an instant radiance-enhancing effect. The lightweight, clear gel absorbs quickly without leaving a sticky or greasy feel—and it's formulated with just 11 ingredients (and no oil, fragrance, silicone, parabens or alcohol), dermatologist-tested, allergy-tested, non-comedogenic and suitable for all skin types (including sensitive).
Think of Minéral 89 Booster Serum as a supplement for your skin. Designed to give your skin its daily dose of essential minerals and moisture, it also enhances the skin's resistance to environmental assaults that can cause short- and long-term damage. Regardless of your skin type or concerns, it's easy to work Minéral 89 Booster Serum into any skin care routine—and prepare your skin for products that follow. Simply apply two to three pumps into the palm of your hand and massage onto your skin after applying any other actives—before your moisturizer.
In addition to Minéral 89 Booster Serum, we rounded up some of our favorite Vichy formulas, based on your skin type and concern, that leave your skin looking and feeling healthier:
Oily and Acne-Prone-Skin
When oily and acne-prone skin lacks hydration (which can be caused by drying blemish treatments), it may produce even more oil to quench its own thirst. The proper routine for this type of skin focuses on gently yet effectively targeting breakouts, blackheads and visible pores while refining the skin's tone and texture.
Visible Signs of Aging
Fine lines, wrinkles, uneven skin tone and loss of firmness result from a combination of the natural aging process along with accumulated damage caused by UV rays and other environmental aggressors. The optimal anti-aging routine works to enhance the skin's underlying network of supportive proteins that's responsible for plump, smooth skin while boosting radiance.
Uneven Skin Tone
Dark spots and larger patches of stubborn discoloration have an array of causes, including unprotected sun exposure, pollution, hormones, post-acne healing and more. The key for improving uneven skin tone is targeting discoloration at the source, and protecting the skin against the damaging effects of UV rays.
Dry Skin
Skin dryness can be due to genetics, environmental conditions, the natural aging process and more. The right skincare regimen can replenish lost hydration and optimize the skin's moisture levels for healthier, younger-looking skin and renewed radiance.
Dermstore works closely with all of our brands as an authorized retailer to make sure all the products we ship are guaranteed authentic.