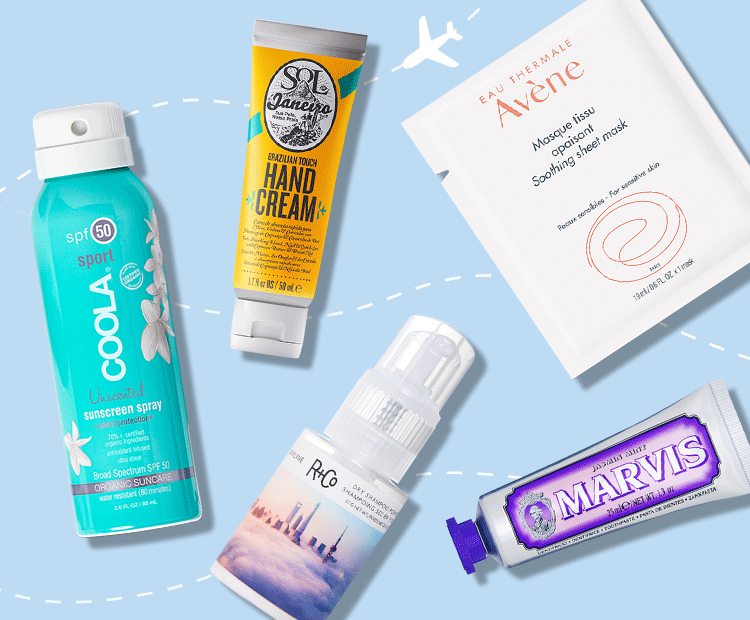 Last July, I made some moves: I quit my job to go freelance full-time, I left my home—New York City—after a seven-year love affair and I booked a one-way ticket to Europe. With the opportunity to travel the world for a year—living in 12 cities and 10 countries along the way—I had to make some major adjustments to my lifestyle. As a woman who owns way too many red lipsticks, obsesses over serums and is in a committed, exclusive relationship with her mascara—not being able to have all of my beauty products in my possession was a difficult pill to swallow.
Considering I've taken more than 50 flights in the past 10 months (and counting—I leave in a few days for surf camp in Nicaragua, my 30th country), I've become a pro at packing, taking off, landing, unpacking and repeating. Here's what I've learned on the road, along with some products I wholeheartedly recommend for jet-setters, vacationers and nomads.
How to pack for a flight 
Traveling non-stop certainly requires a bit of flexibility and of course, an open-mind—making me an expert at this point. Of the most practical and important tips I swear by, my top one actually comes from my mom, who always told me to take my valuables with me. Though she meant jewelry, I classify my beauty products in the must-have-at-all-times category. Especially for long, double-digit flights, having them handy means I'm always prepared for anything that pops up—from zits to dryness—I can freshen up before I arrive at a new destination.
To make sure these sometimes pricey finds aren't tossed out by security, it's important to keep them under the ounce count. While certain airports are more forgiving than others—especially those out of the United States—as a general rule of thumb, it's best to stay under the 3.4-ounce limit. If you have an 8-ounce bottle but there's only a fourth of it left? Make sure you squeeze the access into a smaller container, so you don't have to argue with a strict agent at the gate.
After an unfortunate incident in which my concealer exploded all over my makeup bag somewhere between Lisbon, Portugal and Japan—I realized an important packing rule: give your products room to expand. Thanks to the air pressure several miles up in the sky, you can expect liquids that aren't sealed tightly to leak out. You can prevent any messes by wrapping products in plastic or bags to be careful.
How to select TSA-approved beauty products
When you only have 20 kg (that's 50 pounds, for reference) to your name for 12 months, the entirety of your bathroom cabinet can't go on the adventure with you, unfortunately. This made packing, well, interesting—and taught me the value of de-cluttering and being selective. While I've had to go back to some basics, based on what I'm able to find or ship abroad, I've also deepened my appreciation for certain products that go above and beyond. If you're going on a trip, keep multi-purpose benefits, durability and serving size in mind. What do I mean? My favorite cleanser only requires a little dab to wash off my makeup, so I don't need a ton to get by. The same goes with my hand cream—it keeps my skin soft, while also serving as an anti-itch wonder for bug bites.
Follow along for some must-pack products to consider before printing your boarding pass:
Buy now

with Dermstore

So many parts of traveling dry your pores—from the stale air in the airplane to too much fun in the sun—requiring you to pay more attention to hydration. Especially as we age, keeping your skin quenched will ward away wrinkles and protect us from sun damage, too. For me, a lightweight moisturizer with at least an SPF is a must, like this one from La Roche-Posay.
Try: La Roche-Posay Double Repair Moisturizer SPF 30

Buy now with free delivery

Buy now

with Dermstore

For weekend jaunts, you don't need to take every last piece of your makeup collection with you. That being said, having the basics will make adjusting to a new city or destination easier to navigate. This starter kit from Jane Iredale has everything you need to prime your face for your sightseeing tour—including powder, blush, brush and more.
Try: Jane Iredale Starter Kit Light

Buy now with free delivery

Buy now

with Dermstore

While, sure, sheet masks—and masking in general—is having a moment, they've always been a beloved little secret of experienctravelers. They're easy to pack, don't take up much space and if you're brave, you can even wear them on the plane. This soothing option from Avene is safe for all skin types and uses thermal water to satiate your pores. Psst: it's also a smart idea to use a gentle mask like this one if you suffer from a sunburn.
Try: Avene Soothing Sheet Mask

Buy now with free delivery

Though some folks tend to travel with makeup wipes, it's important to consider weight. Certain high-count packages can really pack on the pounds to your bag, making a 3.4-ounce liquid remover a smarter and lighter option. This hydrating makeup remover is a personal favorite since it easily takes off any lingering shadow or liner before bedtime. If you prefer wipes, though, consider individually wrapped ones from Lancer Skincare that won't put you over the weight limit.

Try: Kerstin Florian Rehydrating Makeup Remover

Buy now with free delivery

With less-than-stellar airplane food, noisy passengers and rocky sleep at a 90-degree angle, a redeye can be brutal. When you don't exactly feel your best, it's surprising how much of a difference brushing your teeth can make. Always keep a travel toothpaste—like this natural one from Marvis—in your backpack, so you can at the very least have a clean mouth.
Try: Marvis Jasmin Mint Travel Toothpaste

Buy now with free delivery

Buy now

with Dermstore

Overnight trains, evenings spent sleeping or camping on the beach or a change in climates and environments can all wreak havoc on your hair. In other words? Make it super greasy. Unfortunately, many dry shampoos are only available in large bottles—but this one is the exception. Throw it in your purse so you don't worry about your style—and can see more of the local culture!
Try: R+Co SKYLINE Dry Shampoo Powder 

Buy now with free delivery

7. A water-resistant SPF

No matter if you're under the sunshine of the desert in Morocco, the islands of Thailand or drinking wine in the South of Spain—one thing is mandatory: sunscreen! But since you can't carry around the mega-size one you keep at home, consider this light sunscreen spray with 50 SPF. Thanks to a sports formula, it'll keep up with your wanderlust.
Try: COOLA Travel Size Sport SPF 50  Unscented Sunscreen Spray