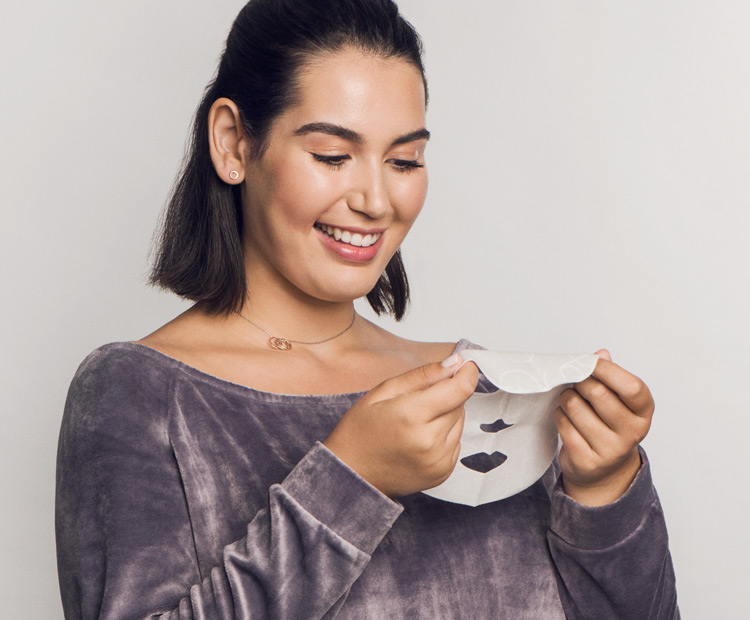 Face masks are a lot of fun. But, as with almost any type of skin care product, you want to ensure you select a mask made with your skin type in mind, especially if you have sensitive skin. That's because certain ingredients can cause sensitivities to heighten and make skin feel inflamed and irritated. Luckily, there is a multitude of ingredients found in some of the best face masks that work well with sensitive skin (or at the very least, can go after the repercussions for a clearer, more radiant complexion).
Up ahead, we take a closer look at masking with sensitive skin, deep dive into the best face masks for this skin type, the ingredients to keep an eye on (for both positive and negative effects) and tips to make the most out of your masking experience.
Why Masking Benefits Sensitive Skin Types
Masking is an excellent way to target and treat specific skin concerns, like the side effects of sensitive skin (think: dryness, inflammation and redness), as they "deliver higher concentrations of active ingredients to balance the skin," says Dr. Debra Jaliman, a board-certified dermatologist in New York City. Because these at-home treatments focus on more specific ailments (and are chock- full of ingredients that promote skin health), they can be some of the most impactful products you use. That is especially true if you have sensitive skin, as masks can help to soothe, comfort and—as a result—promote a more radiant-looking complexion.
Tips for Using Masks on Sensitive Skin
Though ingredients are an important factor when selecting a face mask to use on sensitive skin, the application should also be considered. When it comes to masking on sensitive skin, you want to first ensure that the skin is clean. "Use a gentle cleanser before the mask, [as] you want to make sure any dirt, oil and makeup is off your face," says Dr. Jaliman. For this, she suggests using a gentle cleanser to create a clean canvas. And following your at-home facial, "You should follow with a good moisturizer," she adds.
In addition to prepping the skin for masking (and hydrating after the fact), there are some other important factors to consider. The removal process can require extra attention, as certain techniques might cause the skin to feel irritated. When removing your face mask, don't rub or scrub the skin. Instead, soak a washcloth in warm water and place it over your skin, then gently wipe away the formula. When your skin is clear of the mask, pat gently to dry and follow up with your moisturizing products.
Ingredients to Avoid
It's always important to stay away from ingredients that don't serve your skin type. If your sensitivity is caused by dryness, Dr. Jaliman says to keep away from masks (and other products) formulated with salicylic acid. That should especially be considered if the product doesn't contain hydrating ingredients as "it could dry your skin out even more," explains Jaliman.
In addition to salicylic acid, "Exfoliating beads might inflame the skin," notes Dr. Jaliman. Because of their texture, the abrasion could rub the skin the wrong way (pun intended) and cause further irritation to occur. Dr. Jaliman also warns against masks with added scents and fragrances. "These might irritate your skin if you have sensitive or acne-prone skin," she warns.
Best Face Masks (and Ingredients) for Sensitive Skin
Now that you're armored with tips and tricks for masking on sensitive skin, let's talk about the products you should try. Here at Dermstore, we love a good face mask—especially ones that are gentle enough for sensitive skin. Take a look at some of our favorite masks (and ingredients) below.
Buy now

with Dermstore

Hyaluronic acid (HA) is one of those ingredients that can benefit all skin types. However, sensitive skin, in particular, can see some major ups from using the ingredient. Dr. Jaliman notes that it "helps in keeping skin hydrated" and as a result can soothe and comfort the skin (especially if your sensitivity is related to dry skin).
Try: SkinCeuticals Phyto Corrective Masque
What's better than a weekly treatment that soothes the skin? One that can stay on overnight! The SkinCeuticals Phyto Corrective Masque is made with hyaluronic acid and herbal extracts to deliver a cooling, nourishing sensation to the skin. And with regular use, it can help diminish redness, irritation and promote a smoother complexion.

Buy now with free delivery