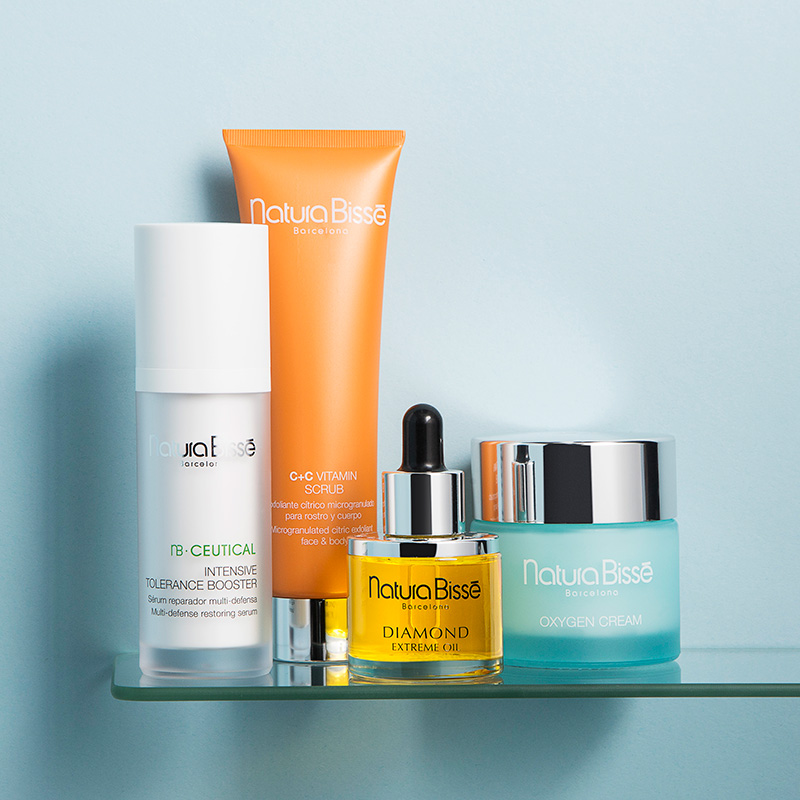 If you frequent spas at 5-star hotels like The Ritz-Carlton and Four Seasons, it's likely that you've already encountered the prestigious European skin care line Natura Bisse. So imagine our excitement to have their team here at the Dermstore HQ for a brand training that included the world-class Natura Bisse facial!
Just a quick background: Natura Bisse is a family-owned luxury skin care line founded in Barcelona, Spain. What makes this brand truly stand out—aside from the fact that you can only find this brand in high-end beauty counters and luxury spas and hotels all over the world—is that it doesn't rely on fancy packaging and massive social media presence. It's mostly known for its elegant formulas, which fuse extraordinarily high concentrations of active ingredients with pioneering delivery systems to serve up results you can actually see. But of course this kind of claim doesn't mean much unless you've actually experienced those results yourself. So when an opportunity to try the Natura Bisse facial treatment here in the office presented itself, I was one of the first to volunteer!
As soon as I stepped into our makeshift spa room, I was immediately transported to a different world. All it took was a dim room, a comfortable bed, a few candles, silence and the heavenly scent of Natura Bisse products—things I could easily find in my own house!
"I think everyone should know how easy it is to do your own facial at home, and that you don't necessarily need a lot of time and high-tech tools," esthetician and Natura Bisse Trainer Ashley Degenford said. "In just 10 minutes you can get a great pick-me-up from a peel. If you have more time and want to relax you can add a mask; there are so many options."
The 5-Step At-Home Facial Routine
Natura Bisse believes that everyone's skin is unique and has its own voice. And even though facial regimens typically follow the same sequence,Degenford stressed the importance of tailoring your facial treatment based on your skin type and concern.
Since my skin is usually dry and occasionally dull, she recommended skin care ingredients that promote hydration and illuminate the complexion, like vitamin C and shea butter. If you have dry skin like mine, below are the steps she took to treat my skin. (Keep scrolling down to find her suggested regimen for oily/combination, sensitive/redness-prone, acne-prone, hyperpigmented and mature skin types.)
If You Have Dry Skin
Buy now

with Dermstore

Natura Bisse's C+C Vitamin Splash works to even out your complexion in no time, so you can enjoy pure and beautifully balanced skin. Designed to easily alleviate free radical damage, its powerful formula is infused with vitamins and purified osmotized water.Key Ingredients: * Antioxidants: provide a barrier against environmental damage * Essential Oils: boost your skin's health and protection * Vitamin C: restores your skin's radiance by ramping up cell regeneration, fading dark spots and fighting environmental damage * Hydra-Flow Complex: instantly boosts hydration and freshness

Buy now with free delivery

Buy now

with Dermstore

The Tolerance Enzyme Peel is paraben-free, alcohol-free and hypoallergenic—designed especially for sensitive skin types. Keep your skin free of blemishes without irritation. Gentle, chemical exfoliants remove dead skin and dirt from yor pores to unveil softer, smoother, more luminous skin.Key Ingredients: * Papaya extract purifies, hydrates and decongests skin * Prickly pear cactus extract promotes cellular renewal and exfoliation * Salicylic acid gently exfoliates for more radiant

Buy now with free delivery

Buy now

with Dermstore

Natura Bisse's C+C Vitamin Cream helps you achieve a more hydrated, firm and glowing complexion. Designed to diminish the appearance of wrinkles, dark spots and free radical damage, this brightening moisturizer is powered by vitamin C, provitamin D and turmeric oil to guard your skin against environmental aggressors and thwart skin aging.Key Ingredients: * Antioxidants: shield your skin from damaging free radicals * Shea Butter: rehydrates and nourishes your skin to diminish dryness * Vitamin C: lightens dark spots and protects your skin against environmental stressors * Stabilized Ascorbic

Buy now with free delivery

Buy now

with Dermstore

More Ways to Enhance Your At-Home Facial Experience
My entire treatment lasted for only 30 minutes, but I felt so relaxed I almost fell asleep. Most facials I've had before left my skin slightly red and tender, which I thought was normal after a peel. Not the case at all with Natura Bisse. My skin looked radiant and thoroughly hydrated; and for the first time in a long time, I looked like I actually had 8 hours of undisturbed sleep (a luxury if you're a mom).

Aside from how this facial made me feel, I also like how easy it is to do and re-create at home. Degenford never used any special tool or device, just the power of her touch and a few skin care products specifically handpicked for me. Asked what other things I can do to elevate my at-home facial treatment, Degenford said, "Anything that relaxes you is always nice to enhance the at-home spa experience. Your favorite music, candles… I always love sitting in a nice warm bath with a mask on. At-home facials are so much fun to do with friends, they are perfect for a girls (or boys) night in." 

Want to try this at-home facial for yourself? See her suggested regimens for your skin type below.


If You Have Oily/Combination Skin
Degenford recommends: To balance and purify oilier skin types, try Oxygen & Cure collections, which feature glycerin and hyaluronic acid to give lightweight hydration without heaviness.
Step 1: Cleanse With The Cure All-In-One Cleanser
Apply to dry skin with dry hands, massage and remove with water or washcloth. Can also be used to remove eye makeup.
Step 2: Tone With The Cure Toner
Step 3: Exfoliate with Glyco Extreme Peel (features an AHA complex of glycolic, malic, citric, lactic and tartaric acids)
Apply eight pumps to face, six for neck/décolleté. Let it rest on skin for 15 minutes then remove with water.
Step 4: Massage Oxygen Cream Onto Skin
Step 5: Apply Oxygen Finishing Mask (features glycerin and living water)
Let mask sit 10 to 15 minutes then remove with water.

If You Have Sensitive Skin
Degenford recommends: Sensitive or redness-prone skin would benefit from our Ceutical Collection. Ingredients you need to look for would be aloe vera, green tea and pikea robusta (red algae).
Step 1: Cleanse with Tolerance Cleanser
Step 2: Tone with Tolerance Toner (features green tea, chamomile, elderflower)
Step 3: Exfoliate with Tolerance Enzyme Peel (with papaya and prickly pear enzymes)
Apply a thin even layer to face, neck and décolleté. Let the product rest on the skin for three to five minutes. Massage for a few minutes before removing with water.
Step 4: Massage Tolerance Recovery Cream
Step 5: Apply Diamond White Glowing Mask (with aloe and chamomile)
Let the mask sit for 10 to 15 minutes then remove with water.

If Your Skin Is Prone to Acne
Degenford recommends: Acne-prone skin needs help stabilizing oil production. Keratin amino acids are great for this, as well as tea tree oil and salicylic acid. Try a combination of our Oxygen and Stabilizing lines.
Step 1. Cleanse with Oxygen Mousse Cleanser
Step 2. Tone with Stabilizing Toner
Step 3. Exfoliate with Glyco Extreme Peel
Step 4. Deep cleanse with Stabilizing Cleansing Mask (features tea tree oil, salicylic acid and kaolin clay)
Apply a thin even layer. Let it rest on your skin eight to 10 minutes then remove with water. Feel free to use a cleansing device in removal process.
Step 5. Finish with Stabilizing Gel Cream

If You Struggle With Dark Spots
Degenford recommends: Our Diamond White line is very hydrating and brightening; it's our go-to facial for addressing pigmentation and evening skin tone.

Step 1: Cleanse with Diamond White Rich Luxury Cleanse

Step 2. Tone with Diamond White Clarity Toning Lotion

Step 3. Exfoliate with Glyco Extreme Peel

Step 4. Massage Diamond White Serum

Step 5. Apply Diamond White Glowing Mask 
Let mask sit 10 to 15 minutes then remove with water.
For More Mature Skin…
Degenford recommends: Mature skin needs help stimulating cell metabolism and preventing the loss of collagen and elastin. Ingredients to look for: hydrolyzed collagen, retinol and peptides. Our Diamond, Inhibit and Essential Shock Collections are the most effective for mature skin.
Step 1: Cleanse with Diamond White Rich Luxury Cleanse
Step 2. Tone with The Cure Toner
Step 3. Exfoliate with Glyco Extreme Peel
Step 4. Massage Essential Shock Intense Cream
Step 5. Apply Essential Shock Intense Mask (features pineapple and Green Tea)
Let mask sit 10 to 15 minutes then remove with water.

If You're Short on Time…
Degenford recommends: The Diamond Extreme Oil and Mask takes less than 15 minutes and does its magic while you sleep–perfect for busy people or if you want to do a quick mini-facial for a special occasion.
Step 1: Do your usual bedtime cleansing and toning routine.
Step 2: Massage Diamond Extreme Oil into skin until absorbed.
Step 3: Apply Diamond Extreme Mask on top and go to sleep.

Buy now with free delivery