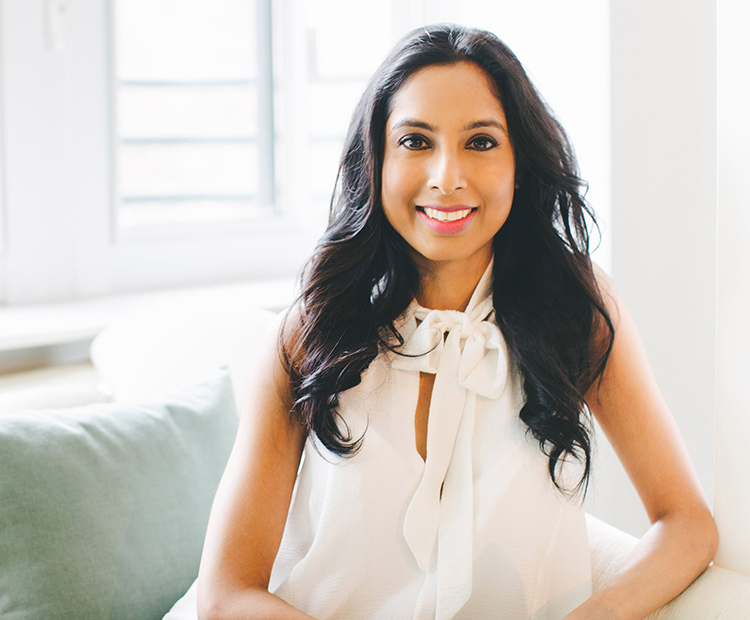 The many health benefits of yogurt are no longer a secret, especially if you're one of the countless health nuts who consider this tasty treat as snack-time staple. We know that the presence of good bacteria in our gut strengthens our immune system and ups our defense against infections and diseases. But how does this concept translate to skin care? Why are skin care companies like TULA touting probiotics as the next biggest breakthrough skin care ingredient?
To find out more about this, we talked to Dr. Roshini Raj, a practicing gastroenterologist and internist, contributing medical editor for Health Magazine,  medical contributor to several TV shows including The Today Show, Dr. Oz and CNN, and the founder of probiotics skin care TULA.
Dermstore: What inspired you to create TULA? What was missing in the market that you wanted to fill with this brand?
Dr. Roshini Raj: I am currently 45 years old, and in my thirties, I started to notice those age-related changes in the skin that we all start to see and wanted to do something about. Because I had to wear heavy makeup for TV several times a week, I knew that protecting my skin needed to be a priority, and I suspected many other women felt the same way. But I felt that most of the existing skin care products on the market used the same old ingredients and told the same story.  Very few brands were taking a cue from internal medicine and applying the explosion of research and science that has come out about the microbiome and skin health.
I saw an opportunity to translate these cutting-edge, internal medical trends into effective and affordable products for women.  And thus, TULA was born.
D: How did you discover the power of probiotics?
RR: Probiotics (beneficial bacteria or yeast) are naturally found in humans and have always fascinated me.  I've been studying them for years and I know first-hand from my GI practice that the environment in which these species of bacteria live (also known as the microbiome), needs to be in balance. If you have a healthy balance of probiotics, your overall health improves.
I was curious if probiotics could have the same effect on the skin as they do on the gut. Could probiotics also help balance and soothe the skin? I looked deeper into the research and it turned out that yes, probiotics could be applied topically and the benefits were overwhelming. The research was astounding and yet nobody had really harnessed this new powerful ingredient in a product. I was determined to be the first!
Topical probiotics help to strengthen the skin's natural defense mechanisms, making it more resistant to damage from environmental stressors by forming a protective shield on the skin's surface. Leading dermatologists and top dermatological institutions have called probiotics the newest "breakthrough in beauty" for their skin-healing, calming and anti-microbial benefits.  TULA is the first brand to make probiotics the cornerstone of our technology and our entire product line.
D: What are 5 things people don't know about probiotics and how it affects our skin? 
Most topical probiotics are not alive! We've taken the good part of the cells from the probiotics and used those in our technology so that they don't need to be refrigerated. The added benefit is that our probiotics have a longer shelf life without ever losing their powerful benefits on the skin.
Topical probiotics actually help to strengthen the skin's natural ability to defend itself by forming a type of "protective shield" on the skin's surface. This makes the skin more resistant to damage from environmental stressors, helps maintain moisture and even helps fight off UV damage.[1]
Probiotics work topically for the skin but also internally! There are tons of studies that now show how certain strains of probiotics, when taken orally, can improve skin appearance and lead to a more healthy, glowing complexion.[2] The science is exploding in this area and we're certainly going to be looking at this as well at TULA (stay tuned!).
We all have good and bad bacteria residing on our skin. When the balance shifts towards the bad bacteria, skin irritation or blemishes can develop. Topical probiotics help your skin by preventing them reacting to bad bacteria and causing inflammation.
Environmental pollution exposure can prematurely age your skin. Probiotics can help your skin defend against the effects of pollution thereby mitigating the damage.
D: Who should use Tula? Is it good for a particular skin type or concern?
TULA products are suitable for all skin types and ages.  All of our products were specifically designed to be gentle on your skin while also improving your skin's health. Every formula is clinically tested to ensure it is non-irritating. Recent research suggests that topically-applied probiotics can help soothe and support sensitive skin health, as well as calm irritated, redness-prone skin.
D: For those who are just discovering the brand, which 5 products should they try first and why? 
Buy now

with Dermstore

Tula Skincare's Beauty Sleep Overnight Skin Repair Treatment (formerly known as Overnight Skin Rescue Treatment) works with skin's natural overnight repair process to ensure you wake up with hydrated, healthy skin. This luxurious and lightweight cream promotes cell turnover and helps skin lock in moisture. Key ingredients like vitamin C improve collagen synthesis and fade dark spots while lactic and glycolic acids gently slough off dull skin and reduce the appearance of fine lines and wrinkles.Key Ingredients: * Probiotic Extracts: help lock in moisture and soothe the appearance of

Buy now with free delivery

Buy now

with Dermstore

24-7 Moisture Hydrating Day & Night Cream (formerly Known as Hydrating Day and Night Cream) from TULA Skincare features patented, clinically proven probiotic extracts to deliver deep hydration and soothe dull skin. This multitasking powerhouse

Buy now with free delivery

Buy now

with Dermstore

TULA Skincare's Detox In A Jar Exfoliating Treatment Mask (formerly known as Exfoliating Treatment Mask) delivers an even, glowing complexion for skin. Bentonite clay and lactic acid provide gentle exfoliation to purify skin and remove impurities without stripping essential oils. Plant-based, biodegradable beads also help exfoliation by releasing hydrating nutrients including jojoba and vitamin E to heal and calm skin.Key Ingredients: * Probiotic Extracts: help lock in moisture and soothe the appearance of inflammationDoes not contain live cultures.Key Benefits: * Lifts off dead skin, draws

Buy now with free delivery

Buy now

with Dermstore

[1] Anti-Aging Effects of Probiotics http://jddonline.com/articles/dermatology/S1545961616P0009X/1
[2] Probiotics and prebiotics in dermatology http://www.jaad.org/article/S0190-9622(14)01407-8/abstract

Buy now with free delivery