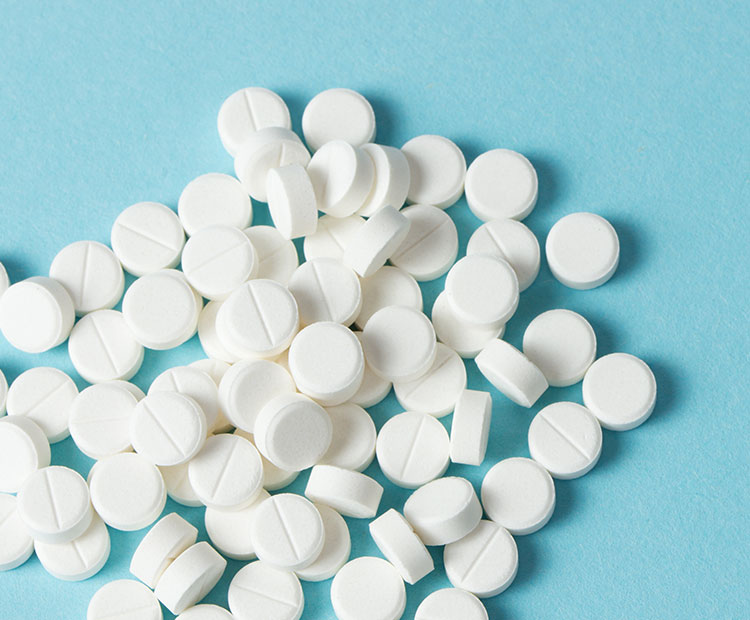 If only you could pop a pill to make all your skin and hair woes magically disappear, right? It turns out you could—well, sort of.
Lucky for us, these "magic pills" are no longer figments of our collective imagination. They now exist and most of them have real science behind them. Nutricosmetics. Beauty supplements. Skin food. Hair and nail vitamins. Whatever you name it, they all make clear skin, shiny hair and healthy nails possible by giving your body an extra boost of nutrients you are not otherwise getting from food.
To learn more about how beauty supplements work—and to get some tips on how to choose the right one for you—we spoke with Corina Crysler, one of North America's leading natural health product experts and Co-Founder and formulator of GliSODin Skin Nutrients. Here are seven things we learned from her.
1. Not all supplements have beauty benefits.
According to Crysler, the term "nutricosmetics" refers to a category of supplements that are specifically formulated for skin, hair or nails. If you're taking a vitamin C supplement, even though this is generally great for skin, it doesn't mean it will have a direct effect on your skin.
"When taking an ingestible product for skin, it is critical to take a formulation that has been designed for the structure and function of the skin," she explains. "You want to make sure the product will be used by the skin and, more important, that it is actually being absorbed by the skin. It's also essential that you are taking the right amount of an ingredient, otherwise known as a therapeutic dose. If you are not taking enough of a medicinal ingredient, it simply will have no effect regardless how beneficial it is."
2. Beauty supplements offer a variety of functions for the skin.
While beauty supplements didn't receive much recognition and press until a few years ago, these pills aren't just "nice-to-haves." They actually provide real benefits to ensure your skin does its job well.
"Skin is no different than any other organ in the body in that it requires nutrients to function. By supporting the skin with specific nutrients you are supporting the overall health of skin. It is also important to realize that skin cells develop internally on a dermal level. This is where the nutrients go when you take them internally, targeting the root of skin health," says Crysler.
3. They are crucial in preventing aging.
As much as nutrients are important for skin health, so is controlling inflammation. To many experts like Crysler, inflammation is the main cause of aging in all forms. This includes skin aging, which comes in the form of collagen breakdown, hyperpigmentation, wrinkles, redness, acne and loss of elasticity.
"The way we reduce inflammation is by controlling free radicals as much as possible," she adds. "Free radicals are unstable molecules that create oxidative stress when there is an imbalance between free radicals and antioxidants. When there are not enough antioxidants to neutralize the free radicals, the inflammation cascade begins. Antioxidant supplements have been shown to improve the overall texture and elasticity of the skin, help reduce hyperpigmentation and aid in healing and rejuvenation."
4. Regardless of how healthy your diet is, there are some nutrients you don't get from food.
Crysler explains: "There are definite benefits of a clean diet and foods rich in antioxidants and healthy fats. However, some nutraceuticals that have been clinically proven to help with skin health simply are not consumed in our diets, or the therapeutic dose is hard to achieve by food alone. For example, lycopene is a very effective carotene that has been clinically proven to help with sun protection and damage. However, you would need to eat several pounds of tomatoes to get the amount of lycopene required to have a medicinal effect. Krill oil as well has many benefits for skin hydration and reducing inflammation but it is not something we consume in our diet."
5. Skin supplements make your skin care products work better.
We asked whether skin supplements are meant to replace your existing skin care creams and serums—the verdict, not at all. "Serums and creams work particularly on the epidermis of the skin and nutricosmetics work directly on the dermis. Therefore by using both, you are treating both inner and outer layers of the skin achieving the best results."
6. It could take time before you see results.
It is also important to remember that it takes a few skin cycles to notice a change and that's because supplements work at the lower levels of the skin. "The new healthy cells will start surfacing about every four weeks so it's best to try something for at least three months to notice significant results," says Crysler. "When beginning your skin-supplement routine, start simple. That way you can see if the product works for you. Like topical skin care, you might have to try out a couple products to see which best suits your needs. I would suggest talking to a health care practitioner if you want to take multiple things."
7. When choosing a beauty supplement, don't take a one-size-fits-all approach.
Much like finding the right skin care products, finding the right beauty supplement for you isn't a one-size-fits-all affair. Thanks to established supplement brands like GliSODin Skin Nutrients and Hum Nutrition as well as professional skin and hair care brands that also offer ingestible beauty products like Murad, Perricone MD and The Nue Co, we can target specific beauty concerns based on the supplements' key ingredients. For starters, Crysler gives us a few of her favorites.
"First, you have to identify what you want to target. For a general skin enhancement, look for a product that has antioxidants, essential fatty acids and something for structural support like hyaluronic acid. Adaptogens are amazing for reducing stress by fighting free radicals and controlling inflammation while also strengthening our systems to properly regulate our adrenal system. Ashwagandha is a favorite of mine and can be easily added to a smoothie. Maca root is another adaptogen that is great for skin, especially hormonal acne."
She also recommends green supplements with ingredients like spirulina and chlorella. "Not only are they a great natural source of vitamins and minerals, they also have detoxifying benefits which can help with breakouts and general well-being."
Ready to try skin supplements? Here are just some of our favorites: