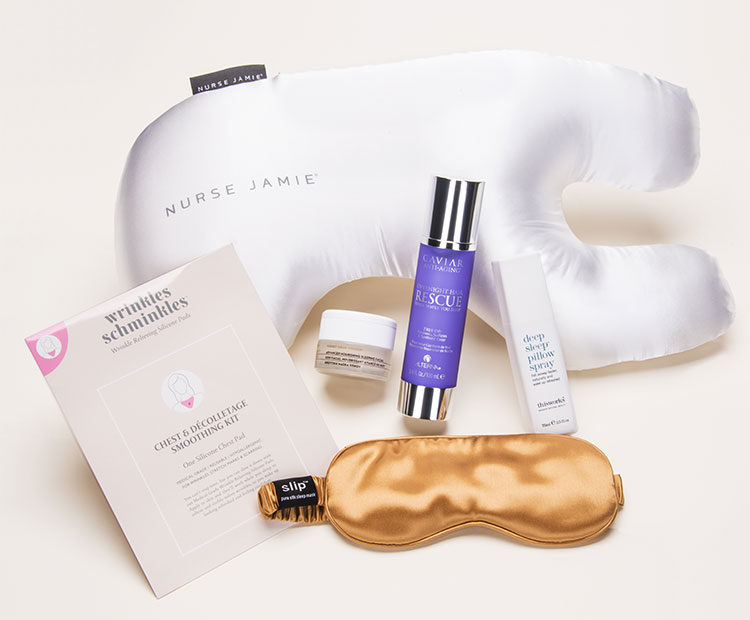 When was the last time you had a good, quality sleep? If you don't remember, your skin could be in big trouble.
Dr. Glenn Yarbrough, a Scottsdale, Arizona-based dermatologist and member of the American Academy of Dermatologists, explained it to us this way: "With proper rest, skin is able to repair much of the day-to-day damage as a part of the body's natural repair cycle."
Unfortunately, there are several factors that impact a person's quantity and quality of sleep—from stress to the environment to unhealthy lifestyle choices. And if you're a woman, it doesn't help that our minds are equipped with the ability to multitask, which, according to professor and sleep neuroscientist Jim Horne, uses up more brain power and thus requires longer sleep to recover from.
While there's nothing much we can do about how our mind and body works, there are a few tricks we can definitely do to help our body sleep: making your bedroom a cozy haven, establishing a regular bedtime routine, avoiding late-night exercise and avoiding too much mental stimulation. Couple these healthy habits with the following nightly beauty rituals and you're off to a stunningly gorgeous you in the morning!
Buy now

with Dermstore

Wake up to a refreshed and more youthful-looking chest, cleavage and decolletage with Wrinkles Schminkles Chest Wrinkle Smoothing Patch (formerly known as "Chest Smoothing Kit"). Enriched with 100% medical-grade silicone, the chest pad helps slow down the aging process and improve the appearance of chest wrinkles. The best part? This non-invasive treatment works while you sleep. Apply before bedtime and start your day with visibly improved skin.Key Benefits: * Improves the appearance of chest wrinkles, which can be caused aging, sun damage or creasing that occurs while you sleep * Also helps

Buy now with free delivery

Buy now

with Dermstore

Sachajuan Overnight Hair Repair features carrageenan and rhodophycea extract to nourish your hair's texture and to soften its appearance. This treatment works while you sleep to rejuvenate your follicles with moisture and smoothing dimethicone. The strengthening formula provides less breakage when applied to the ends. Your locks are left looking healthy and naturally

Buy now with free delivery

Buy now

with Dermstore

Wake up with a smoother and healthier complexion with Nurse Jamie Beauty Bear Age Delay Pillow Memory Foam - White. This unique, anti-wrinkle pillow minimizes the appearance of sleep lines, revealing more youthful looking skin. The signature U-shape design is designed to effortlessly conform to the shape of your face and head, providing optimal neck and lumbar support. The silky, satin pillow is gentle enough for delicate skin types and perfect for

Buy now with free delivery

Buy now

with Dermstore

With the help of HUM Nutrition Beauty zzZz, we no longer need to rely on counting sheep. Instead, this dietary supplement releases melatonin to lull you to a restful nights sleep. Clinical studies have shown that melatonin has the ability to reduce the time it takes to fall asleep as well as boost daytime alertness.Key Ingredients: * Melatonin: promotes a restful sleep and encourages a relaxing night * Vitamin B6: regulates your sleeping patterns * Calcium: helps to induce and maintain sleepTip: Travelers traveling eastward through five or more time zones may find 2-3 mg of melatonin, either

Buy now with free delivery

Buy now

with Dermstore

Transform your regular bath into a therapeutic oasis with Herbivore Botanicals Calm Bath Salts. Infused with a beautiful blend of Himalayan pink sea salts, ylang ylang and vanilla oil, the natural ingredients in this product helps to calm your senses. Elevate your bath regimen with Calm Bath Salts to rejuvenate your skin and put your mind at ease.Key Ingredients: * Himalayan Sea Salts: detoxifies and exfoliates skin * Ylang Ylang Essential Oil: moisturizes and balances skin * Vanilla Oil: soothes body and relieves tensionKey Benefits: * Exfoliates and hydrates skin while soothing the mind and

Buy now with free delivery

Buy now

with Dermstore

Key Benefits: * Apply to your face, neck and decollete before bed and wake up to golden, glowing skin * The colorless formula gradually tans your skin, not your bedding or clothing * Lightweight and formulated with antioxidants * Aloe vera and cucumber soothe and hydrate skin * Hyaluronic acid provides a continuous moisture boost * Algae extract provides a natural source of antioxidants to protect

Buy now with free delivery