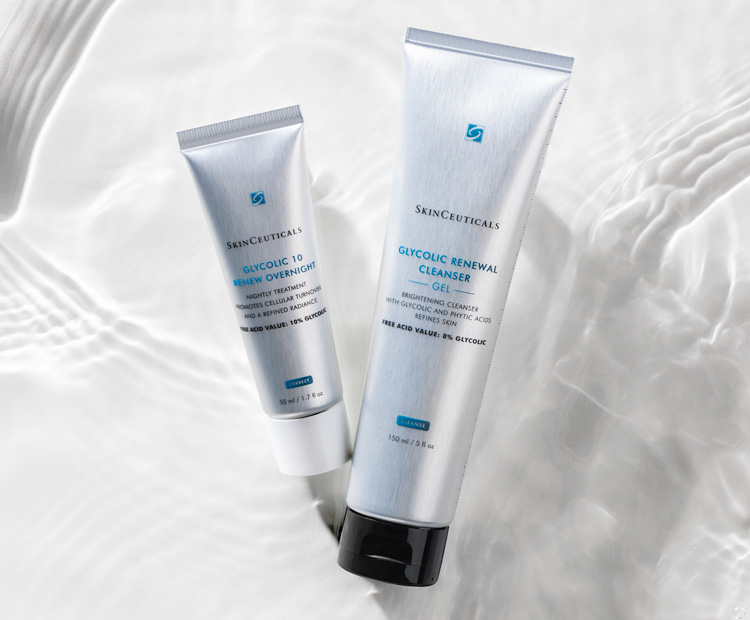 Glycolic acid may not be anything new—it's common in skin care products and in-office chemical peels—but not everyone knows how effective it can be as part of a regimen. Learn the inner workings of this amazing ingredient, and find out how you can leverage it to solve some of your most pressing issues.
What Is Glycolic Acid?
"Glycolic acid put skin care on the map in the '90s," says board-certified, Beverly Hills–based dermatologist Dr. Vicki Rapaport, M.D. "It was the first ingredient that was either incorporated into a take-home cream or done in a peel that actually did anything without breaking the bank or requiring anesthesia."
A derivative of sugarcane, glycolic acid is an alpha hydroxy acid (AHA), a group of naturally occurring "fruit acids" that can be found in foods. AHAs work by loosening the glue-like substance that holds dull and dead skin cells on the topmost layer of your skin, revealing newer, healthier skin. It also stimulates new cell generation, resulting in improved skin texture, tone and a brighter complexion. And because glycolic acid has the smallest molecular size of all the AHAs, it's the most bioavailable and active, allowing it to penetrate the skin the most easily.
But that's not all. Aside from providing instant rejuvenation, glycolic acid has also been shown to stimulate the production of collagen and elastin, which means that with continuous use, glycolic acid can actually accelerate skin healing and reduce signs of environmental damage.
What Else Does Glycolic Acid Do?
Some dermatologists also favor glycolic acid over other acids to improve skin issues like blackheads, hyperpigmentation, enlarged pores, psoriasis, keratosis pilaris and hyperkeratosis, among others. It also removes excess oil, just as it relieves dry and scaly skin conditions. "In my experience," says dermatologist Dr. Michelle Henry, "I find it to be more effective and with fewer side effects than other acid."
How to Use Glycolic Acid
Now that you know how glycolic acid works, the next step is to find a way to make glycolic acid work for you. Of course, nothing beats a visit to your dermatologist or esthetician's office for a series of professional peels, but maintenance at home is crucial!
Buy now

with Dermstore

Why we love it: Aside from the fact that it's from a dermatologist-recommended brand? This night cream has the right glycolic acid concentration and pH value to give you a true free glycolic acid value of 10%. This concentration offers a sweet spot between maximum efficacy and tolerability, meaning you can use this as a nightly treatment without worrying about irritation. You can even use this as an alternative treatment if your skin can't tolerate retinol.
Why shoppers love it: "Hands down, this is one of the best products on the market. It is gentle, yet it has amazing results. After I use it, my skin looks tighter, brighter and definitely more youthful! This product will always be in my skin care arsenal."

Buy now with free delivery