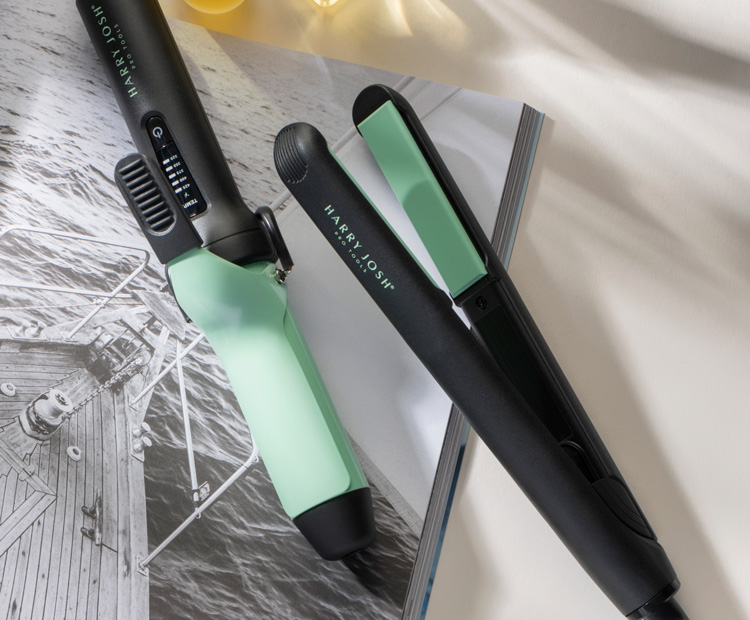 There was a time when we never thought much about our hair tools. We grabbed the prettiest, most functional-looking hair dryer we could find and went on about our day. Then, Harry Josh came into the picture and completely changed the way we look at our styling tools.
If you're thinking, "Harry Josh, he sounds familiar," let us explain. Harry Josh is a celebrity and editorial hairstylist, responsible for some of the most iconic hairstyles seen on supermodels and celebrities. Remember Gisele Bundchen's bombshell beach waves? That was his doing. After years of coloring and styling hair on the runway and for high fashion magazines like Vogue, Harper's Bazaar and more, Josh decided to bring the world of celebrity hair to the consumer, creating a line of luxurious and high-quality hair tools that look as good as they work. His most popular tool? His signature mint-green Harry Josh® Pro Tools Pro Dryer 2000. The hair dryer which has received numerous "Best of Beauty" awards in national magazines, is loved by celebrities and beauty editors alike, and is what made Josh a household name.
If you ask Harry Josh, he'll say that the secret to a luscious, frizz-free look is using the right styling tools. In an article for Dermstore, he once said, "Cheaper dryers do not last long, don't have an ion setting switch and separate heat and speed settings (less heat should be applied to already damaged hair). Cheaper dryers also take much longer to blow-dry hair (the less time you need to blow-dry hair, the less heat you apply, the less heat damage for your hair)."
And it's not just hair dryers that Josh is known for. He has a slew of other styling tools that promise you shiny, frizz-free hair that looks like you stepped out of the runway. Below are some of his most popular hair tools that are totally worth the hype.
Buy now

with Dermstore

Breakthrough technology places the Harry Josh® Pro Tools Pro Dryer 2000—the only product of its kind to offer energy efficiency in addition to professional quality—in a class above every other hair dryer on the planet. Incredibly lightweight yet incomparably powerful, this innovative tool minimizes frizz while significantly reducing drying time. Ion functionality promotes intense softness and shine while ensuring a silky-smooth finish free of static. At the same time, a specialized dual filtration system reduces energy consumption.Key Benefits: * Lightweight, ergonomic design with curved

Buy now with free delivery