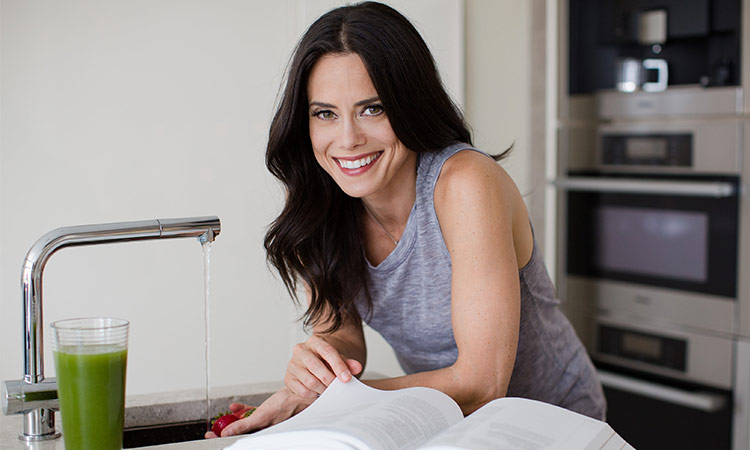 Nationally recognized celebrity nutritionist, registered dietitian, healthy-cooking expert and published author Keri Glassman is a leader in the "whole person" approach to health and wellness. As a member of Women's Health magazine and Yahoo! Health's advisory boards and the health and wellness partner for JW Marriott hotels, her expertise has been featured on several national television programs, including the Today show, Good Morning America, Access Hollywood Live, The View, The Talk, The Chew, The Doctors and The Rachael Ray Show as well as on MSNBC and CNN. She has also authored four books and regularly contributes to People magazine, Livestrong.com and FoodNetwork.com. She's the founder and president of Keri Glassman, Nutritious Life, a nutrition practice and health and wellness brand.
"I truly love everything about the holidays," says Keri. "I grew up in Boston, so the cold weather is nostalgic to me. I love the smells of Christmas trees and fires. I can't get enough hot cocoa. I boil cinnamon on the stove all day for the relaxing holiday scent. I heart baking with my kids, writing cards and having as many holiday dinners as possible."
More About Keri:
Her Biggest Holiday Beauty Concern: Under-eye circles and dried-out hair and skin!
Her Favorite Holiday Tradition: Holiday dinner with a few close girlfriends and all of our kids where we eat, drink, decorate the tree, make cookies, etc. Or the Hanukkah party with all my nieces and nephew. Ice-skating in Central Park. There are so many!
Her Favorite Holiday Music: I love all Christmas music. Love. It just makes me happy. If I had to choose my favorite, it'd be "Feed the World."
Keri's Wish List
1. jane iredale Professional Brush Set

Buy now

with Dermstore

Indie Lee's Squalane Facial Oil features a multitasking formula derived from olives and delivers numerous benefits to your skin. Rich in omega fatty acids, this lightweight oil hydrates your skin as squalane promotes the appearance of firmness and elasticity. Your skin is left feeling soft and supple with a healthy and natural radiance and no greasy residue.Key Ingredients: * Squalane: non-pore clogging, this oil leaves the complexion soft, nourished and never greasy and also promotes the appearance of firmnessKey Benefits: * Improves the appearance of texture and tone * Leaves skin feeling

Buy now with free delivery

3. SW Basics Body Scrub

4. FOREO ISSA Toothbrush