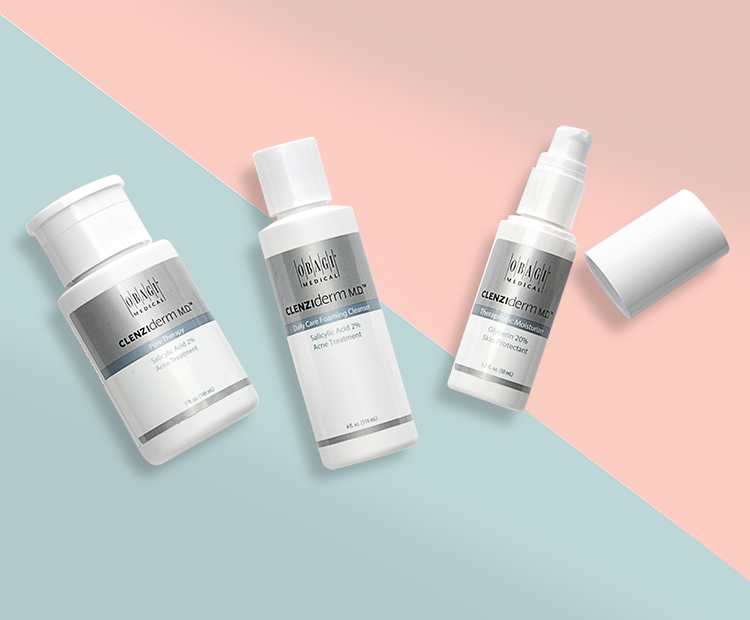 Our teenage years may be far behind us, but clearly that's no reason for acne to leave us alone. Sure, there are a plethora of treatments, pills, creams and the like out there, but how do we know which one will work for us? To help us understand acne better—and the treatments available for us—we reached out to the experts at Obagi, the world leader in prescription-strength skin care formulas and treatments. From what triggers acne breakouts to what we can do about them, here are Obagi's best tips, tricks and product recommendations for banishing blemishes for good.
 1. DERMSTORE: Who gets acne? How come some people get it more often?
OBAGI: Thought you were finished with breakouts and blemishes once high school was over? For many, that's simply not the case. Acne doesn't discriminate on the basis of age. As a matter of fact, adult acne affects 25% of men and 50% of women at some point in their adult lives.
There are many factors that contribute to acne breakouts aside from poor skin care choices. To fully understand the causes and available treatment options for adult acne, you should first identify the type of acne you are experiencing. Some other factors that may trigger or aggravate an existing case of acne are hormones, medications, stress, diet and genetics.
2.

  

Does having acne mean I'm not cleaning my face enough? Is there a proper way to cleanse my face so I don't get acne?
It's important to stick to a regular skin care regimen, which includes washing your face every morning and evening with a cleanser designed for acne-prone skin. Make sure to remove all makeup residue. While that's a great start, there are times when it may not be enough. Supplement your regimen with a product that helps treat the condition with the Obagi CLENZIderm M.D.™ System. CLENZIderm M.D. is the only prescription-strength acne system that contains a unique form of 5% benzoyl peroxide designed specifically to penetrate to the root of your acne problems.
3.

  

I heard greasy food like pizza can make me break out, is this true? Can what I eat cause breakouts?
It's important to remember that your skin can be a reflection of overall health. In other words, a nutritious diet can help keep you healthy on the inside and healthy on the outside as well.
Here are a few key points to keep in mind and discuss with your skin care physician when trying to improve your complexion through diet:
It may seem fishy, but make sure you're getting enough omega-3 fatty acids. Having the right balance of omega-6 and omega-3 fatty acids can affect inflammation inside your body that can also show up on your skin. Eating more omega-3 rich foods, such as salmon and mackerel, and taking fish oil supplements may help achieve the proper balance of fatty acids that can affect inflammation. 
Keep that sweet tooth in check! Regulating blood sugar can help improve your complexion by limiting outbursts of the hormone insulin. Some studies show that people who adhere to a diet with a low glycemic load can help lessen skin issues such as acne.
The antioxidants found in vegetables (which you won't find in junk food) can help keep your skin looking fantastic.
Stay hydrated! Drinking eight or more glasses of water a day helps rid the body and skin of toxins.
4.

  

Should I stop wearing makeup if I have acne?
If you suspect that your cosmetics may be contributing to your blemishes, try to spend a few weeks makeup-free and observe the results. Direct skin contact with greasy or oily substances and, in some cases, cosmetics that are applied directly to the skin may cause an acne breakout.
5.

  W

ill I ever outgrow acne?
We all remember the devastation of discovering a blemish minutes before a big dance in high school, but just because we aren't teens anymore doesn't mean pimple problems are gone for good. Unfortunately, the blemish before the big dance has been replaced with the blemish before the big meeting. Acne is a lifelong nemesis for many.
Also, certain medications containing corticosteroids, androgens or lithium have also been linked to acne. Despite popular belief, stress does not cause acne, but it can worsen an existing case. If you're experiencing adult acne, you may want to try some stress-relieving exercises like yoga to see if it helps to improve the appearance of your skin.
Studies have also shown that a diet rich in foods that increase blood sugar, such as dairy products and carbohydrate-rich bread, may also trigger acne. Although you can change your diet, unfortunately, you cannot alter your genetics. A family history of adult acne may indicate you're more likely to develop this skin condition.
6.

  

I heard that if I had acne during my teen years I probably will have acne after menopause—is this true?
After adolescence, hormones in women are heightened. When these hormone levels increase, sebaceous glands enlarge to create more sebum, an oily/waxy substance that can clog pores.
Menopause is a red flag. Many menopausal women tend to think they have adult acne when they see red bumps and pimples. However, it is possible that it could be rosacea. In fact, hot flashes might cause the first appearance of rosacea, so visit a dermatologist for an accurate diagnosis.
7.

 

What ingredients should I look for in an acne treatment and why?
If you've suffered from acne either as a teenager or as an adult, you've most likely tried many different products to help get rid of those pesky pimples. With so many skin care products that claim to prevent breakouts, clear blemishes and unclog pores, knowing which ingredients to look for can be quite tricky. Salicylic acid is an ingredient commonly found in many anti-acne treatments, so why is it so popular and how does it work?
Salicylic acid helps reduce acne by minimizing swelling and redness and clearing blocked skin pores to allow pimples to shrink. The anti-inflammatory properties of salicylic acid shouldn't be surprising, given that salicylic acid is a derived form of one of the most well-known anti-inflammatory drugs available—aspirin! Salicylic acid comes in several different forms and strengths and can be included in different acne-fighting products, including cleansers, toners and lotions. The Obagi CLENZIderm M.D.™ System includes this key ingredient in several of its acne-fighting products, including:
CLENZIderm M.D. Foaming Cleanser—A light, foaming acne cleanser with 2% salicylic acid. This effective cleanser unclogs pores and washes away dead skin cells, leaving skin feeling clean and refreshed. It also includes calming menthol to help cool and soothe irritated skin.
CLENZIderm M.D. Pore Therapy—Unclogs pores and clears away dead skin cells with 2% salicylic acid, helping to remove acne-causing bacteria at the source. While leaving a refreshed feel to the skin, Pore Therapy prepares the skin for the next step in the acne treatment regimen.                     
If you use a product with salicylic acid to help control your acne, one important tip is that you must use it regularly and continuously to maintain clear skin and prevent your pores from clogging again. Also, for maximum effectiveness, pair up a salicylic acid-containing product with one that contains another key acne-fighting ingredient, benzoyl peroxide. While the salicylic acid works to unclog pores, benzoyl peroxide helps reduce P. acnes, the bacteria that causes acne and removes dead cells from the skin.
And of course, talk to a dermatologist for tips and advice on how to manage acne. Your dermatologist may be able to recommend a skin care product or system that's right for you.
8.

   

I heard you can't mix certain acne ingredients, like benzoyl peroxide or salicylic acid, with other ingredients like retinol—is this true?
Tretinoin products can be prescribed by your doctor to treat acne vulgaris, and retinol, which may help refine the appearance of skin texture. Tretinoin may cause skin irritation. Some patients may get dry, red or peeling skin that requires them to use less medication or use it less often, or stop use either temporarily or altogether. It is recommended to avoid the use of other products that may dry or irritate your skin such as salicylic acid and benzoyl peroxide.  
9

.

  

How should I go about my anti-aging routine when I'm using acne treatments?
Always treat acne first then focus on a good anti-aging regimen. Skin concerns that may affect your complexion can include dark spots, adult acne and skin aging. These common skin conditions are often attributed to sun damage, stress or improper skin care. 
Start an Obagi® skin care system that includes the essentials to help combat your skin care issues. Systems featuring a gentle cleanser will help to not dry out or irritate skin while using a moisturizer can help keep your skin healthy looking and protected from dryness. And be sure to help protect your skin from the sun's harmful rays, especially in the summer. Make sure to wear sunscreen every day to help prevent exposure to damaging UV rays, even indoors if you're around windows and other spaces the sun can pass through! 
Find the skin care system designed to treat your specific skin care concerns. Your skin will thank you.
10.

 

How do I know if it's time to see a doctor?
If over-the-counter or non-RX products are not working for you, it's time to see a dermatologist.
11.

 

What other lifestyle changes would you recommend to keep acne at bay?
Get Active! Exercising promotes skin cell health by increasing blood flow. This increase in blood flow provides both oxygen and nutrients to cells and carries away waste products. In addition, exercise has been proven to alleviate stress, which can cause unpleasant effects on the complexion such as acne. Try yoga, which may help keep those stress levels down and your skin looking radiant.