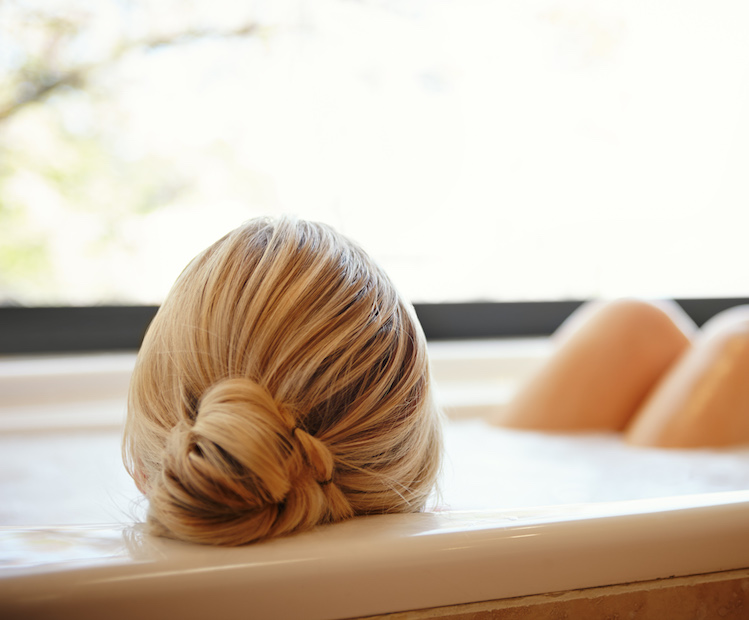 Hippocrates was ahead of the game when he, the Father of Medicine himself, discovered the therapeutic qualities of seawater as it healed the injured hands of fishermen. Today, we've bottled the magic of sea salt soaks in a magnificent way, allowing us modern folk to bathe in its glory.
Top 4 Benefits of a Sea Salt Soak
We spoke with Angela Eriksen-Stanley, Master Esthetician and Director of Education at Phytomer Group Brands, to understand the top benefits of a sea salt soak in terms of energy levels, stress levels and overall wellness.
Bonus: Read on to see our favorite picks for an anytime, at-home spa experience.
1. Natural Skin Treatment
Surely the word salty comes to mind while reading this, but sea salt soaks are actually pretty sweet when it comes to pacifying irritated skin sufferers. Most skin conditions, even sensitive and irritated skin, can benefit from a seawater soak, says Eriksen-Stanley. "A soak in a re-created sea environment alleviates feelings of mental and physical stress and fatigue, while physically improving skin conditions such as eczema, psoriasis, dehydration and acne."
2. Mineral Absorption
Your skin readily soaks up that mineral-rich sea salt. "Soaking in seawater is the fastest way to get a large dose of minerals into the system, as skin is the largest organ in the body," says Eriksen-Stanley. "Seawater contains all naturally occurring trace elements and minerals in very similar concentrations as our blood plasma, so it is a form of perfectly balanced mineral water for the body."
3. De-stress, Release Tension
Who doesn't feel waves of relief from a long bath after a hard day? "The biggest cause of fatigue, imbalance and disrupted sleep cycles is demineralization caused by stress. Seawater provides the right combination of minerals in perfect doses to restore regular cellular functions," Eriksen-Stanley explains. Worries weighing you down? Essential oils (like lavender or chamomile) added to your hot bath water increase the aromatherapy, removing toxicities from the body and mind.
4. Better Skin, Better You
Sea salt soaks re-energize the skin, Eriksen-Stanley tells us. "Cells are given the boost needed to optimize to their fullest, naturally healing skin and boosting radiance." The added benefit here? After bath time, your skin is enhanced with the added nutrients and any skincare product you use will be extra efficient. The best time to sea-salt soak it up? Eriksen-Stanley recommends a 20-minute bath 1 to 3 times per week (depending on your stress levels). Right before bedtime is optimal for mineral absorption and overnight skin repair.
Buy now

with Dermstore

The Detoxifying Seaweed Bath Soak leaves your skin softer than before. Seaweed, juniper and eucalyptus purify and refresh the skin for a bath treatment rich in minerals, trace elements and essential oils for added aromatherapy.
SHOP NOW

Buy now with free delivery

2. Kerstin Florian - Mineral Wellness Soak

Discover a new you after a long day. This sea salt soak revitalizes your energy, releasing tension with each 20-minute bath session. Even your roughest day can be soothed away with colloidal silver, which neutralizes viral and bacterial infections.
SHOP NOW 

3. Phytomer - Oligomer Well-Being Remineralizing Relaxing Bath

Oligomer is Phytomer's key ingredient—seawater containing all the active components of the sea—Eriksen-Stanley, the company's Director of Education, tells us. "With perfect subtleness, a green tea/jasmine scent lingers on the skin for absolute freshness. This liquid bath is the perfect cure for tight muscles."
SHOP NOW

Buy now

with Dermstore

A therapeutic concoction of lavender, rosemary, thyme and chamomile meant to ease aches and pains. Add a few capfuls to your bath when you're feeling sore or maybe just after a hard day. Either way, let the sea salt, juniper oil and aromas relax your mind, body and spirit.
SHOP NOW

Buy now with free delivery

Buy now

with Dermstore

Invite a good night's sleep with a lavender and chamomile-scented bath. This Works Deep Sleep Bath Soak helps you unwind while still soaking up the benefits of a sea salt bath so you wake up refreshed and say good morning to softer skin.
SHOP NOW

Buy now with free delivery

Buy now

with Dermstore

Vitamins C and E are like liquid silk for your skin's health. 100% Pure's Sea Therapy Bath is packed with these vitamins alongside organic seaweed, ginger root, eucalyptus and peppermint oils to purify the skin, relieve nasal congestion and stimulate blood circulation.
SHOP NOW

Buy now with free delivery

Buy now

with Dermstore

Himalayan pink salts, you say? Herbivore Botanicals Calm Bath Salts utilizes those pretty pink crystals to detoxify and exfoliate the skin with added Ylang Ylang and vanilla oils to soothe and balance the skin.
SHOP NOW

Buy now with free delivery

Looking for 100% dead sea salt with a touch of aroma? This is it. AHAVA Mineral Bath Salt provides the pure magic of sea salt to create soft, supple skin. With just a hint of lavender, this floral tension-relieving sea salt soaks through your worries.
SHOP NOW

Buy now with free delivery