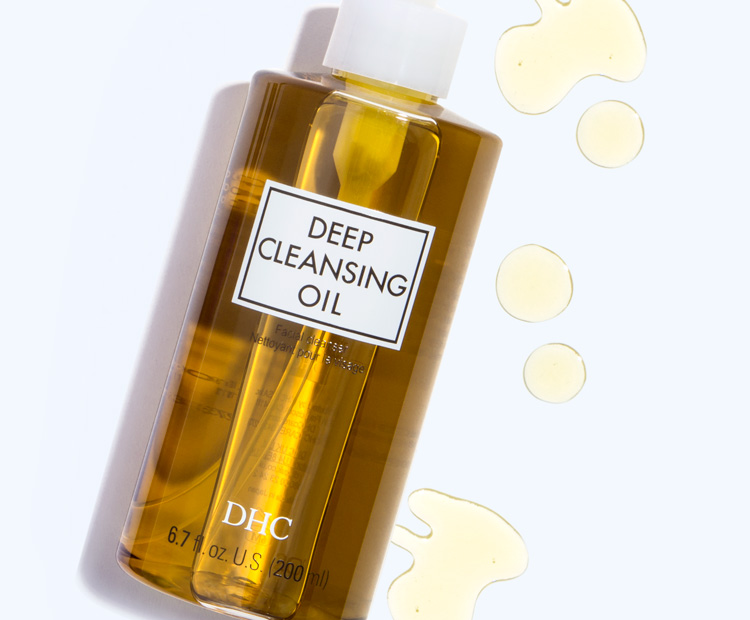 If you've been battling excess oil, clogged pores and frequent acne flare-ups for a long time, you're probably recoiling at the mere thought of cleansing your face with oil. But here's something we've learned from skin care experts: Our skin produces oil because it needs it. It lubricates, heals and protects our skin. And each time we strip the oil away from our skin with our traditional cleansers, our skin overcompensates by producing even more oil. And we know what happens when excess oil gets mixed up with bacteria and other skin impurities—our pores get all clogged and inflamed. So how do we cleanse our skin without disrupting our skin's moisture balance? Simple: We fight oil with oil!
"Water-based cleansers aren't as effective at removing oil-based debris like sebum and makeup as oil is," says cosmetic acupuncturist and herbalist Kathleen Funk. "Oil is a gentle way to thoroughly cleanse your skin without having to scrub harshly or strip it of its natural oils. If you've heard of the Asian ritual of double cleansing, cleansing with oil is actually the first step."
Sandra Velandia, New York–based esthetician, agrees, saying that while the idea of using oil to get rid of oil sounds counterintuitive, cleansing oils are actually a gentle and extremely effective way for deep-cleaning pores and a having a healthier lipid barrier. "Oil dissolves oil, so by pre-cleansing [with a cleansing oil] we are giving our pores a deeper cleanse without over-stripping the skin," she says. "Chemicals in our water and the harshness of some cleansers can disrupt our skin's natural protector, sebum. Therefore, oil cleansing is a gentler and less aggressive way of getting our skin clean."
How to Use Cleansing Oils
When using a cleansing oil to wash your face, start by massaging the oil onto dry skin. "Make sure you are massaging until the oil gets warm," advises Velandia.
Once you've loosened up the dirt, oil and makeup, simply rinse your face off with warm water. Follow this step with a water-based cleanser, if desired. Here's a quick video on how to use an oil cleanser:
The Best Cleansing Oils for Your Skin Type
A general rule of thumb when shopping for cleansing oils is that the fewer ingredients, the better, says Valendia. Also, look for one that has a high concentration of oil. Below are some of our favorite cleansing oils for each skin type.
Buy now

with Dermstore

[listimage brand_id=501928 prod_id=37986]
Formulated with olive oil, this water-soluble cleansing oil practically melts onto your skin, getting rid of every bit of makeup and residue from the day. And because olive oil is rich in lipids, fatty acids and vitamins A and E, this cleanser offers extra moisturizing and antioxidant benefits, too. No wonder it's one of the top-reviewed cleansers on Dermstore, with more than 500 5-star reviews!
One Dermstore shopper says it "works wonders to remove all of my makeup while still leaving my skin so soft and clean," while another says it "removes every bit of even my waterproof mascara without burning my eyes."

Buy now with free delivery

[listimage brand_id=502038 prod_id=68111]
Those with acne-prone skin might feel nervous about applying oil to their skin, but according to Velandia, cleansing oils are great for getting rid of excess sebum without leaving your skin dry. Even better: Aside from grape seed oil, this oil cleanser also features charcoal, which draws out and traps acne-causing bacteria from your pores. One Dermstore shopper claims that "after using it, my skin is left hydrated, clean and clear. I think [it] is also helping with minimizing breakouts."

Buy now with free delivery

Oily Skin: Caudalie Make-Up Removing Cleansing Oil

[listimage brand_id=505407 prod_id=76090]
Similarly, if you have oily skin, you need a cleanser that can remove the extra shine and oil. This gentle cleansing oil will do just that, as well as dissolve stubborn traces of makeup. Featuring soft almond oil and viniferine, this cleanser works to deep-clean pores without leaving a greasy or oily finish.

Buy now

with Dermstore

[listimage brand_id=504373 prod_id=72574]
"Dry skin types do really well with the oil-cleansing method because the oil will provide a deep-cleansing of the skin while helping to reintroduce lipids," says Velandia. Thankfully, this cleansing oil has what's called a Kefir Hydro-Complex, a combination of four strains of probiotics from kefir, which soothe skin and improve the skin's moisture barrier, plus a Ceramide Complex that promotes water retention. Once the oil meets water, it turns into a silky, milky texture that resembles a traditional facial cleanser.

Buy now with free delivery

Buy now

with Dermstore

[listimage brand_id=500221 prod_id=71016]
Those with sensitive skin will want to consider this cleansing oil, thanks to its gentle combination of soothing and hydrating ingredients: stonecrop hydrates and calms redness while a potent blend of microgreens complex protects skin against environmental stressors. And because it's also formulated with jojoba oil—which features wax esters and fatty acids that are similar to human sebum—and vitamin-rich sunflower oil, it's mild enough to be used on even the most sensitive skin. One Dermstore shopper comments: "My skin is combo/sensitive/hormonal acne, and this product makes it feel lovely and clean!"

Buy now with free delivery

Buy now

with Dermstore

[listimage brand_id=500107 prod_id=55988]
For those dealing with eczema, it can be hard to find any product gentle enough for your skin. But this cleansing oil is formulated with Avène's thermal spring water, which has been clinically shown to soothe sensitive and irritated skin types. One Dermstore shopper says, "This is the only cleanser that I can use head to toe that does not irritate my skin in any way, give me a rash, leave me red or make my skin itch when I get out of the shower."

Buy now with free delivery

Buy now

with Dermstore

[listimage brand_id=500174 prod_id=56658]
Cleansers rarely make an impact on the appearance of fine lines and wrinkles, but this cleansing oil by Juice Beauty sure tries! Formulated with fruit stem cells and resveratrol, a powerful antioxidant, this oil gives your skin a better fighting chance against age-accelerating free radicals. Organic fruit acids help exfoliate dead skin cells and brighten skin tone, prepping your skin for the rest of your regimen. And perhaps the most important factor to consider if you have mature skin: this exfoliating cleanser doesn't leave your skin tight or dry. One Dermstore shopper says, "I use it to double cleanse, and my face always feels really soft and hydrated afterwards."

Buy now with free delivery